An 8-year-old boy who was found on Monday after he got lost in a Michigan forest survived for two days by sheltering under a log and eating snow, authorities say.
Nante Niemi, a second-grader from Hurley, Wisconsin, went missing while gathering firewood when he was out camping with his family in the Porcupine Mountains Wilderness State Park near Wakefield, in Michigan's western Upper Peninsula.
More than 150 search-and-rescue personnel from Michigan State Police (MSP) and local police offices, including K9 and aviation teams, were deployed in the search operation for the boy across a remote area roughly 40 square miles in size.
The terrain in the park is very remote and hilly, and has no cell phone service, which made the search even more challenging. In addition, several seasonal roads are still impassable because of snow depth, a MSP news release said.
The press release thanked locals for offering to assist in the search, but asked the public to stay clear of the area as the search was ongoing.
Nevertheless, it was a volunteer search party that found the boy in good health at around 1:30 p.m. on Monday roughly two miles from his campsite.
Eli Talsma, a senior from Niemi's school, was among the rescue team. The boy's relaxed demeanor when they found him was amazing, he said.
"It was just the best feeling ever," Talsma said. "It was the biggest sigh of relief and all the thoughts of what could've happened and where he is just went away."
According to a MSP update, Niemi walked a trail hoping to get back to the campsite, but the trail came to a dead end. "When he ran out of trail, he figured the best thing to do was to just stop and wait."
According to Lieutenant Wickstrom of the MSP, Nante survived the cold nights by covering himself up with branches and leaves for warmth. He blanketed the log he slept under.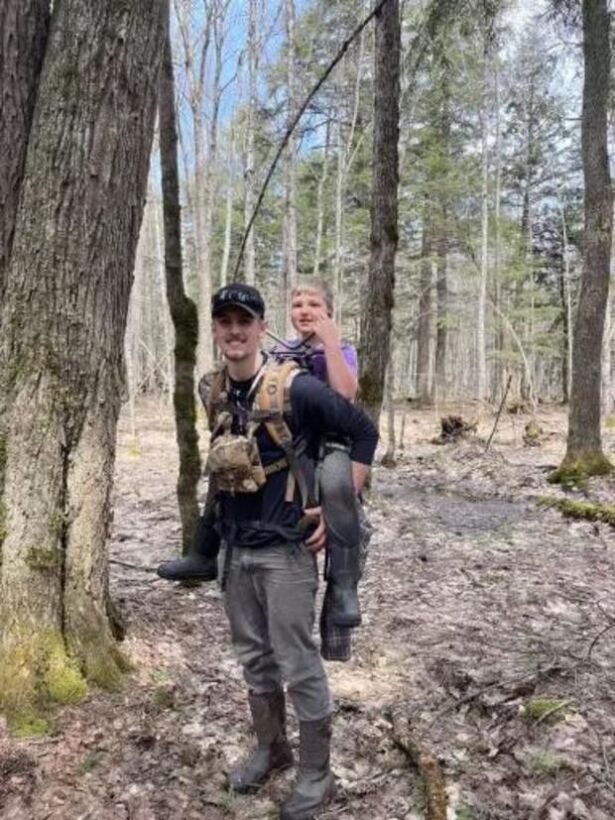 Temperatures in the area had been around the 40s and 50s (approximately 5 to 12 °C) over the weekend, with warmer weather coming in on Monday.
Niemi didn't have any food with him, but he ate clean snow for hydration, the police said.
When the search team found Niemi, they offered to carry him out of the forest, "but he told the guys who found him that he wanted to walk!" the Police said.
According to the National Association for Search and Rescue (NASAR), approximately 10,000 people are reported missing in the outdoors each year. Fortunately, most of them—about 70 to 80 percent—are found within the first 24 hours.
It is advised that if a person gets lost, they should find a spot where they can stay put, as keeping moving makes it harder for rescuers to find them. It is also important to find a way to make oneself visible to rescuers.