The death of a 36-year-old architect from Ohio has been confirmed after he was killed along with his fiancée and two of her relatives in central Mexico.
The four went missing on Christmas Day, and local media later reported their 'charred' bodies were found on Jan. 19 in the state of Zacatecas.
The victims' bodies were found in a vehicle riddled with bullet holes.
News that the deceased remains of one of the bodies was that of José Gutiérrez from Hamilton, Ohio, went public on Jan. 24 via a Facebook post made by his employer Champlin Architecture. Earlier, DNA results confirmed the three other bodies were identified as his fiancée Daniela Márquez, 31, her sister Viviana Márquez, 26, and their cousin, 27-year-old Irma Vargas.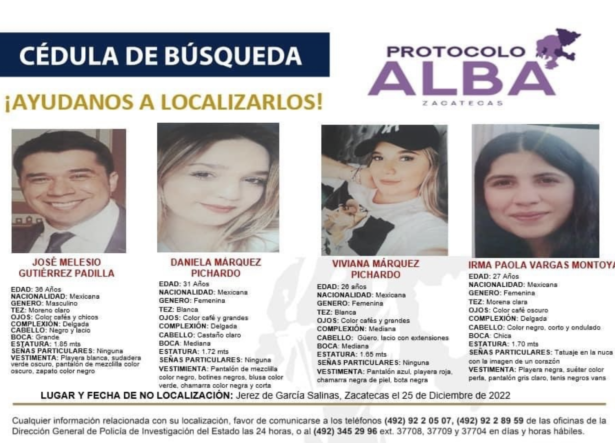 "It is with deep sadness and heavy hearts that we inform you of the death of our colleague and friend, José Gutierrez, who died tragically while visiting his fiancé, Daniela Pichardo, in Mexico during the holidays," the Facebook post by Champlin Architecture read.
"He was a valuable member of the Champlin team, working on projects for clients such as The Christ Hospital, Hamilton County, St. Elizabeth Healthcare, and University of Cincinnati," it continued.
Champlin Architecture said Gutierrez's work bettered the lives of those in the community he chose to make as his home. The company will be creating a scholarship in his name at Miami University to honor the impact he had on the firm as well as the community.
According to a statement by his sister, Grissi Gutiérrez, his remains were collected by their parents on Jan. 24.
Mexican authorities on Jan. 25 confirmed that Gutierrez was among the four people killed in Zacatecas, reported AP.
Gutierrez was last seen in the United States at Cincinnati/Northern Kentucky International Airport on Dec. 22, 2022, as reported by Fox News. He was visiting his fiancée in Mexico, which he visited several times a year.
The two were planning to get married this year.
Missing on Christmas Day
On Christmas day, the couple and her relatives visited a local bar in Jerez de García, Zacatecas. According to Daniela's mother, Rosa Pichardo, the last contact she had with her daughter was at around 10 p.m. that evening.
The group was supposed to return to their home in Colotlán, but location details shared via Daniela's cellphone later revealed her whereabouts to be in Vivoras, a neighborhood in the Zacatecas town of Tepetongo.
Daniela's mother told a local news outlet that patrons of a local bar reported screaming, and people witnessed the kidnappings.
"There was a lot of panic, screams, but they didn't get them out and they took the vehicle. They took the girls, my daughter's fiancée, Daniela. They took off, they went to Vivoras," she said, reported Daily Mail.
The family alerted Ohio police and the FBI. Mexican authorities confirmed afterward that search efforts were underway.
The vehicle was found on Jan. 19 in Vivoras, at the border of Jalisco, riddled with bullet holes.
The U.S. State Department has cautioned travelers to Zacatecas about violent crime, extortion, and gang activity, which are rife in the area.
"Do not travel due to crime and kidnappings. U.S. citizens and LPRs have been victims of kidnapping", the advisory states.
Between January and November 2022, more than 650 kidnappings were reported in Mexico.