A powerful winter storm of historic proportions that the National Weather Service (NWS) warned could bring life-threatening conditions has prompted multiple states to announce emergency measures, with over 240 million people under some kind of weather warnings or advisories.
The latest bulletin from the NWS' Weather Prediction Center, issued at around 3 a.m. on Dec. 23, warned of a "historic winter storm" that was poised to produce widespread disruption to big portions of the country.
Over 240 million people within the United States, or around 73 percent of the population, are now under some kind of winter weather advisory or warning, according to the bulletin.
The Weather Prediction Center said this includes 181 million people under wind chill warnings or advisories, over 11 million for blizzard warning, 58 million for winter storm warnings, and over 500,000 for ice storm warnings.
The powerful Arctic front is predicted to continue to sweep across the eastern third of the country on Friday, with what the NWS described as an "immense" winter storm expected to have increasingly widespread impacts on travel and the potential for power outages.
The bitter cold snap has led temperatures to plummet by as much as 50 degrees Fahrenheit in a short period of time for a large part of the country. Besides very cold temperatures, high winds coming in the wake of the powerful front will lead to "dangerous" wind chill readings in nearly all of the central to eastern United States, the Weather Prediction Center said.
The NWS forecast is valid through Christmas Day.
Here are the states where governors have announced some form of emergency measures in response to the brutal cold snap.
Colorado
Colorado Gov. Jared Polis, a Democrat, has authorized the activation of the Colorado National Guard to assist with operations in response to the extreme weather.
"Colorado is about to face extreme weather and cold temperatures and the Guard is ready to assist local communities to help keep people safe during this extreme-cold weather snap," he said in a press release.
The temperature at the Denver International Airport (DIA) fell by 37.1 degrees F in an hour on Wednesday night, setting a record for the biggest one-hour temperature drop at that location in recorded history.
Early Thursday, the temperature briefly dropped to minus 24 degrees F at DIA, just shy of the monthly record set in 1990, according to NWS Boulder.
"The combination of wind and low temperatures in winter can be deadly," Polis said in a post on Twitter.
"Be aware of warning signs of hypothermia and frostbite," he added, noting factors like confusion, shivering, difficulty speaking, sleepiness, and stiff muscles.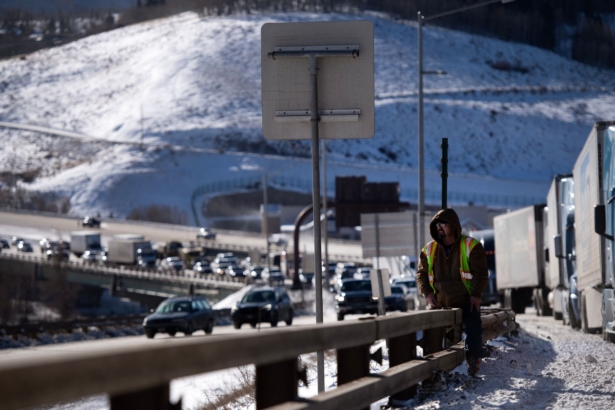 Connecticut
Connecticut Gov. Ned Lamont, a Democrat, on Thursday put the state's Emergency Operations Center (EOC) on an enhanced footing in preparation for the storm.
The enhanced monitoring status was to be in effect starting Friday at 7 a.m. and remaining in force through next Monday at noon.
"The latest forecast anticipates that Connecticut will receive a significant rain and wind storm beginning Thursday night and lasting through Saturday morning that has the potential to cause coastal flooding and a significant number of outages due to downed power lines," Lamont said in a press release.
Staff from multiple agencies will assist the EOC with communications, while crews from the Connecticut Department of Transportation are on standby for removal of snow and debris from roads and sidewalks.
"Considering that temperatures will sharply drop on Friday night, I strongly urge everyone to make preparations in case you lose power as a result of the storm," Lamont said, adding that shelters are open across the state and encouraging anyone who needs access to call 2-1-1 for assistance finding the nearest location.
Georgia
Georgia Gov. Brian Kemp, a Republican, declared a state of emergency on Wednesday, which will run through midnight on Monday.
"We want to urge all Georgians to be ready and certainly that goes for our teams," Kemp said during a press conference on Wednesday.
The state of emergency declaration will enable essential supplies to be delivered for both commercial and residential needs.
A high wind warning is in effect for northeast Georgia through 10 p.m. Friday and a wind advisory has been issued for central and north Georgia, according to NWS Atlanta.
Drivers in Georgia were warned to be on alert for patchy black ice overnight Thursday and into Friday morning.
"Black ice is most likely on local roads, bridges, and overpasses. Please use extra caution if you have to travel," NWS Atlanta warned.
Kansas
Kansas Gov. Laura Kelly, a Democrat, signed an executive order on Wednesday to enable assistance to get to parts of the state impacted by the winter storm more easily.
The order lifts certain motor carrier restrictions, including driving time limitations, in order "to allow needed fuels, relief supplies, and other items to move through Kansas as quickly as possible," Kelly's office said in a press release.
"I urge all Kansans to exercise caution over the coming days, to reconsider travel if possible, and to please stay safe and warm," Kelly said in the release.
Kentucky
Kentucky Gov. Andy Beshear, a Democrat, declared a state of emergency (pdf) on Wednesday, warning of severe winter storm conditions that will "endanger public health and safety and/or public and private property."
The declaration authorizes the mobilization of the National Guard and provides additional resources, including personnel and funding, to assist with response and recovery efforts associated with the severe weather.
Beshear said in a weather update on Thursday that wind chills in Kentucky are expected to drop below zero degrees F and go as low as minus 30 degrees F into Friday, with below-freezing temperatures expected to linger until Tuesday.
"Plan on slippery road conditions, especially tonight and moving into tomorrow. If you can stay off the roads, please do," he said in the update.
In a post on Twitter on Friday, Beshear urged people to avoid travel, saying that conditions "are worsening quickly, with roadways becoming hazardous."
"We're hearing of multiple accidents across the commonwealth. If you are an essential worker, make sure to have a vehicle kit in place. Stay safe, Kentucky," he said.
Maryland
Maryland Gov. Larry Hogan, a Republican, declared a state of emergency on Wednesday, activating emergency response operations and urging caution for holiday travel.
"Marylanders should be prepared for significant impacts to holiday travel, and adjust plans as necessary," he said in a press release.
"As always, it is especially important to give room to crews and plows. We are coordinating our response with local jurisdictions, and will continue to keep Marylanders informed throughout the storm."
Maryland drivers were urged to be vigilant on roadways as wet conditions turn to ice.
In an update Thursday, Hogan warned of a cold front on Friday that will bring high winds and rapidly dropping temperatures.
"Crews will treat roads within 1–2 hours of the expected temperature drop. Take precautions & plan accordingly," he said.
Missouri
Missouri Gov. Mike Parson, a Republican, signed an executive order on Tuesday in preparation for the pending winter storm and extreme cold weather conditions.
The order activates the Missouri State Emergency Operations Plan and the Missouri National Guard for state and local response efforts.
"Extreme cold and hazardous weather conditions are expected to bring varying amounts of snow accumulation, but even more concerning is the bitter cold that is forecasted to impact the entire state," he said in a press release.
"Missourians should be proactive in their preparations and so should state government, especially during this holiday travel season," he said.
Parson's office warned of temperatures dropping rapidly and wind chills as cold as minus 40 degrees F in parts of the state.
North Carolina
North Carolina Gov. Roy Cooper, a Democrat, declared a state of emergency on Tuesday, warning of "extremely low temperatures" expected to hit the state on Friday, as well as "very windy" conditions statewide.
The cold temperatures are expected to last through Christmas weekend, with Cooper's office warning of strong wind gusts that could down trees and lead to power outages, as well as wind chill below zero degrees F in parts of the state.
Cooper's order will "activate the state's emergency operations plan, waive transportation regulations to help the transport of fuel and critical supplies, help first responders and protect consumers from price gouging."
The emergency declaration will help companies keep up with demand for propane and other heating fuels, he said.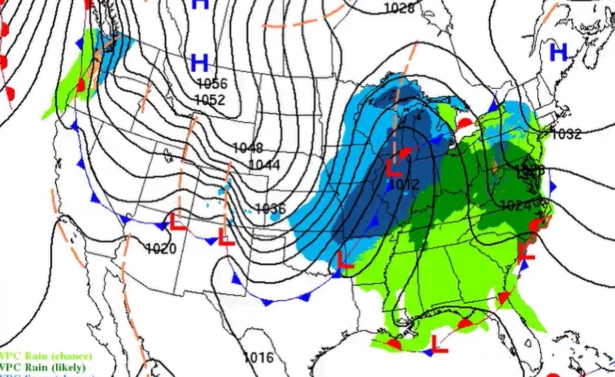 New York
New York Gov. Kathy Hochul, a Democrat, declared a state of emergency on Thursday, with her office warning of flooding, flash freezing, power outages, and "extremely low wind chills."
The emergency declaration, which is expected to last until next Monday, includes opening the state's Emergency Operations Center on Friday morning.
It also involves banning all commercial vehicles on New York State Thruway (I-90) from exit 46 (Rochester I-390) to the Pennsylvania border, and the Niagara Thruway from I-90 to exit 22 (Route 62).
"With Mother Nature throwing everything she has at us this weekend, I encourage New Yorkers who are considering traveling for the holidays to do so before Friday or after Sunday to stay safe," Hochul said in a statement.
Oklahoma
Oklahoma Gov. Kevin Stitt, a Republican, declared a state of emergency across the state on Wednesday, which will remain in effect for seven days.
Stitt's order temporarily suspends "requirements for size and weights permits of oversized vehicles transporting materials and supplies used for emergency relief and power restoration," according to his office.
The governor's office warned of bad weather conditions that could lead to power outages, hazardous road conditions, and increased demand for heating fuels.
"Please do your part, stay inside, check on your neighbors and stay safe, Oklahoma!" Stitt said in a post on Twitter.
West Virginia
West Virginia Gov. Jim Justice, a Republican, declared a statewide state of emergency on Thursday, warning of heavy snow, freezing rain, and dangerous wind chills.
The governor also issued a proclamation declaring Friday, Dec. 23, 2022, as a full-day state holiday for public employees.
"All West Virginians need to absolutely be ready for the potential impact this winter storm may bring to our state," Justice said in a press release, urging people to be prepared for possible power outages.
"West Virginians take care of one another, so on this holiday weekend, make sure you check on your neighbors and loved ones," he said in the release.
Wisconsin
Wisconsin Gov. Tony Evers, a Democrat, signed an executive order on Thursday, warning of limited deliveries of liquid fuels for heating homes.
The order, which provides a 10-day waiver for certain federal and state requirements for those providing energy emergency response supplies, allows for "the swift and efficient delivery of fuel products, as well as streamlined restoration efforts in the event of significant power outages throughout the state," according to the governor's office.
President Joe Biden, meanwhile, on Thursday met with the Federal Emergency Management Agency (FEMA) and the NWS, while warning travelers to "leave now" or face canceled flights or other travel disruptions due to the cold snap.
From The Epoch Times