Brutal winter storms are expected to deliver snow, blizzard conditions, or icing across strips of the US from California to the Northeast on Thursday, part of a multiday event that has already closed roads and caused numerous power outages—even as the Southeast basks in unseasonably high temperatures.
More than 60 million people are under winter weather alerts Thursday morning from the West into the northern Plains, Great Lakes region, and New York and New England. That's part of storms that already have left more than 850,000 homes and businesses without power, mainly in Michigan—struck partly by freezing rain and ice that's damaged utility lines and trees—and other parts of the Midwest, according to tracker PowerOutage.us.
Heavy snow already hit some of these areas over the past two days—including, as of early Thursday, more than 40 inches in parts of southern Wyoming; up to 32 inches in northwestern Montana; and generally 3–6 inches across Nebraska and the Dakotas.
Search and rescue operations were underway Wednesday evening in several counties across Wyoming to recover motorists that become trapped in heavy snow, the state highway patrol said.
In Minnesota, swaths of which saw 3–7 inches with locally higher amounts as of early Thursday, more than 160 vehicle crashes were reported and dozens of cars spun off roads Wednesday, Minnesota State Patrol spokesperson Lt. Gordon Shank said in a series of tweets.
In Wisconsin—similarly hit by snow since Tuesday in the north and freezing rain Wednesday in the south—Gov. Tony Evers declared a statewide energy emergency Wednesday, saying it will "allow for a more swift and efficient restoration of any electric power outages throughout the state," a news release from his office said.
Perilous travel conditions are expected to continue in many of these areas Thursday. Snowfall of up to 1 to 2 inches per hour could hit parts of the West, the northern Plains, and Great Lakes on Thursday, joined by winds as high as 40 to 50 mph, according to the National Weather Service. The combination will cause "significant impacts that will include major disruptions to travel, infrastructure, livestock, and recreation," the service said.
The upper Midwest and Northeast could see an additional 6 to 12 inches of snowfall, with locally higher amounts, through Thursday, the service said.
And an ice storm warning stretched Thursday morning from central Iowa to the Wisconsin-Illinois line and through southern Michigan—with freezing rain threatening ice accumulations that could make morning travel "nearly impossible" in places, the service said.
Out west, in an extremely rare event, California's Los Angeles and Ventura Counties will be under blizzard warnings from Friday morning through Saturday afternoon, the weather said. That will be the first blizzard warning issued by the weather service's Los Angeles office since 1989, it said.
"Nearly (the) entire population of California will be able to see snow from some vantage point later this week if they look in the right direction," according to Daniel Swain, a climate scientist at the University of California, Los Angeles. "Snow remains very unlikely in California's major cities, but it'll fall quite nearby."
Meanwhile, the Southeast will continue to see unusually high temperatures Thursday—as high as 30 to 40 degrees above normal—after more than 30 daily record highs were recorded there and parts of the Appalachians and lower Midwest on Wednesday. More than 80 such records could be broken Thursday.
The dueling winter storm and southern heat wave created a stark 100-degree temperature difference between the Northern Rockies and the South earlier this week.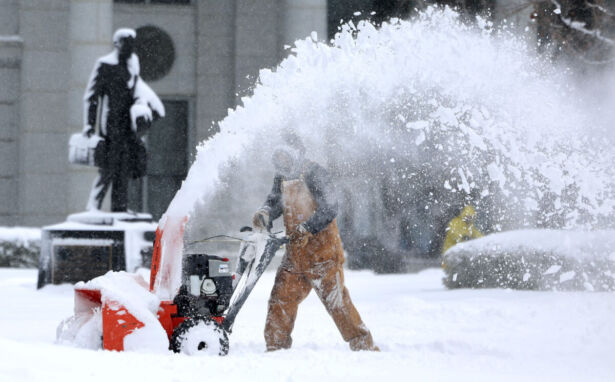 Coast-to-Coast Storms Cause Disruptions
The treacherous winter storm conditions across wide swaths of the western and northern US have caused major disruptions to daily life in some areas, and prompted local officials to issue warnings against venturing out onto the roads.
More than 680 flights within, into, or out of the US scheduled have been canceled Thursday, according to the tracking site FlightAware. That's following more than 1,600 flight cancellations Wednesday.
Since the storm began Monday evening, cumulative snowfall has reached dozens of inches in some cities, including 48 inches in Battle Lake, Wyoming, 32 inches in Dupuyer, Montana, and 29 inches in Park City, Utah.
Areas of California that rarely see snow could get significant snowfall beginning Thursday, as heavy rain and mountain snow begin to develop in parts of the state, the weather service said. Additionally, flood watches have been issued for lower-elevation areas, including Los Angeles.
Hazardous conditions have led to safety measures being implemented in multiple states.
• Wisconsin airport preemptively closed: Green Bay's international airport canceled the remainder of its daily flights Wednesday evening and most of its flights Thursday morning.
• Road closures in several states: Perilous conditions triggered highway closures on several states Wednesday, including South Dakota, Wyoming, Arizona, North Dakota, and Minnesota.
• Maine government offices closed: Gov. Janet Mills announced that state offices would be closed Thursday as the storm "is expected to bring significant snowfall to most of the state," her office said in a release.
Abnormal Heat Across the Southeast
After Wednesday brought warmer than usual winter air across the Southeast on Wednesday, Thursday will offer some of the same.
Dozens of record highs are expected on Thursday from Ohio to Florida. Highs could be as much as 35 degrees above normal for parts of the Southeast, Mid-Atlantic, and Ohio Valley.
Dozens of record daily highs were reached or tied Wednesday, including 98 degrees in McAllen, Texas, and 87 degrees in Naples, Florida. In Atlanta, Georgia, a record was set for the month of February with 81 degrees, which is the city's typical average high in mid-May.
By the end of the week, more than 100 record highs are possible stretching from the Gulf of Mexico up to the Great Lakes.
The region also experienced severe storms throughout the Mississippi River Valley on Wednesday, with over 30 storms reported across the region.
The-CNN-Wire
™ & © 2023 Cable News Network, Inc., a WarnerMedia Company. All rights reserved.