Angela Chelette thought her son was dead when a deputy showed up at her doorstep in Addis, Louisiana, at 3:30 a.m. and told her to quickly get to Our Lady of the Lake hospital. Her son, Ryan Reech, 21, just had a car accident.
"When someone tells you the priest will be in with you first and then the doctor, there's a million things that go through your head that your kid's gone," Chelette said, WAFB reported.
Randy and Renee Gautreaux thought the same thing after they called 911 for the young man who fell asleep behind the wheel, ran off LA 308 near Thibodaux, Louisiana, flipped twice in the air, and landed in a tree in the Gautreauxs' yard on Oct. 24.
"The cop had told me that he was investigating a fatality, because when he left the scene, the cops thought that he was dead," Renee said.
But, after 10 staples mended a gash on his head, Ryan eventually pulled through.
"Hey he is still stable and unconscious. He has a little bleeding on his brain but nothing too severe at this point so they will just keep monitoring it through CT scans," Chelette wrote on Facebook a day after the accident. "He's strong and for sure a fighter! Keep the prayers going."
His mother believes Ryan would have been dead if not for the expedient reaction by the Gautreauxs, the first responders, and the trauma team at the hospital.
The Gautreauxs immediately called 911 when they heard the crash from their bedroom, the police arrived within three minutes, and Ryan was airlifted to the hospital.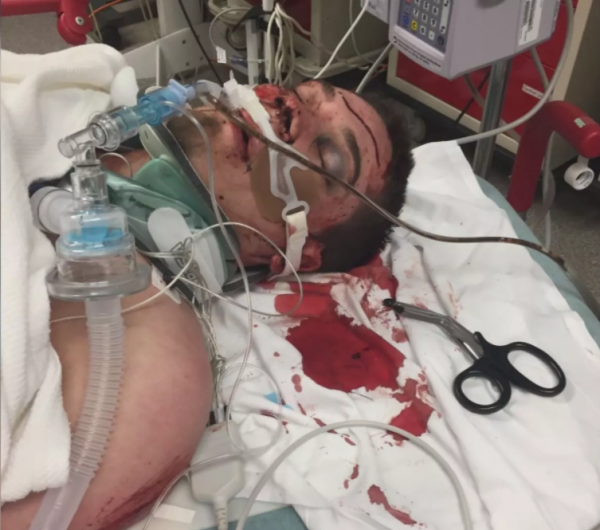 "My son could have bled to death, and it's just a miracle that he's alive," Chelette said. "I owe them everything. I owe them my life. They will forever be in our family."
The Gautreauxs were getting daily updates on Ryan's condition and Renee Gautreax also started an online group to pray for him. Three weeks after the accident they finally visited him at the hospital.
"I never met y'all before," Reech said sitting in his hospital bed. "This is just a lot to take in. People that don't even know me saved my life."
He spent almost a month in hospitals in Baton Rouge and New Orleans, but finally made it home in time for Thanksgiving as well as his Nov. 25 birthday.
Chellete told The Epoch Times she keeps in close contact with the Gautreauxs.
She also said the accident was a lesson for Ryan.
"I want people to know how dangerous it is to drive so late and how miracles do happen if god isn't ready for you to be taken from this earth," she said.
From NTD.tv
While you're here… Share!
We work hard to deliver the most important and interesting news every day for you, but would like to ask a little favor in return: Would you please share this story with your friends? You can just click the share button below. Thank you!