Former President Donald Trump's presidential campaign said it has raised more than $9 million since Aug. 24, the day the former president had his mugshot taken after he surrendered at an Atlanta jail.
The former president released his mugshot on both his Truth Social and X accounts, immediately drawing considerable attention. His X post, which marked his return to the social media platform formerly known as Twitter after a two-year hiatus, has received over 1.7 million likes and over 250 million views as of the time of this report.
The Trump Save America Joint Fundraising Committee has since put the mugshot on different merchandise, including coffee mugs, T-shirts, posters, beverage coolers, and bumper stickers.
On Aug. 29, Steven Cheung, a spokesperson for President Trump's 2024 White House bid, wrote on X that $9.4 million was raised since he was booked, adding "Mugshot merch sales have spiked."
According to Mr. Cheung, 36,000 T-shirts with President Trump's mugshot printed have been sold for a total of $1.7 million. Additionally, 24,000 mugshot coffee mugs and 8,600 mugshot posters have been sold, bringing in $864,000 and $352,000, respectively.
Fox News was the first to report on the fundraising totals. The Trump campaign told the outlet the money is "earmarked" for campaign and political activities and will not be used for legal expenses.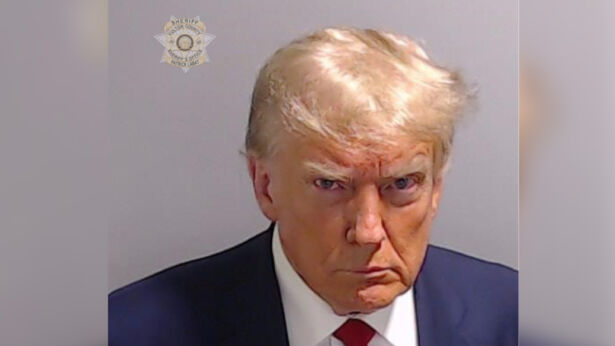 The former president has two federal cases and two state cases against him. In Fulton County, Georgia, President Trump and 18 co-defendants were indicted on Aug. 14 in connection with his efforts to dispute the state's 2020 election results.
Being booked into the Fulton County Jail was a "terrible experience," President Trump said last week, saying the process was "not a comfortable feeling."
President Trump and other co-defendants are scheduled for arraignment before the Fulton County Superior Court on Sept. 6. Fulton County District Attorney Fani Willis is requesting an Oct. 23 trial date for all 19 defendants.
'Stand With Him'
Liz Harrington, spokesperson for President Trump, said the recent surge in donations, particularly after the mugshot was released, is the result of the American people deciding to stand with the former president, during a recent interview with EpochTV's "Crossroads" program.
"The American people see right through it. They know that there's nothing here, there's no crimes, even that have been alleged," Ms. Harrington said. "And so when they see this relentless persecution for the past eight years now, that has just escalated as he's gotten stronger, and we're the American people behind him, the American people see that and they rally behind him."
"When that image came out, I think it just really had such a strong resonance with the American people because they know President Trump, they know that he fights for the American people," she added.
"They saw that picture and they said, 'We're going to fight back and we're going to stand with him.' And they saw someone with resolve and with strength and defiance against a very corrupt system."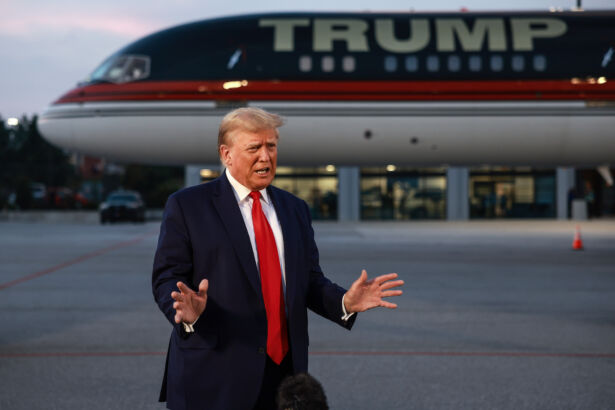 On Aug. 25, the day after the former president was booked in Atlanta, he raised $4.18 million, making it the "highest grossing day" of his campaign to date, according to Mr. Cheung.
The single-day fundraising record is evident that American people are smart, Ms. Harrington added.
"They have a fundamental sense of right and wrong and fairness and justice. And they know that none of that is being applied here," she said.
One of those who have purchased President Trump's mugshot merchandise is former Republican congressional candidate Laura Loomer, who took to X on Aug. 24 to say that she had purchased multiple T-shirts, coffee mugs, and bumper stickers.
"Happy to send Donald Trump $452 tonight to send a message to those who are attacking him," Ms. Loomer wrote.
Richard Kligman, owner of two Trump Superstores located in Myrtle Beach, South Carolina, told The Epoch Times last week that "people are going nuts" for the mugshot merchandise.
'Two-Tiered Justice System'
Many lawmakers have since shared President Trump's mugshot on X and commented on the indictments against the former president.
"Last night, Donald Trump's mugshot was released. It should've been his 4th mugshot for his 4th indictment," Rep. Cori Bush (D-Mo.) wrote on Aug. 25.
"In the United States, no one is above the law. No one," Rep. Chellie Pingree (D-Maine) wrote on Aug. 24. "Trump's crimes + lies are corrosive to America's future + our standing in the world."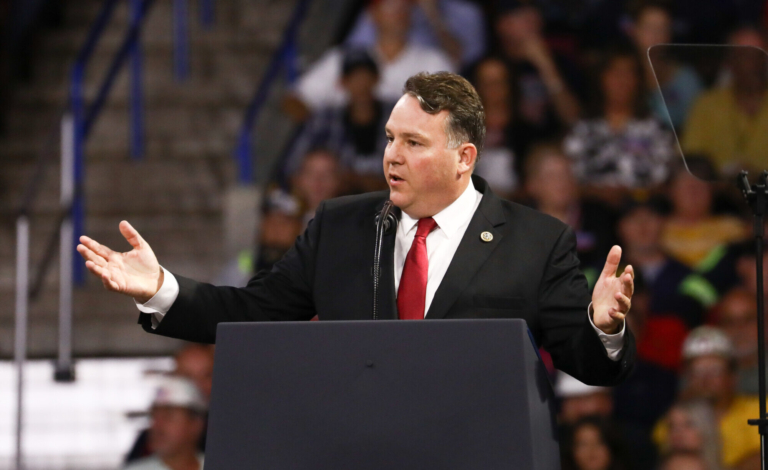 Rep. Alex Mooney (R-W. Va.) wrote on Aug. 24 that he stands with the former president.
"The two-tiered justice system is at it again. The never-ending witch hunts roll on!" Mr. Mooney added.
Rep. Lauren Boebert (R-Colo.) wrote that the mugshot "is the official photo that won Trump the [White House] back" on Aug. 24.
A recent Ipsos survey found that 71 percent of Americans didn't think President Trump would be able to get an impartial jury in his online legal battle. The survey polled people who have served on juries in the past 10 years.
In fact, more potential Republican primary voters see the former president having the best chance to beat President Joe Biden in 2024, following the first GOP presidential debate and the release of his mug shot, according to a poll by Morning Consult. The poll surveyed almost 800 potential Republican primary voters from Aug. 24 to Aug. 27.
Sixty-two percent of respondents said President Trump had the best chance to win, up from 53 percent the week earlier.
"That is up 9 percentage points over the previous week, and matches a high in Morning Consult's tracking of the question since April," the poll says.
"Despite his escalating legal troubles, which he's embraced with his campaign's monetization of his mug shot, our daily tracking shows that Trump continues to poll neck-and-neck against Biden while Florida Gov. Ron DeSantis trails the incumbent," it says.
From The Epoch Times