Incumbent U.S. Sen. Lisa Murkowski, one of seven Senate Republicans who voted to impeach former President Donald Trump, has claimed a slim lead over Republican challenger Kelly Tshibaka, according to the updated results from the Alaska Division of Elections.
On the morning of Nov. 18, with 95 percent of the ballots counted, Tshibaka was ahead with 104,898 votes (43.28 percent) compared to 104,470 (43.11 percent) for Murkowski, according to the Associated Press.
The Alaska Division of Elections' report that was released on the evening on Nov. 18 showed Murkowski with 112,519 votes (43.32 percent) and Tshibaka at 110,861 (42.68 percent). Democrat Patricia Chesbro followed with 26,874 votes (10.35 percent).
Republican Buzz Kelley, who dropped out of the race in September and backed Tshibaka but still appeared on the ballot, occupied the fourth spot with 7,484 votes (2.88 percent).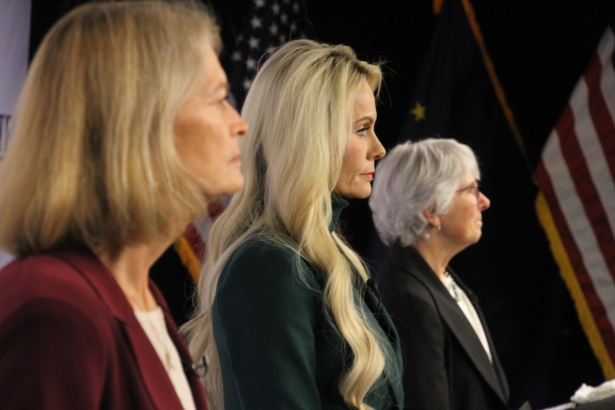 This marks the state's first general election using ranked-choice voting.
Under Alaska's ranked-choice format, voters list the four candidates, in order of preference, regardless of party affiliation. If no candidate surpasses 50 percent on Election Day, counting moves to a second round where the candidate with the fewest votes is removed.
Voters who cast their ballot for that candidate have their votes redirected to their second choice. Tabulation continues until two candidates remain, and the person with the most votes wins.
The deadline to receive absentee ballots was Nov. 18 and the tabulation of second-choice votes will take place on Nov. 23, according to the Alaska Division of Elections.
Hi!
We've updated the the Combined Ballot Count Report which shows absentee, early, and questioned ballot stats – https://t.co/MUk1oC0kyF

We're getting closer to ranked choice tabulation which you can watch live on Nov 23 at 4pm AK time here – https://t.co/bBxiXghell

— Alaska Division of Elections (@ak_elections) November 20, 2022
When the ranked-choice tabulation is held, Tshibaka is expected to get votes from Kelley supporters since he dropped out of the race and supported her.
The candidate who gets the majority of Chesbro's votes is likely to win the race. That person could be Murkowski since she has more moderate views than Tshibaka and voted to impeach Trump for the Jan. 6, 2021, breach of the U.S. Capitol, multiple analysts believe.
Last year, the Alaska Republican Party (ARP) censured Murkowski for that decision.
Murkowski also voted against Supreme Court Justice Brett Kavanaugh and was one of three Republicans who chose to confirm Supreme Court Justice Ketanji Brown Jackson in April 2022.
Trump, who won Alaska by 10 percentage points in the 2020 presidential election, endorsed Tshibaka, the former director of Alaska's Department of Administration.
The Senate Leadership Fund, which is aligned with Senate Minority Leader Mitch McConnell (R-Ky.), spent more than $5 million in Alaska supporting Murkowski and attacking Tshibaka.
McConnell's backing of Murkowski drew criticism from Trump, who blamed him for the GOP not regaining control of the Senate.
"He's too busy spending vast amounts of money on bad Senator Lisa (Murkowski) of Alaska when Kelly (Tshibaka) is FAR better," Trump recently wrote on Truth Social.
On Oct. 24, the ARP voted to censure McConnell for "divisive and misleading statements" about Tshibaka.
The ARP also said that the Senate Leadership Fund's financial support for Murkowski was "in direct contradiction" to the GOP, according to the resolution.
"Much of the financial support from the Senate Leadership Fund has been used for malicious political attack ads targeted at our endorsed candidate, Kelly Tshibaka, that are gross distortions of fact," the resolution reads. "We request the Senate Leadership Fund immediately stop the attack ads against Kelly Tshibaka and discontinue the support of all other opposing candidates."
Alaska voters also await final results from two other high-profile races.
Alaska Republican Gov. Mike Dunleavy currently leads in his reelection bid with 50.3 percent of the first-place votes. Democrat Les Gara has 24.1 percent of the first-place votes while former Gov. Bill Walker is in third with 20.7 percent. A former Republican, Walker ran as an independent.
Democratic U.S. Rep. Mary Peltola remains ahead with 48.7 percent of first-place votes compared with Republicans Sarah Palin (25.8 percent) and Nick Begich (23.4 percent).
From The Epoch Times