Elon Musk has refuted claims by the Anti-Defamation League (ADL) that allowing former President Donald Trump back on Twitter (now X) was an example of hate speech.
During an All-in Podcast, Mr. Musk rebutted the claims made by the left-leaning ADL—an international Jewish NGO, which describes itself as "the leading anti-hate organization in the world."
"The ADL was instrumental in getting Donald Trump deplatformed. And then when we restored the account, they made it super clear that they regarded simply restoring his account … that constituted hate speech," Mr. Musk said.
President Trump was permanently suspended from Twitter following the Capitol breach on Jan. 6, 2021. The reason for the suspension pertained to allegations of incitement of violence by President Trump in Twitter posts two days after the breach.
"The 75,000,000 great American Patriots who voted for me, AMERICA FIRST, and MAKE AMERICA GREAT AGAIN, will have a GIANT VOICE long into the future. They will not be disrespected or treated unfairly in any way, shape or form!!!" President Trump said via Twitter on Jan. 8, 2021.
On the same day, he posted: "To all of those who have asked, I will not be going to the Inauguration on January 20th."
These were his last Twitter posts before his account was suspended.
"After assessing the language in these Tweets against our 'Glorification of Violence' policy, we have determined that these Tweets are in violation of the Glorification of Violence Policy and the user @realDonaldTrump should be immediately permanently suspended from the service," Twitter posted on Jan. 8, 2021.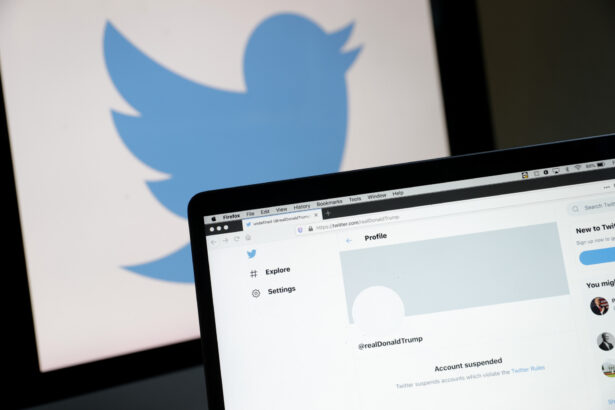 Mr. Musk reinstated the former president's account last November, but it would be months until it would be used.
President Trump returned to X (formerly Twitter) on Aug. 24 with a mugshot image of himself taken in an Atlanta jail, including the wording under it: 'ELECTION INTERFERENCE, NEVER SURRENDER." President Trump was charged with racketeering due to his challenge of the 2020 election results in Georgia.
This has been his sole post on X (formerly Twitter) since being reinstated.
Anti-Semitism Claims 'Absurd'
Mr. Musk dismissed ADL's claims of anti-semitism by President Trump as absurd.
"He hasn't even said anything! He has to at least say something, or post something, for there to be incremental hateful content—this is absurd," Mr. Musk said.
"And what's this got to do with antisemitism? Donald Trump's son-in-law is Jewish; he has Jewish grandkids. I'm pretty sure he's not antisemitic, okay. I mean, he was at their wedding."
Mr. Musk also pointed out ADL's efforts to boycott X's advertising revenue following his announcement to restore free speech to the platform.
"The fact of the matter is, the ADL did initiate a boycott. They call it a 'pause,' but you know, a 'pause' that is a never-ending boycott—same thing," he said.
Mr. Musk said he witnessed a huge decline in U.S. advertising compared to advertising in Asia, where the ADL has less influence. Mr. Musk said the domestic decline was as high as 60 percent.
"This is despite showing repeated analyses of the system, including third-party analysis of the system, showing that the number of views of hateful content declined. Third parties that have all the data analyzed and said, actually, there's less hate speech."
Mr. Musk said the ADL's actions were not really about hate speech or anti-semitism but rather an issue of an organization getting carried away by ideology.
"The ADL and a lot of other organizations have become activist organizations which are acting far beyond their stated mandate, or their original mandate, and I think far beyond what donors to those organizations think they are doing," Mr. Musk said.
Given their stance, the ADL faced criticism from many conservatives earlier this month, with many supporting the #BantheADL hashtag, which was slammed by ADL's CEO Jonathan Greenblatt, a past aide to former President Barack Obama.
Mr. Greenblatt slammed supporters of the hashtag, branding them as "white supremacists" and "hardened antisemites" during an interview with CNBC.
Mr. Musk has expressed his intention to sue the ADL for defamation. No action in this regard, however, has yet come to be taken.
NTD has reached out to the ADL for comment, but a response was not received by the time of this report's publication.