A California man was convicted this month of shooting a great white shark to death, officials said in an update on a case that started in 2018 when the shark was found washed up on a beach.
Vinh Pham, 41, was fined $5,000 and placed on conditional probation for two years.
Pham fired multiple shots from a .22 caliber firearm at the shark, striking it multiple times and killing it, according to the California Department of Fish and Wildlife.
The court also ordered Pham's firearm to be destroyed.
A tip led officers to a commercial fishing vessel that employed Pham. First, a regular investigation uncovered multiple violations. Also during the investigation, officers found a fully loaded .22 caliber rifle in the truck that Pham was using to transport the commercial catch to markets.
This great white shark washed up dead on an Aptos beach today: http://ksbw.com/article/dead-shark-washes-ashore-on-aptos-beach/21580159(Photo courtesy Giancarlo Thomae)????????????
"As the investigation progressed, Pham confessed, claiming he shot the shark after seeing it swimming near the wings of his deployed fishing net," the department stated.
On Jan. 14, he pleaded guilty to multiple charges, including wanton waste of the white shark, possessing a loaded rifle in his vehicle, and possessing undersized halibut.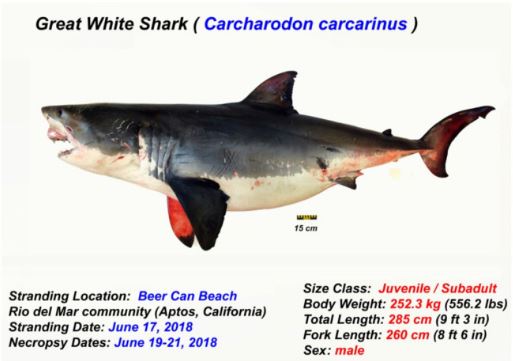 Forensic Work
Capt. Todd Tognazzini of the Fish and Wildlife's law enforcement division said that officers used forensic techniques that are used widely in normal criminal cases.
"Hopefully people get the message that we're prosecuting criminals who violate laws that are meant to protect the state's wildlife resources," Tognazzini told the San Jose Mercury News.
He said that finding the firearm used to shoot the shark was a big break in the case.
"We're very lucky we found the firearm that was used in the event," Tognazzini said. "The officer thought to check the vehicle used to transport the catch to market. We're very fortunate that this person felt like they got away with it and we were able to tie all that together."
Initially, he said, Pham told investigators that he did not pull the trigger himself and that he ordered a deckhand to shoot the shark. But the deckhand told them Pham shot the shark, and Pham eventually confessed.
"He felt it was disturbing his fishing activity," Tognazzini said. "He was upset with the shark and decided to shoot it."
Smiling Photo Upsets Some
One of the photographs taken of the dead shark was a picture showing a marine biologist lying next to it and smiling, which upset some people who saw the picture.
Giancarlo Thomae, the biologist, defended the picture, saying he wanted to provide scale while he and a colleague waited for other colleagues who were bringing equipment to the scene.
"We got down there because the tide was running in," he told the San Luis Obispo Tribune.
Local TV station KSBW posted the picture to Facebook and a slew of readers said it was disrespectful.
"This could not be more messed up. A dead shark is not a photo op. Really wow, just wow to the person who chose this pic … and to the person who thought how cool am I taking a pic of someone laying next to the dead shark. I have no words," one user said.
"Not sure how I feel about this photo … It kind of mocks the shark … I hate to see any animal die … Guess I'm just a softy the older I get," added another.
Thomae said that the picture, which he took and a colleague posed for, was not taken for fun and that he didn't intend for it to be disrespectful. He didn't say why his colleague was smiling.
"As a biologist and a nature-lover, it makes me happy that people care so much about wildlife," Thomae said. "I'm sorry if my photo offended anyone, but we just needed scale for reference."