The top Democrat on the House Judiciary Committee accused his Republican colleagues of committing an "outrageous abuse of power" with their investigation of Manhattan District Attorney Alvin Bragg during a committee field hearing held in New York City on April 17.
"Let me be very clear," Ranking Member Jerry Nadler (D-N.Y.) said. "We are here for one reason, and one reason only: the chairman is doing the bidding of Donald Trump.
"Committee Republicans designed this hearing to intimidate and deter the duly elected district attorney of Manhattan from doing the work his constituents elected him to do. … They're using their public offices and resources of this committee to protect their political patron, Donald Trump. It is an outrageous abuse of power. It is, to use the chairman's favorite term, the weaponization of the House Judiciary Committee."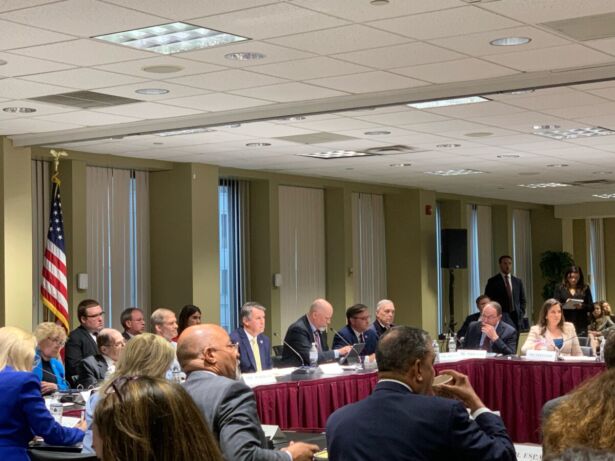 The April 17 field hearing on "Victims of Violent Crime in Manhattan" was set by committee Republicans in the wake of the local district attorney's recent decision to pursue falsification of business records charges against former President Donald Trump.
House Republicans hold that Bragg—who has drawn backlash for his lenient approach to violent crime—is targeting Trump for purely political reasons, and as a result, have launched an inquiry into Bragg's office.
Democrats, on the other hand, have criticized Judiciary Committee Chairman Jim Jordan (R-Ohio) and other House Republicans for what they see as an attempt to protect the former president from prosecution.
"I do not know if Mr. Trump will be found guilty by a jury of his peers here in New York, or for that matter in Georgia and Washington D.C. on charges that may follow, but I do know he will have his day in court," Nadler added. "Using this committee to undermine that process as it unfolds is cynical, unethical, and, given the violence unleashed on the Capitol by the former president, just plain dangerous."
Bragg Fires Back
Bragg, who shares Nadler's perspective on the matter, filed a lawsuit against Jordan, charging that the congressman had launched "a transparent campaign to intimidate and attack" him.
The lawsuit followed a subpoena Jordan issued to former Manhattan prosecutor Mark Pomerantz, ordering him to provide testimony on Bragg's Trump investigation.
"Jordan claims he is seeking to conduct 'oversight.' But he has no power under the Constitution to oversee state and local criminal matters," Bragg's lawsuit charged. "By definition, then, he has no legitimate legislative purpose for issuing this subpoena."
Bragg also made an emergency request for a restraining order against Jordan, but the court denied that request on April 11, the same day it was filed.
Jordan, for his part, has held that Bragg's case amounts to "interference" in the 2024 presidential election and is solely an attempt to prevent Trump from returning to the White House.
"[That] Alvin Bragg used federal tax dollars to go after a former president, to indict a former president for no crime, interferes with the federal election," Jordan told Fox News in a recent interview.
"And then we want to talk with someone who hasn't worked there in a year, and what's he do? He sues us."
Jordan has also requested documents and testimony from Matthew Colangelo, senior counsel to the New York County District Attorney's Office.
From The Epoch Times