Rep. Patrick McHenry (R-N.C.) ordered Democrats who recently left leadership positions to vacate their private offices in the U.S. Capitol shortly after becoming acting speaker of the House of Representatives.
Mr. McHenry ordered Rep. Nancy Pelosi (D-Calif.), who was speaker until January, to vacate her hideaway office, Ms. Pelosi said.
"One of the first actions taken by the new speaker pro tempore was to order me to immediately vacate my office in the Capitol," she said in a statement.
"Sadly, because I am in California to mourn the loss of and pay tribute to my dear friend Dianne Feinstein, I am unable to retrieve my belongings at this time," the former speaker added.
Sen. Dianne Feinstein (D-Calif.) died on Sept. 29 at age 90.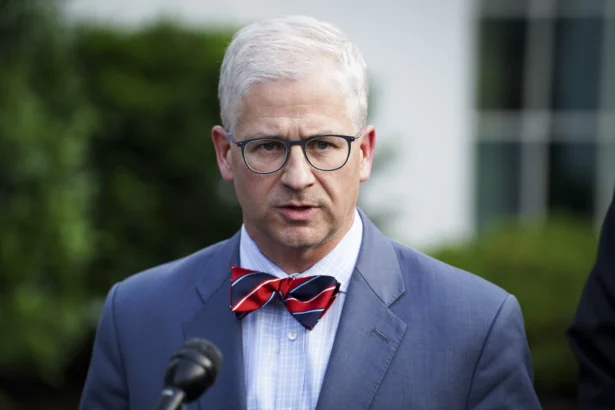 Ms. Pelosi said that the eviction was "a sharp departure from tradition," referencing how she allowed former Speaker Dennis Hastert (R-Ill.) to keep his private office "for as long as he wished."
According to reports, an email from Mr. McHenry's office to Ms. Pelosi said that he was going to reassign the hideaway "for speaker office use."
"Please vacate the space tomorrow," the email reportedly read.
"Office space doesn't matter to me, but it seems to be important to them," Ms. Pelosi said. "Now that the new Republican leadership has settled this important matter, let's hope they get to work on what's truly important for the American people."
Democrats Cry Foul
Ms. Pelosi was one of the members who did not vote on the motion earlier Tuesday to remove Rep. Kevin McCarthy (R-Calif.) as speaker.
Mr. McCarthy, who was ousted from the speaker position, and apparently allowed Ms. Pelosi to keep her private office, did not return an inquiry.
Rep. Steny Hoyer (D-Md.), who held a leadership position until January, was also told to vacate his hideaway office by Mr. McHenry, a spokeswoman for Mr. Hoyer told The Epoch Times via email.
Mr. McHenry did not respond to a request for comment.
Democrats decried the move.
"While Nancy Pelosi is in California mourning the loss of her longtime friend, Patrick McHenry does this. From top to bottom the House GOP are classless and shameful people who are desperate to score cheap political points rather than govern," Rep. Nydia Velazquez (D-N.Y.) said in a statement.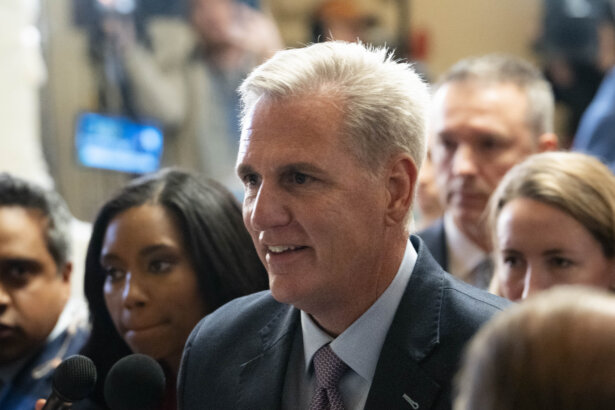 Mr. McHenry became speaker pro tempore after the House approved a resolution to remove Mr. McCarthy. Eight Republicans, not including Mr. McHenry, sided with Democrats to approve the resolution, which was introduced by Rep. Matt Gaetz (R-Fla.).
Mr. McCarthy compiled a list of members that would serve as speaker pro tempore if he were ousted, under rules passed by the House. Mr. McHenry, known as an ally of Mr. McCarthy, was at the top of the list.
Mr. McHenry as acting speaker will exercise authorities such as presiding over proceedings of the House, including a vote for the next speaker. Rep. Kelly Armstrong (R-N.D.) told reporters that Mr. McHenry's main task will be to "get us a new speaker." Anything further, he said, would spark a move to oust Mr. McHenry as well.
What's Next
Until a new House speaker is installed, it is unlikely that further action will be taken on bills to fund the government, with lawmakers facing a Nov. 17 deadline to provide more money or face a partial government shutdown.
While the speaker sets the overall legislative agenda in the House, it is the House majority leader who schedules specific bills to be debated and voted upon in the chamber.
Republican lawmakers said they would need at least a week to choose a new speaker, which will eat into the time necessary to pass that needed legislation.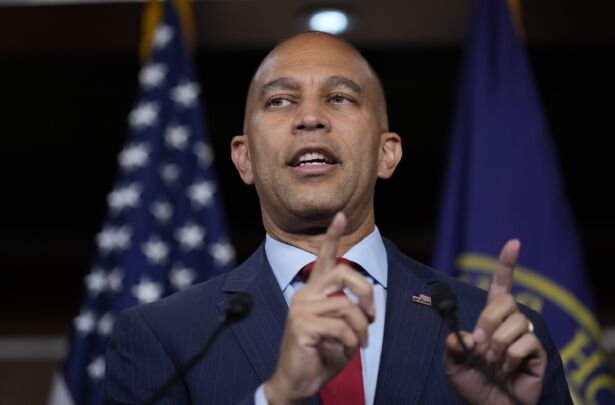 Democrats can also put forth a candidate, and are expected to offer Minority Leader Hakeem Jeffries (D-N.Y.).
Mr. Jeffries lost the race to Mr. McCarthy in January. That race went 15 rounds and took days to resolve.
The winner requires a majority of members present.
Mr. McCarthy, the first speaker removed by a motion to vacate in American history, said he would not run again. Mr. McCarthy remains in the House and can vote in the upcoming speaker election.
Under the U.S. Constitution, the House speaker does not have to be a member of Congress. That is the reason some Republicans have floated the name of former President Donald Trump for the job, even though he is running for president and has said he does not want the job.
Reuters contributed to this report.
From The Epoch Times