A man armed with an AR-15-style rifle and more than a dozen loaded magazines was shot dead by Nebraska police officers after he reportedly fired shots inside a Target store in the city of Omaha, according to local authorities.
Todd Schmaderer, chief of police in Omaha, said the department received reports of an active shooting shortly before 12 a.m. in a Target located on 178th and West Center Road.
"Calls started coming into our 911 center about an active shooter within Target," Schmaderer said. "That initiated a heavy local, state, and federal response. You saw the police officers here. Everybody in this city responded to this call if they were able to."
Schmaderer said the suspect, who has only been identified as a white male in his 30s, was carrying 13 magazines. According to a subsequent investigation, he fired "multiple shots" upon entering the big box department store, although it wasn't immediately clear if he intended to fire at anyone.
Police said responding officers gave "numerous loud verbal commands" for the suspect to drop the rifle before an Omaha officer fired their service weapon, striking the suspect. The man was declared deceased at the scene by Omaha Fire Department personnel.
"Following the confrontation with the suspect, officers conducted a thorough search of the store three times before declaring the scene safe," police said in a press release. "Officers did not locate any victims of gunfire, and as of the time of this press release, no victims have arrived at local hospitals. During the search, officers located bullet casings inside the store."
Authorities said the suspect will be identified once next of kin have been notified.
'Sheer Panic'
The sound of gunfire sent panicked shoppers and employees scrambling for safety as police rushed to the scene.
Lauren Murphy, who was working at the store when the shooting transpired, had just started her break when she heard the shots. Murphy got a text telling her to either run or stay put—so she hid in a bathroom stall, lifting her feet off the ground, and began texting her family and friends to say she loved them.
"I was scared that this is how I might die at work," the 21-year-old Target employee said. "I was just clutching onto the side of the toilet getting my feet off the ground, making sure I wasn't visible."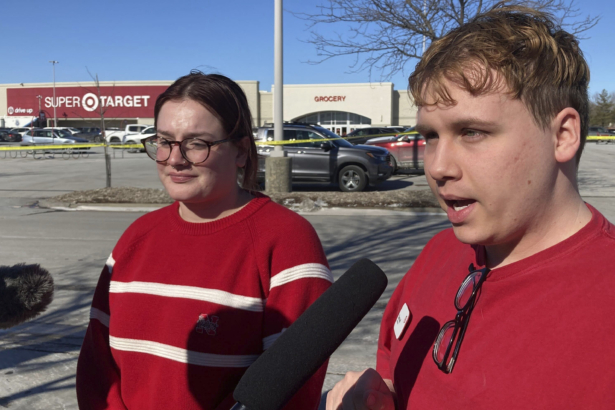 Another 21-year-old employee, Samuel Jacobsen, was filling a personal shopping order when he heard the first gunshot. But he wasn't sure what the sound was and continued to work.
"My coworker ran by and she said, 'He's got a gun, get out!'" Jacobsen said. "I was like, 'Oh, this is real. I have to get out, I have to get out.'"
At least 29 calls to 911 came in around noon, and the city's police chief said officers were at the store within minutes. The first officers on the scene included Omaha police officers and a Nebraska State Trooper.
Brian Harper-Tibaldo, a Target spokesman, said in a statement obtained by The Associated Press that all shoppers and employees were safely evacuated from the store, which will remain closed indefinitely.
Omaha police are asking anyone who was at the scene during the shooting and has not yet spoken to investigators to call 402-444-4877 to share any information they may have.
The Associated Press contributed to this report.