The governor of Nevada announced new COVID-19 restrictions over the weekend amid a recent surge in CCP virus cases across the state.
Gov. Steve Sisolak said on Sunday the new measures will include occupancy limits—a reduction in the size of gatherings—as well as a stronger mask mandate. The restrictions will be effective for at least three weeks starting from 12:01 a.m. on Nov. 24.
Sisolak made the announcement public in a series of posts on Twitter, telling residents the state is recently seeing "a record number of daily cases," adding that a total of 10 percent of all the positive cases since the beginning of the pandemic in Nevada were reported in the last seven days.
"Just recently, we experienced a record number of daily cases—2,416 in just one day," Sisolak wrote on Twitter. "Our previous record was 1,639 in July. Today we once again had over 2,000 cases reported."
"Thirteen of 17 of our counties are flagged for elevated risk of transmission. In the beginning of October, only two counties were flagged," he continued. "Our statewide positivity rate is at a record 16.5 percent, and as I mentioned, we've surpassed 2,000 deaths."
Regarding private gatherings, the new restrictions that will be implemented from Tuesday after midnight will allow no more than 10 people to attend from only two different households, according to a news release (pdf) from the governor's office.
Masks will also be mandatory during private gatherings at any time when people are around someone that isn't part of their household, both inside and outside. This rule applies to out of state visitors as well.
"If the activity is too strenuous to be done while wearing a mask properly, you must seek an alternative," Sisolak said.
For public gatherings, the total capacity will be limited to 25 percent or no more than 50 people. The governor announced two months ago that 250 people were allowed, a number that has been reduced again to 50 people. The organization of large events won't be allowed during this time period.
Regarding restaurants, bars, gaming operations, gyms, fitness facilities, and other businesses and activities, they must operate under 25 percent capacity, the office wrote, adding that masks must be worn at all times in these settings unless a patron is actively drinking.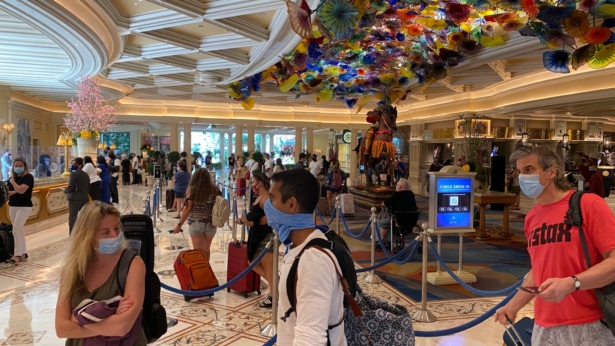 Large distributors, retail stores, including grocery stores, are allowed to continue to operate at 50 percent of capacity. A strict social distancing and additional monitoring requirement must be applied.
The new measures will be applied to places of worship as well, according to The Nevada Independent. Weddings, funerals, cinemas, or indoor movie theaters, as well as live performances, among others, will be restricted.
Places like nail and hair salons, barbershops, massage establishments, and community and recreational centers will not have a chance to increase their occupancy limits.
"As your governor, I am confident that I did all I could to avoid further restrictions and keep us on the path forward, but now I must act," Sisolak said. "In this defining moment, I implore Nevadans to tap into their independent spirit and consider their own personal responsibility."
"We decide our distance from others. We decide how long we spend in a high-risk setting. We decide whether to take the simple step of putting on a mask," he continued. "Nevadans know that if it doesn't feel safe, then it isn't safe. And, if it isn't safe, we shouldn't be doing it right now."
The governor also noted that if these restrictions are not taken seriously and the situation in the state worsens after the three weeks of additional restrictions, he "will be forced to intervene" and "take stronger action" that will include the prohibition of indoor dining and service at restaurants.