Brigantine, N.J.—"I thought that was fun, and I thought amazing!" 12-year-old Carter Doorley told The Epoch Times just after surfing in the Atlantic City ocean on Feb. 26, which was his 1,008th consecutive day surfing.
Despite it being winter, Carter said he did not feel cold. "I felt very warm," he said. "I really just love the ocean."
The young Brigantine local began his quest in 2020 during the pandemic and reached 1,000 consecutive days surfing on Feb. 18 as part of an effort to raise money for good causes such as local shelters and global nonprofits like Surf-Aid.
"It's helping others and just pursuing what I love," the six-grader said. "Because I love to surf, so I might as well keep doing it."
Carter has already raised $8,000 in cash and 5,000 canned goods. He's mainly focused on helping "people [who] are homeless and lost jobs during the pandemic."
"I've helped countless people throughout these 1,000 days, and I want to keep doing it," he said.
His current goal is to surf consecutively for three whole years—a total of 1,095 days.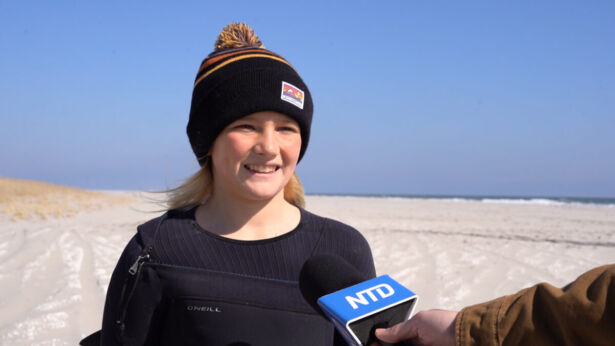 Unstoppable
During the past 1,000 days, nothing could stop Carter from getting out and catching a wave, despite some challenges.
"I kind of sprained my wrist during surfing, but besides that, I've been fine," Carter said, adding that he never thinks of giving up.
The biggest challenge he faced was when it snowed. "There were two feet of snow last year. I had to surf. That was definitely my biggest challenge. Freezing!"
He continued to surf even when he was in a Tennessee city without a beach.
His mom, Dawn Doorley, told The Epoch Times how that came to be. Her oldest son was in an ice hockey tournament in Nashville, and while they were there, they reached out to try to find a place for Carter to surf.
"So many people helped us, and the Gaylord Opryland hotel has a FlowRider inside, and they opened it up to Carter so that he could surf every day that we were in Nashville to keep the streak going, which was amazing," she said.
Dawn thinks what Carter is doing can inspire others in two ways.
"It inspires people because a lot of people that stop surfing, or maybe they gave up on surfing, saw him, and they're inspired by his story to get back out there," Dawn said.
"And I think that also can inspire kids to see that you can give back to your community, no matter how small you are. There are always ways to give back to people."
Carter agreed.
"I hope it inspires others in a good way," he said. "I think you should be the best that you can be."
Carter's story is well known locally and has attracted media attention.
"A lot of people are so happy that a little kid is so interested in giving back to other people. And a lot of people support what he's doing every day. They think that it's amazing that he has the determination to get out there every day," Dawn said.
"I just think that it's a feel-good story and that everybody needs that in this time, with COVID and everything," she said. "This is something that's positive."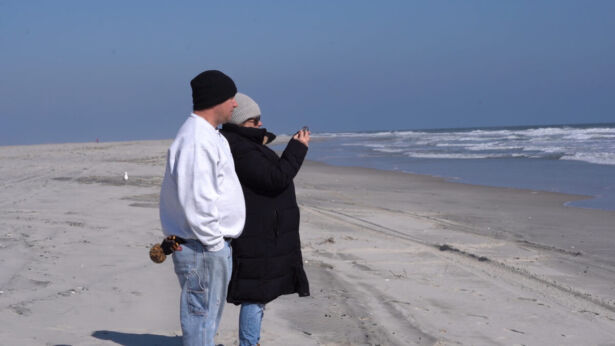 Parents' Full Support
Carter started surfing when he was five years old, and he and his family live some three minutes from the south end of Brigantine Beach.
His proud parents fully support his surfing charity initiative and take him surfing every day and watch him to ensure he's safe.
His father, Andrew Doorley, an Atlantic City firefighter, also works on the Brigantine City Beach patrol in the summer.
"Carter has raised money for the funny farm, for the food pantry, SurfAid, and kids in Ukraine. He's done something that he feels passionate about, and he just goes for it," Andrew said.
"Just watching your son do something that he really loves every day—you got to support him."
Carter is a member of the Brigantine Boardriders Club as well as the Eastern Surfing Association (ESA), which is the world's largest amateur surfing association. He sends his surfing videos to an ESA surfing coach and gets feedback on how he can improve.
In the future, Carter said he wants to attend the World Surfing League.
"He's in charge of his destiny goals. So if he wants to pursue it, I'm supportive of him 100 percent in whatever he wants to do," Dawn said.
His dad added: "I can just provide the support that he needs and let him choose his own destiny."
From The Epoch Times