New York reported nearly 12,000 more deaths with COVID-19 on Tuesday under new Gov. Kathy Hochul.
The state is now reporting 55,395 COVID-19 deaths, up from 43,415.
"We're now releasing more data than had been released before publicly so people know, the nursing home deaths and the hospital deaths are consistent what's being displayed by the CDC," or Centers for Disease Control and Prevention, Hochul said on MSNBC's "Morning Joe" on Wednesday.
There were "a lot of things that weren't happening" during the Andrew Cuomo administration, she added.
Hochul's office is making a distinction between the two sets of numbers. The lower number is the total deaths as reported by hospitals, nursing homes, and adult care facilities. The higher number is compiled through provisional death certificate data reported by New York state and New York City to the CDC.
Hochul replaced Cuomo, a fellow Democrat, on Monday. Cuomo resigned after a report commissioned by the state attorney general found he sexually harassed 11 women, which he still denies.
In her first speech, Hochul, who served as lieutenant governor before succeeding Cuomo, promised tougher COVID-19 rules and more transparency.
She also released the updated data after a nonprofit watchdog called for New York to be transparent about the nursing home deaths.
The new numbers include "presumed and confirmed deaths," Hochul said during another media appearance on Wednesday, on NPR's "Morning Edition."
"We're using CDC numbers, which will be consistent, and so there's no opportunity for us to mask those numbers, nor do I want a mask those numbers," she added. "The public deserves a clear, honest picture of what's happening—that's whether it's good or bad. They need to know the truth. And that's how we restore confidence when they know that I will always be truthful and very transparent in my approach to government and not just with respect to nursing homes; every aspect of, of government."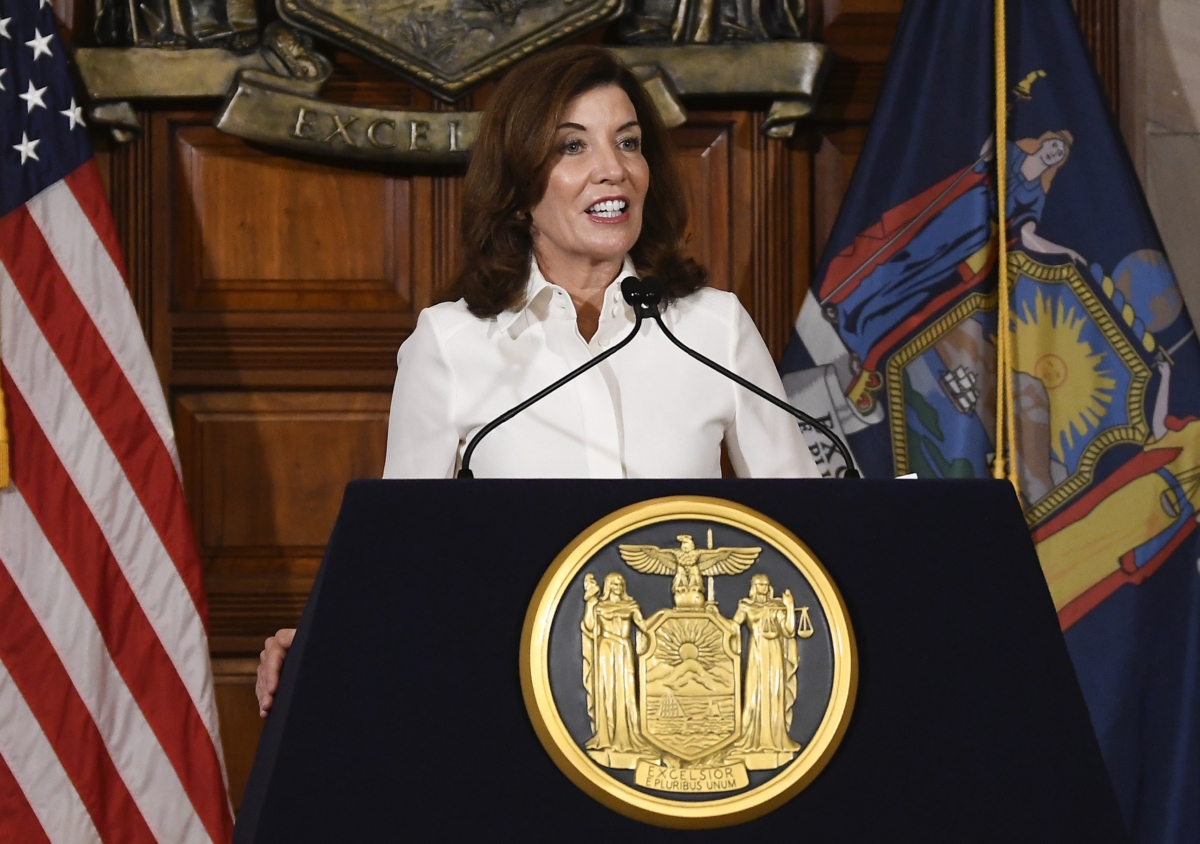 New York already had one of the highest death rates in the country per 100,000 residents during the pandemic before the recent additions.
The New York State Department of Health did not respond to emailed questions.
"Absolutely devastating, and appalling that, in addition to the concealing of nursing home deaths that we already knew about, former Governor Cuomo and his administration vastly misrepresented the total number of people who died from COVID-19 in New York," New York Sen. Julia Salazar, a Democrat, said on Twitter on Wednesday.
"Criminal fraud," added Assemblyman Ron Kim, another Democrat.
Cuomo's administration struggled with transparency, especially in regards to COVID-19 deaths.
The administration issued a controversial order in March 2020 that forced nursing homes to accept COVID-positive elderly persons, which critics say led to a jump in COVID-19 deaths in the state.
New York officials acknowledged in January that the nursing home resident death toll during the pandemic was an undercount, adding over 4,000 such deaths. The disclosure came after New York Attorney General Letitia James, a Democrat, said Cuomo's administration underreported COVID-19 nursing home fatalities by as much as 50 percent.
James said she could not determine whether the March 2020 policy led to more deaths.
Officials also said they left data out of a nursing home resident death report. Audio, meanwhile, showed a top aide to Cuomo told legislators that the administration withheld nursing home residents' deaths because they could be "used against us," appearing to refer to a Department of Justice inquiry that ended in July with no official investigation.
Cuomo has maintained nothing untoward happened and in his farewell speech, claimed that New York's infection rate plunged after starting sky high because "when the rest of the nation put their head in the sand, and denied science and played politics, we faced up to the facts and we made the tough but necessary decisions."
From The Epoch Times