New York Attorney General Letitia James has filed a lawsuit against food and beverage giant PepsiCo Inc. accusing the company of harming the public and the environment with its single-use plastic packaging.
Ms. James's office announced the "historic and groundbreaking" lawsuit in a Nov. 15 press release, after PepsiCo's single-use plastics were allegedly found floating along the Buffalo River.
The lawsuit was filed in Buffalo, New York, and lists PepsiCo and its subsidiaries, Frito-Lay Inc. and Frito-Lay North America Inc., as defendants.
It states that Ms. James's office found that single-use plastic—including beverage bottles, bottle caps, and snack food wrappers—produced by the beverage corporation "contributes significantly" to high levels of plastic pollution found along the Buffalo River, which empties into Lake Erie, and that such pollution is contaminating drinking water and harming wildlife.
According to the lawsuit, Ms. James's office conducted a survey of all types of waste collected at 13 sites along the Buffalo River and its tributaries in 2022.
Officials with her office collected a total of 1,916 pieces of plastic trash with an identifiable brand, of which 328, or 17.1 percent, were produced by PepsiCo; meaning it far exceeded any other source of the identifiable plastic waste found along the river and was three times more abundant than the next highest contributor.
"Year after year, plastic packaging amasses on the shores of the Buffalo River. Single-use plastic beverage bottles, bottle caps, and snack food wrappers, of the type manufactured, distributed, and sold by PepsiCo, are collectively the most abundant forms of plastic waste along the shores of the Buffalo River, and PepsiCo is the single largest identifiable contributor to this plastic waste," the lawsuit begins.
Public Health Threat
"Because plastic does not biodegrade in the environment, but rather fragments into smaller and smaller pieces known as microplastic or nanoplastic, PepsiCo's plastic packaging pollutes the land and the river itself," it continues. "PepsiCo's plastic packaging contaminates the river and public drinking water supplies, threatening public health, harming freshwater species, and endangering the ecosystem."
"In all its forms, this plastic pollution interferes with the public's use and enjoyment of the Buffalo River and its environs, and adversely affects the aesthetic value of the river and its shoreline," the lawsuit states.
Ms. James's office further alleges that PepsiCo has failed to abate the harm or warn the public about the potential health and environmental risks of its single-use plastic packaging and that it misleads consumers and the public about its efforts to combat plastic pollution while simultaneously increasing its production and sale of single-use plastic packaging.
PepsiCo produces and packages at least 85 different beverage brands and 25 snack food brands that mostly come in single-use plastic containers, according to Ms. James's office.
In the past, the manufacturer has said it recognizes its packaging is often improperly disposed of and is concerned about plastics and other waste's impact on the environment. In response to those concerns, the company has vowed to work to ensure 100 percent of its packaging is recyclable, compostable, or biodegradable, and that its "virgin plastic use" across its beverage portfolio is slashed by 35 percent by 2025.
However, the lawsuit concludes that the New York-headquartered company has "created or contributed, and continue to create and contribute, to a substantial interference with the exercise of a common right of the people living in the City of Buffalo and its surrounding areas, interfering with the use by the public of public spaces, and/or endangering or injuring the property, health, safety or comfort of a considerable number of persons."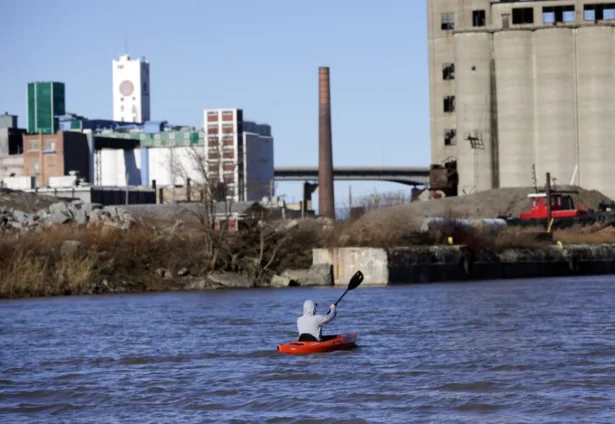 Pepsi Calls for Plastic Pollution Treaty
It seeks to force PepsiCo to make "reasonable best efforts" to abate the public nuisance, undergo studies to identify the extent of its plastic pollution, and take appropriate actions to remediate the contamination and provide other relief.
It also asks that the soda-and-snack food giant place an adequate warning on its single-use plastic beverage bottles and snack food wrappers sold or distributed in the Buffalo region warning customers that the packaging is a potential source of plastic pollution and presents a risk of harm to human health and the environment.
Ms. James's lawsuit is similar to a separate suit filed against PepsiCo, Coca-Cola, Nestlé, and a string of other companies in 2020 by a California environmental group alleging similar a "nuisance" with regards to packaging.
It comes as government delegations are set to gather in Nairobi, Kenya, this week to begin negotiations on a landmark treaty to tackle the plastic pollution issue.
PepsiCo was among over 70 brands that last year issued a joint statement calling for the adoption of such a treaty, Axios reported.
The Epoch Times has contacted a spokesperson at PepsiCo for further comment.
"No company is too big to ensure that their products do not damage our environment and public health. All New Yorkers have a basic right to clean water, yet PepsiCo's irresponsible packaging and marketing endanger Buffalo's water supply, environment, and public health," said Ms. James in a statement announcing the lawsuit.
"No one should have to worry about plastics in their drinking water, plastic garbage littering their scenic riverfront, or plastic pollution harming wildlife. I will never hesitate to take on major corporations that put the health and safety of everyday New Yorkers and our planet at risk," Ms. James added.
From The Epoch Times