As New York City creaks under an unfettered influx of illegal immigrants, Mayor Eric Adams announced on Tuesday that he has decided to travel to Latin America himself to discourage people from seeking asylum in the city.
The Democratic mayor is set to visit Mexico, Ecuador, and Colombia during a four-day trip this week.
Almost 120,000 people have arrived in New York since the State of Texas decided to bus illegal immigrants out of the state to Democrat-led, self-proclaimed "sanctuary cities," including New York, Chicago, Denver, and others.
"We want to give an honest assessment of what we are experiencing here in this city," the New York Mayor said. "We are at capacity."
"We're going to tell them that coming to New York doesn't mean you're going to stay in a five-star hotel. It doesn't mean that, the mere fact that you come here, you automatically are going to be allowed to work," he said.
With the city's shelter system overwhelmed and understaffed, and with the city's financial resources strained, Mr. Adams has made a series of urgent pleas for extra funding and a shift in federal immigration policy.
"For each family seeking asylum through the city's care, we spend an average of $383 per night to provide shelter, food, medical care, and social services," he told lawmakers in August.
The mayor said managing the arrival of the migrants could cost the city $12 billion as it continues to erect new emergency shelters and houses large numbers of illegal immigrants in New York Hotels.
Mr. Adams will begin his trip on Wednesday in Mexico, where he will attend the North Capital Forum and meet with government officials. He will then travel to Quito, Ecuador, for additional meetings before he heads to Bogotá, Colombia, and eventually to the Darien Gap, a dangerous section of the route on the border between Colombia and Panama that many migrants pass through on their way to the United States.
Mr. Adams has recently moved to tighten New York shelter rules by limiting adult migrants to just 30 days in city-run facilities as overcrowding intensifies. The city has also been challenging a decades-old legal agreement that requires it to provide shelter to anyone who requests it. On Tuesday, the city asked a judge to allow the rule to be suspended during a state of emergency where the shelter population increases at a rapid rate.
City and state leaders in New York, Illinois, and elsewhere have urged the federal government to make it easier for migrants to get work permits, which would allow them to pay for food and housing.
The Biden administration last month took a step toward complying with the demand by extending the Temporary Protected Status (TPS) to nearly half a million Venezuelans in the United States, including those who entered the country illegally.
TPS status protects immigrants from deportation and allows them to work legally.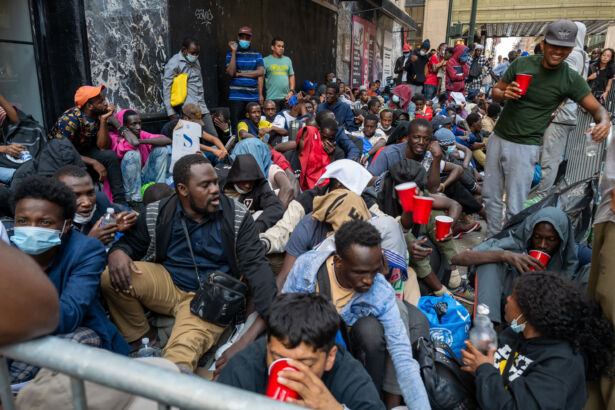 As hundreds of migrants continue to arrive on a daily basis, Mayor Adams and New York Gov. Kathy Hochul have announced $38 million in new state funding to help connect immigrants with legal services.
According to Ms. Hochul, New York had already spent $1.7 billion to shelter and support asylum seekers by the end of September.
Chicago is also planning to send a delegation to Texas's southern border to meet with government officials and NGOs, and to offer illegal immigrants a more realistic portrayal of what they might expect in Chicago.
Cristina Pacione-Zayas, Chicago Mayor Brandon Johnson's first deputy chief of staff, said the Texas border trip will be used, in part, to warn illegal immigrants about the harsh Chicago winters.
"We want to manage the number of people that are coming and staying in Chicago," she said.
The Associated Press contributed to this article.