The New York Police Department (NYPD) on Monday began setting up barricaded press pens around the Manhattan Criminal Court where former President Donald Trump is expected to be indicted on Tuesday.
For days, Trump has suggested that he expects to be arrested by the Manhattan District Attorney's Office, which is investigating the former president for his company's classification of a $130,000 reimbursement to his former personal attorney Michael Cohen over a payment allegedly made to adult actress Stormy Daniels.
Numerous videos show an NYPD truck stationed near the Manhattan courthouse complex as personnel unloads dozens of portable metal barriers that could be used to block off streets or sidewalks around the building.
The move follows Trump's own calls in a statement on Truth Social over the weekend, asking people to "take our nation back" as he urged his supporters to "protest" the potential indictment, although the former president did not say where or how people should protest.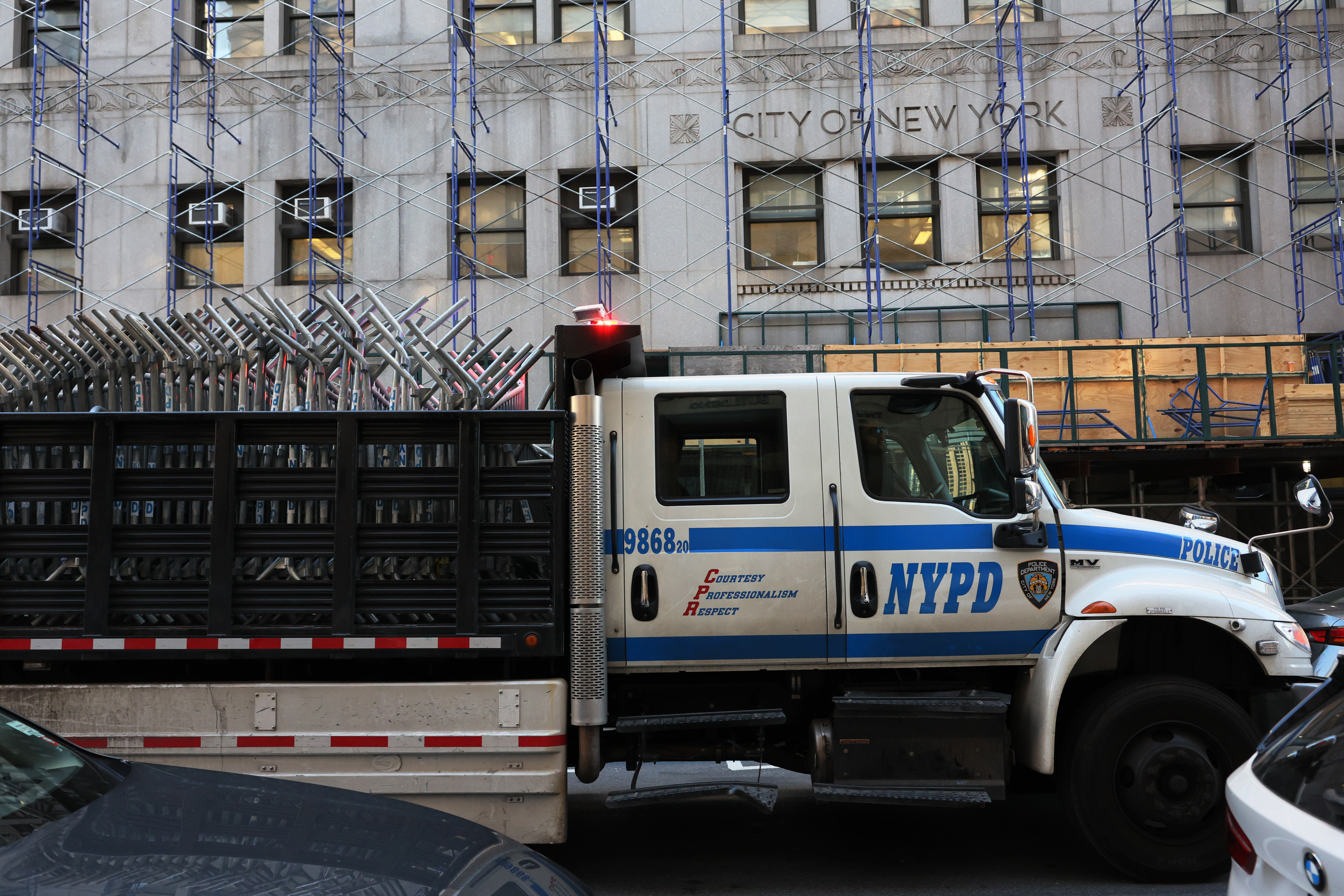 Dennis Quirk, president of the New York State Court Officers, told the Daily Mail that he's set to meet with officials to outline security precautions and also how to bring Trump and his lawyers safely into the courthouse, citing the likelihood of protests.
"We're going to have to close off the street around the courthouse so somebody doesn't put a car there with a bomb," Quirk said. "How are you going to get Trump to the building, how are you going to get him into the building and court, how are you going to get him out safely?"
Quirk noted that Manhattan District Attorney Alvin Bragg, a Democrat who instructed the potential indictment, has aggravated the situation by allegedly leaking information on the case. Quirk suggests it would now be best for a virtual hearing to process Trump.
"We believe this should be done virtually for everybody's safety," he said. "There's no reason to have a big confrontation here tomorrow or Wednesday when it takes place."
 'A Clear Message'
In a statement on Monday, the New York Young Republican Club (NYYRC) announced plans for a "peaceful rally" in lower Manhattan at 6:00 p.m. ET—which will be broadcasted live on NTD—to protest Bragg's potential indictment of Trump.
"Bragg has priorities wildly askew from a professional serving in his role," the NYYRC said. "While his office levies reduced charges on people arrested for violent crimes, he has committed untold resources to the dogged pursuit of President Trump over allegations deemed without merit by both Bragg's predecessor, Cyrus Vance Jr., and federal prosecutors."
"Bragg and his ilk have a clear message to Americans: Stay silent or you are next," the organization added. "But The New York Young Republican Club will not bow down to the mob … For that reason, we will hold a peaceful rally today in Manhattan to protest Bragg's abuse of power and attacks on President Trump."
The NYPD, meanwhile, said at the same time that law enforcement officials are continuing to closely monitor online comments about potential protests.
A number of officials, including Arizona Republican candidate Kari Lake, suggested that "peaceful protests" should be in order if Trump were to be indicted.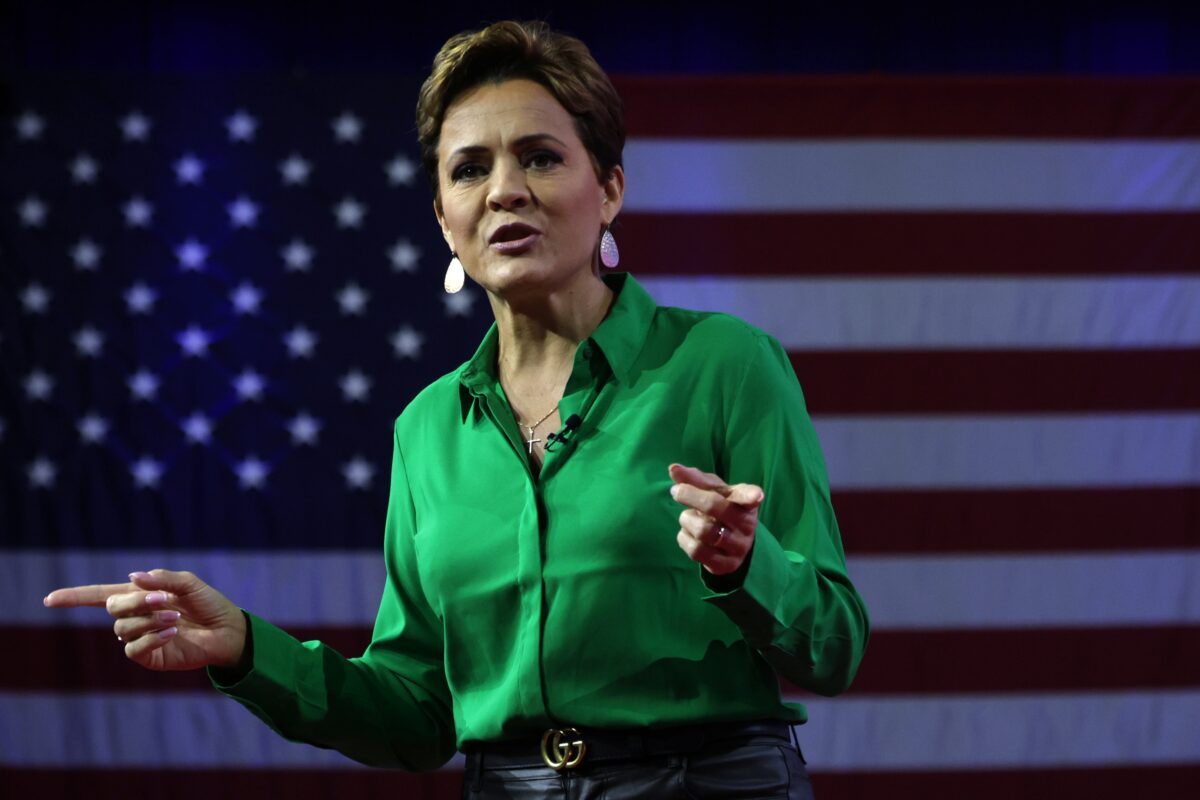 "And I would remind his critics that the First Amendment of the United States Constitution grants us the right to peaceably assemble," Lake said in a statement. "We cannot allow ourselves to live in such fear of the left's infiltration that we surrender our God-given rights without them even asking."
In response, a longtime conservative activist and Washington D.C. protest organizer, Kristinn Taylor, wrote for The Gateway Pundit that Trump supporters should be especially cautious in the wake of the events that occurred on Jan. 6, 2021, at the U.S. Capitol.
"With Trump supporters now recognizing that provocateurs and federal agents will attempt to infiltrate protests, my recommendation would be to go ahead and protest—but to tightly police your gatherings. Best to avoid the whole lot of 'em," she wrote in an article giving "advice" to demonstrators. "I would also tell people who show up in camo or khaki" military fatigues to "get lost," the activist added.
Reactions
Several prominent Democrats, including Reps. Nancy Pelosi (D-Calif.) and Adam Schiff (D-Calif.), took umbrage with Trump's calls for protests, and immediately claimed that the former president was inciting violence.
"The former president's announcement this morning is reckless: doing so to keep himself in the news and to foment unrest among his supporters," Pelosi said on March 18.
Soon after Trump's call for protests, former Vice President Mike Pence—himself a possible 2024 candidate—told reporters on March 18 "we want to send a very clear message that violence will not be tolerated and anyone that would engage in violence would be prosecuted to the fullest extent of the law." He did not provide any evidence of any possible acts of politically motivated violence.
Pence also said that "we respect the right of Americans to let their voice be heard and to express the frustration over what appears to be a politically motivated prosecution of the former president."
Trump, who announced his 2024 bid for the White House last November, is slated to hold his first 2024 campaign rally in Texas on March 25.
Jack Phillips contributed to this report.