The Manhattan district attorney's office on Monday issued a response to House Republicans' demands to have District Attorney Alvin Bragg testify amid reports that former President Donald Trump will be indicted soon.
"We will not be intimidated by attempts to undermine the justice process," a spokesperson for Bragg told news outlets in the first public response to inquiries linked to the Trump investigation. "Many false claims have been lobbed out, so let's set the record straight. New York remains one of the safest big cities in the US."
Republicans, Trump, and some legal scholars have said that Bragg's pursuit of what they have called left-wing policies have led to a surge in violent crime in New York City and have questioned why the DA is targeting Trump over an incident that occurred in 2016 while crime remains relatively high in the city. Law enforcement groups have said the DA's office's policies have led to the release of repeat offenders who instead should be jailed, leading to more criminal activity.
The New York City Police Department's data shows that overall crime in New York City was up 22 percent in 2022 over 2021. The city saw 433 murders last year, which is an 11 percent drop year-over-year, but that's still far higher than previous years. For example, police data shows that New York City 295 murders and 318 murders in 2018 and 2019, respectively. There were 462 murders in 2020.
Late last week, a court source told news outlets that Trump could be indicted this week, while the former president later wrote on Truth Social that he believes an indictment will be handed down on Tuesday. He called for his supporters to protest the arrest, while reports say that Bragg is looking to charge Trump for misclassifying alleged hush payments he made to Stormy Daniels during the 2016 campaign.
"WILL BE ARRESTED ON TUESDAY OF NEXT WEEK. PROTEST, TAKE OUR NATION BACK!" he wrote via Truth Social.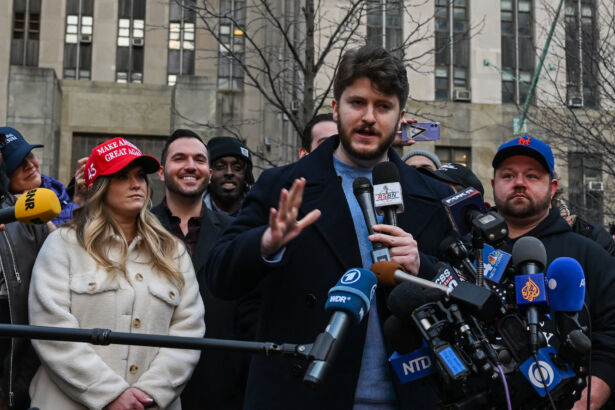 House Republicans sent a letter to Bragg on Monday, demanding testimony and documents over the investigation. Both Trump and Republicans say that Bragg is engaging in a politically motivated investigation.
"You are reportedly about to engage in an unprecedented abuse of prosecutorial authority: the indictment of a former president of the United States and current declared candidate for that office," said the letter, signed by Reps. Jim Jordan (R-Ohio), James Comer (R-Ky.), and Bryan Steil (R-Wis.).
On Sunday, House Speaker Kevin McCarthy (R-Calif.) said the investigation appeared to be politically biased and said Bragg's office was letting crime run rampant in the city. The speaker added that people shouldn't protest the arrest of Trump, while other Republicans have said that would-be Trump demonstrators could be unfairly targeted if they turn out in New York City, a heavily Democrat area.
"So this guy is trying to create something when he has all the crime happening in New York, and he prides himself on not prosecuting everything else," McCarthy said over the weekend about Bragg.
Meanwhile, an attorney who worked as an adviser to former Trump lawyer Michael Cohen, provided testimony before a New York grand jury on Monday, according to Trump and others. Robert Costello told reporters outside the DA's office Monday that Cohen, a convicted felon who was sentenced to three years in a federal prison, is reportedly testifying and is a poor choice for a witness.
"If they want to go after Donald Trump and they have solid evidence then so be it," Costello said. "But Michael Cohen is far from solid evidence."
From The Epoch Times