NEW YORK—Twenty-four years ago thousands of Chinese citizens gathered outside of Zhongnanhai, the Chinese Communist Party's headquarters at the heart of Beijing.
They were Falun Gong practitioners, and were there to peacefully call on the communist regime to end the harassment and suppression of their peers by local authorities. Less than three months later the Chinese Communist Party (CCP) would launch an all-out persecution campaign against the spiritual practice.
This Sunday in Flushing, New York, more than three thousand took part in a parade to remember the historic appeal at Zhongnanhai, and call for an end to the CCP's ongoing persecution of Falun Gong.
One such person was Elsie He, a New York resident in her 40s. On Sunday she rallied on the streets of Flushing, but 24-years-ago, nearly to the day, she was one of those who had gathered in Beijing.
That day for He, at the time a college freshman, would have been a day of reading, studying for class, or doing meditation.
However, that cloudy April 25, 1999, donning her usual outfit of a light single-layer cotton jacket, long dark pants, and sneakers, with her long black hair tied back into a ponytail, the student hopped on a bicycle with three friends in the early morning. Their destination was Zhongnanhai.
It was about 7 or 8 a.m., too early for He to venture out of the school dorm on an off day, and few pedestrians were on the street. That was until she reached Fuyou Street, which led up to the compound. There, throngs of people and still more were streaming in. They talked softly, forming a long line on the sidewalk and carefully avoided stepping on the road or blocking traffic. Most people stood quietly still. Some were seated to meditate or read. A few passed around plastic bags to collect trash.
By the end of that day on April 25, 1999, around 10,000 would have come from all over the country, appealing for an environment where they could freely practice Falun Gong, the spiritual discipline many credited for uplifting their mental and physical wellbeing. It would mark the largest peaceful demonstration in China since the regime, deploying tanks and guns, purged pro-democracy protesters from the nearby Tiananmen Square a decade earlier.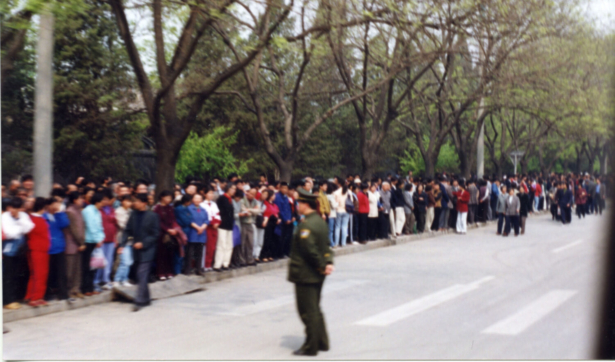 He, carrying a small canvas backpack with the practice's main teaching, a book titled "Zhuan Falun," along with a sesame flatbread as her meal for the day, had lost sight of friends shortly after her arrival. She waited in the crowd until dark, leaving when the word got around that then-Premier Zhu Rongji had met with Falun Gong delegates and assured them of his support.
But a nationwide persecution that descended three months later showed that the regime's promises were nothing but hollow words.
'We Know You Guys Didn't Do Anything Wrong'
Featuring the core principles of truthfulness, compassion, and tolerance, along with meditative exercises, Falun Gong was wildly popular during the 1990s. By some estimates, one in 13 among the then 1.3 billion Chinese population had picked up the practice by 1999, the year when the atheist Chinese Communist Party (CCP) would mark the group as the latest enemy of the state.
In the months and years leading up to the persecution, Falun Gong adherents had felt growing restrictions to their freedoms. Days before their appeal at Zhongnanhai, authorities beat and arrested dozens of Falun Gong practitioners in the megacity Tianjin, telling other adherents to petition in Beijing if they wanted the detainees freed. State-owned televisions and newspapers had run content vilifying the faith.
"Because we follow truthfulness, compassion, and tolerance, we try to treat everyone with kindness, including the government," said He, now in her 40s and living in New York.
"We thought that the arrests in Tianjin and all that biased coverage were because they didn't really understand us. We wanted to give them a window to understand us, to show them everything. That was the group of people we were."
He believes the kindness and trust they demonstrated that day were something that "never changed"—even after becoming victims of a ferocious persecution campaign.
"It's the CCP that chose to make enemies with truthfulness, compassion, and tolerance. They pushed such a group of people to the opposite side."
Since July 1999, the regime has gone to massive lengths to eradicate the faith, subjecting adherents to arbitrary detention, severe torture, heavy fines, slave labor, and social discrimination. An untold number have become victims of state-sanctioned killing for their organs, known as forced organ harvesting.
He describes her experience during the persecution as a miniature of what other families underwent elsewhere in the country. At one point in around 2001, three members of her family, He, her brother, also a college student, and her mother, a university professor, were simultaneously detained at their colleges where they studied or worked.
The immense mental strain turned her father's hair white overnight.
Every day, instead of going to class, He would report to the office of her school's Party secretary. The Party secretary even instructed a classmate to befriend her in an effort to secretly gather intelligence about the practice, which He didn't know until years later.
"Falun Gong never has any secrets. How we exercise and study, everything about everyone, they know it through and through. But they still wanted to use such tactics. It was as though they wanted to concoct some charges against us," she said.
But He considered herself lucky, she said, given the number of top students in elite Chinese schools such as Tsinghua and Peking University who had lost their lives or became mentally ill due to the persecution.
In late 2012, after finding his home ransacked following a police raid that led to his wife again being arrested, He's father suddenly suffered a stroke and never regained consciousness. He died about seven weeks later, on Christmas Day.
"I know you guys didn't do anything wrong, but we can get money for arresting Falun Gong," the policeman told He when she implored for her mother's release, she recalled. "My son is getting married and I need to get some money for him. One Falun Gong arrested is 4000 yuan [roughly $640 at the time] for me."
"They are selling their souls for money and exchanging lives with money," said He, adding that she considered those people pathetic. "They could abandon their conscience for that little bit of money."
'A Milestone Event'
He recounted her story on a similarly cloudy weekend day in New York decades later, ahead of a gathering to mark the 24th anniversary of the Zhongnanhai appeal, which Beijing would later depict in its propaganda as a "siege" in a bid to justify the persecution.
"Despite what the CCP would have you believe as a materialist atheist state," the persecution campaign, in the eyes of China analyst James Gorrie, is really a "spiritual battle against the wickedness and the forces of evil."
"People find strength in something that can't be quenched by a bullet or a prison sentence," Gorrie, author of "The China Crisis" and a contributor of The Epoch Times, told the publication's sister media NTD. "And that's why China fears it. That's why they rightfully fear it. Illegitimate regimes fear everything."
Gregory Copley, president of the International Strategic Studies Association and a contributor for The Epoch Times, added that he found the resistance from Falun Gong inspiring.
"One of the hallmarks of the whole Falun Gong philosophy," he told NTD, is "elevating the spirit of the the individual to a sense of nobility, patience, and perseverance."
"This is going to be very hard for any organization like the Communist Party of China to ever suppress."
China watchers and the Falun Gong community, he suggests, should "memorialize and celebrate" the April 25 appeal as "something iconic."
"It's worth writing the saga of that protest in such a way that it is seen as a milestone event in Chinese history, one which will spell the start of the decline of the Communist Party of China."
Choice for the West
Rep. Gus Bilirakis (R-Fla.) called on the world to act against the nearly 24-year-long persecution that violates "the most basic of all human rights."
"We have an obligation to speak out on behalf of those whose voices have been silenced for far too long, for if we stay silent in the face of these transgressions, we do so at the peril of civil society," he told The Epoch Times.
Like Bilirakis, He and others at the Sunday event in Flushing urged the free world to take a clearer stand.
"People used to say that onlookers' 'selective blindness' is in part why the evil can get their way," Zhao Ruoxi, a former journalist from Tianjin who witnessed the arrests that led to the April 25 appeal, said in a speech at a rally that drew four thousand, according to organizers.
"Maybe some people think that I haven't persecuted Falun Gong and therefore I'm not responsible. But your silence and not doing anything is condoning such abuses to happen. It's a key reason that the persecution can go on unfettered to this day."
Even for adherents who have found refuge in the United States, they still fear for the safety of their loved ones in communist China.
Wang Shanshan, who escaped China a decade ago to keep her baby that otherwise would not have been allowed under the regime's one-child policy, at the rally pleaded for help for her mother Liu Aihua, who has suffered 11 arrests and was recently sentenced to four years in prison for her belief in Falun Gong. She also called for the release of Zhou Deyong, whose wife and son are Florida residents. Zhou was sentenced to eight years in prison on April 20.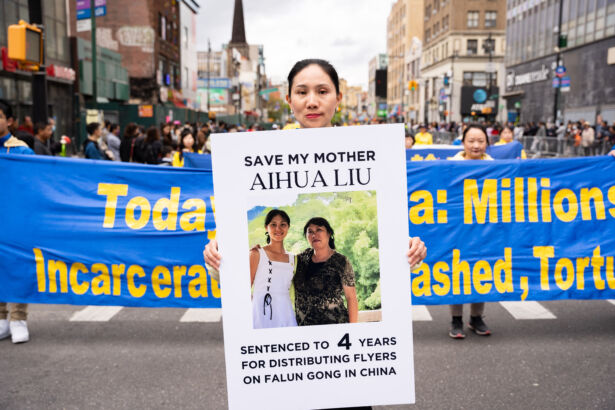 In the face of the regime's ongoing abuses, everyone needs to make a choice, said He.
"Will you choose to speak up or choose indifference?" she said.
Jenny Jing contributed to this report.
From The Epoch Times