Republicans in New York on Jan. 11 called for Rep. George Santos (R-N.Y.) to step down.
"George Santos's campaign last year was a campaign of deceit, lies, and fabrication," Joseph Cairo, the chairman of the Nassau County GOP, told a press conference. "He deceived the voters of the 3rd Congressional District, he deceived the members of the Nassau County Republican Committee, elected officials, his colleagues, candidates, his opponents, and even some of the media."
In a written statement, New York GOP Chairman Nick Langworthy said "it would be in the best interest of the taxpayers to have new leadership" representing the district in Congress.
Santos, 34, has admitted to embellishing his resume after it was reported he lied about his work and education history.
Santos, who lost in a 2020 race for Congress, beat Democrat Robert Zimmerman in 2022 with 54 percent of the vote for a seat left open by former Rep. Tom Suozzi (D-N.Y.), who chose to run for governor. Santos was sworn into office on Jan. 7.
Other officials, including Reps. Nick Langworthy (R-N.Y.) and Anthony D-Esposito (R-N.Y.) and state Sen. Jack Martins, also called on Santos to resign.
"He's betrayed the public's trust and given insincere, glib, and insulting answers when asked legitimate questions about his finances and his background," North Hempstead Town Supervisor Jennifer DeSena said at a briefing with Cairo.
The officials alleged that Santos can't effectively represent the district while he's under investigation and that the longer he remains in office, the more residents in the district will suffer.
Cairo said that the officials do not consider Santos to be representing the county and Nassau County Executive Bruce Blakeman, another Republican, said neither he nor his office would be communicating with Santos.
"I was elected to serve the people of #NY03 not the party & politicians, I remain committed to doing that and regret to hear that local officials refuse to work with my office to deliver results to keep our community safe and lower the cost of living," Santos said in a statement. "I will NOT resign!"
In a written statement after being sworn in, Santos said he was committed to serving the residents of the district.
"The work begins today, and I am determined to work with both Republicans and Democrats and support sound policy that will provide funding for local law enforcement, and reducing inflation," Santos said. "Now is the time to put political differences aside, stop the finger pointing, and start delivering results. The work of Congress is not about my personal life, this is about delivering results for my constituents, finding bipartisan solutions, and reversing abysmal policies that have caused some of the worst inflation and crime in our nation's history."
Helped GOP Gain a Majority
Republicans were in the minority in the House of Representatives leading up to the midterms. The party flipped about a dozen seats to gain control of the lower chamber and now hold a 222–212 majority with one seat vacant.
Santos resigning would not imperil the majority, but could make it slightly harder to pass contested legislation, particularly if a Democrat won a special election that would take place if he were to step down.
A number of members have called on Santos to resign, including Rep. Don Beyer (D-Va.). Others have said he should remain in office.
"I think we Republicans should give George Santos a chance and see how he legislates and votes, not treat him the same as the left is," Rep. Marjorie Taylor Greene (R-Ga.) said in a recent statement.
Rep. Kevin McCarthy (R-Calif.), the new House speaker, said on Wednesday that he would not urge Santos to resign. "He has to answer to the voters," McCarthy told reporters.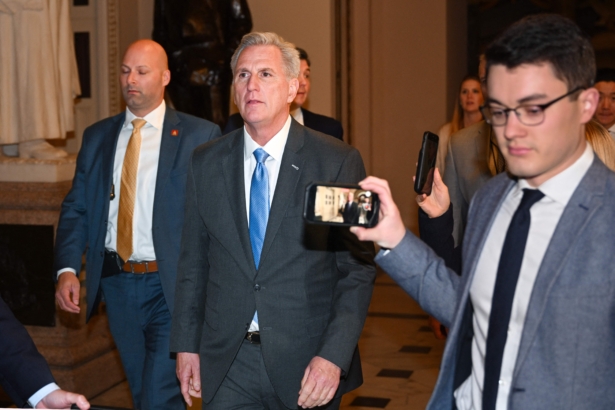 Questions on Background
Santos is under investigation by multiple officials, including Nassau County's district attorney, after he fabricated parts of his past.
Santos, for instance, falsely claimed that he obtained degrees from Baruch College and New York University.
He also falsely said he had jobs in the past with Citigroup and Goldman Sachs.
The New York Times first reported on the false claims.
Santos told a local broadcaster after the initial reporting that he was sorry about what he described as "resume embellishments."
"I want to make sure that if I disappointed anyone by resume embellishments, I'm sorry," he told WABC-TV. "And I will deliver to you on everything I campaigned on because it's still the same guy, still the same message, still the same priorities."
Jewish?
Some of the officials speaking Wednesday highlighted how Santos had claimed to be Jewish. Santos now says he's not Jewish and his accounts of family members surviving the Holocaust have come under scrutiny.
Blakeman said Nassau County includes survivors of the Holocaust, as well as relatives of survivors.
"For him to make up this story, that his parents were Holocaust survivors, is beyond the pale. It is simply tragic and outrageous and disgusting," Blakeman said.
The Republican Jewish Coalition (RJC) previously said it was disappointed in Santos.
"He deceived us and misrepresented his heritage. In public comments and to us personally he previously claimed to be Jewish," the group said. "He has begun his tenure in Congress on a very wrong note. He will not be welcome at any future RJC event."
From The Epoch Times