The possible impending indictment of former President Donald Trump is a "politicized prosecution," according to members of the New York Young Republican Club, who protested in Manhattan on Monday.
A modest group of Trump supporters, handpicked to guarantee peace and safety, gathered outside New York County Criminal Court in Manhattan where the former president could be arraigned in the coming days, which would be an unprecedented event in U.S. history.
Responding to leaked information about the secret grand jury process over the weekend, Trump called on supporters to protest his possible indictment by Manhattan District Attorney Alvin Bragg.
Bragg has faced criticism for his decision to revive an investigation into Trump over hush money paid to adult film actress Stormy Daniels during the 2016 presidential campaign.
"This is a politicized prosecution and persecution without any merit," New York Young Republican Club President Gavin Wax told reporters.
Wax, who organized the demonstration, framed Bragg's probe as a political witch hunt spurned by Trump's popularity ahead of the 2024 presidential election cycle. During his campaign, Bragg often spoke of his efforts to prosecute Trump, the Trump family, and Trump organizations throughout his career.
Trump and other Republicans have accused Bragg of being a "radical left Democrat prosecutor" and noted his campaign received a large donation from billionaire Democrat donor George Soros via a political action committee. On Monday, House Judiciary Committee Chair Jim Jordan, a Republican, accused Bragg of an "unprecedented abuse of prosecutorial authority."
"It's politicized prosecution, and this is a disgrace to our country, to our judicial system, to our legal system that the leader of the opposition, the presumptive [GOP] nominee for president, will be prosecuted, will be put in handcuffs, will be dragged in front of a court for a novel legal theory that's never been tested," Wax said.
"We think it's absolutely disgusting, and it's a total indictment, not on Trump, but on Alvin Bragg's office," he went on to say.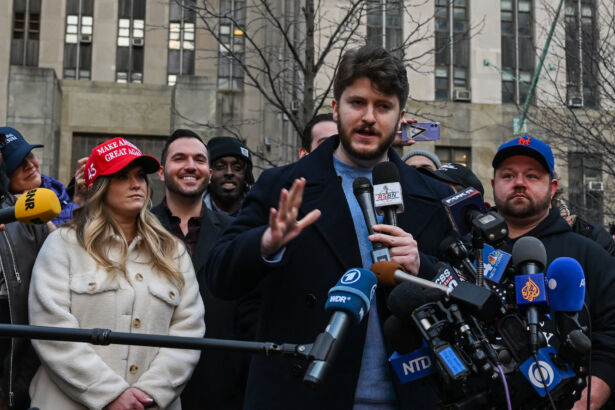 Addressing the size of the protest, Wax noted that it turned into more of a press conference. He said they were "on the fence" about whether to proceed with a protest, given concern amongst conservatives that bad actors might instigate unwanted trouble.
"We threw it together at the last minute, the last 24 hours," Wax said.
"We weren't sure we even wanted to come out because some people don't like us, but we are here to show that there is support for President Trump in the bluest area in the country, here in Manhattan," Wax said.
'Drop the Witch Hunt on Donald Trump'
Citing Soros's support for Bragg, Trump on Sunday accused the district attorney of being a pawn for the billionaire, who is known for supporting left-wing causes and political candidates, including DAs.
According to public filings, shared in a press release by the Trump campaign, the Soros-backed Color Of Change PAC pledged $1 million to Bragg's campaign to support criminal justice reforms.
Trump's statement cited crime figures (pdf), which show that while murder might be down, rape is up over 18 percent, robbery is up over 32 percent, burglary is up over 21 percent, petty larceny is up over 40 percent, grand larceny is up over 57 percent, grand larceny auto is up over 100 percent, and transit crime is up over 53 percent over a two-year period.
Upon election, Bragg issued a memo informing DAs not to prosecute all but the most serious crimes, prompting weeks of pushback from police officers, small business owners, and public officials. For this, Bragg was labeled as being soft on crime by Republicans and some Democrats. He eventually backtracked on some of his edicts.
Hours after Trump's statement, Bragg issued an internal memo saying his office doesn't "tolerate attempts to intimidate our office or threaten the rule of law in New York."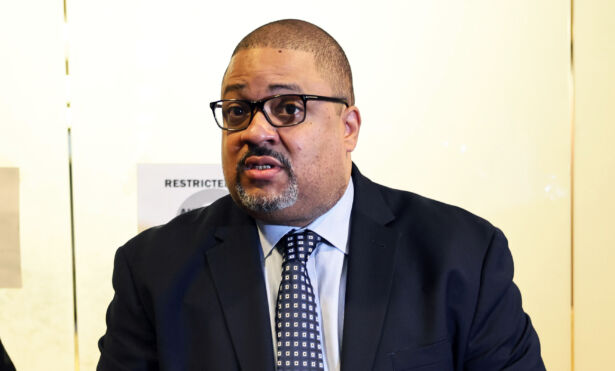 House Speaker Kevin McCarthy (R-Calif.) on Monday accused Bragg of abusing his office.
"Alvin Bragg is abusing his office to target President Trump while he's reduced a majority of felonies, including violent crimes, to misdemeanors," McCarthy said on Twitter. "He has different rules for political opponents.
McCarthy pledged to investigate "any use of federal funds that are used to facilitate the perversion of justice by Soros-backed DA's [sic] across the country."
Outside the courthouse on Monday, Vish Burra, the NYYRC's executive secretary, agreed with critics who say Bragg is soft on crime.
"Alvin Bragg needs to go back to doing his job. Crime is through the roof in New York City," said Burra. "We need him to focus on doing his job, cleaning up the crime in the city and filling this building behind us with criminals to the brim and not an audience of one, named Donald Trump."
"We need a DA who's going to do his job and not weaponizing his office to pursue political persecutions that are neither wanted nor warranted," he added.
"Drop the witch hunt on Donald Trump," he added.
From The Epoch Times