New Zealand supermarket chain Countdown has temporarily removed knives from all of its shelves after an ISIS-inspired knife-wielding terrorist wounded seven people at a mall in Auckland.
Kiri Hannifin, Countdown's general manager of safety, said in a statement on Sept. 4 a day after the attack that the company had decided to temporarily pull all knives and scissors from its shelves while it considers whether it should continue to sell them.
"Last night, we made the decision to temporarily remove all knives and scissors from our shelves while we consider whether we should continue to sell them. This is in no way a reflection on our customers, but an act of support for our team. We want all of our team to feel safe when they come to work, especially considering the events of yesterday," she said.
Hannifin added, "Our thoughts are with our customers who were injured and their families. We would also like to thank the emergency services for their support of our customers and team yesterday."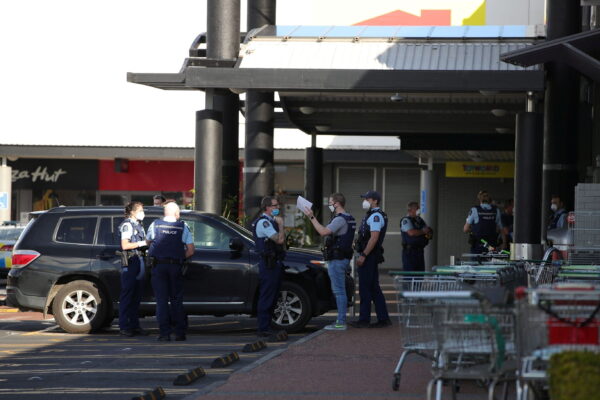 Another supermarket giant, Foodstuffs New Zealand, which owns the New World, Pak'n Save, and Four Square chains, has also removed sharp knives from sale following the attack.
"Our thoughts are with the Countdown team and customers injured and affected by the terrible event at Lynn Mall yesterday," Foodstuffs NZ head of corporate affairs Antoinette Laird told the New Zealand Herald on Sept. 4.
"Everyone deserves to be able to go to work and visit essential services like the supermarket safely," she continued. "While we consider the event and take some time to review the safety of our customers and staff, Foodstuffs stores have removed sharp knives from sale."
A Countdown spokesperson told The Epoch Times: "We'll work through a discussion on next steps – [there is] no timeframe, we're focused on our team right now."
The Epoch Times has contacted a spokesperson from both Countdown and Foodstuffs for comment.
New Zealand officials confirmed on Sept. 4 that 32-year-old Ahamed Aathil Mohamed Samsudeen was the attacker behind last week's devastating events.
Samsudeen, an ethnic Tamil Muslim from Sri Lanka, had arrived in New Zealand 10 years ago on a student visa seeking refugee status, which was "fraudulently obtained" in 2013.
Police were monitoring Samsudeen at the time of the attack over Facebook activity in which he had posted support for terror attacks and violent extremism. They shot him dead within about a minute after he entered the Countdown supermarket and picked up a knife on display, but he had already stabbed five people. Two more shoppers were injured in the melee.
The undercover officers who were just outside the supermarket sprang into action when they saw shoppers running and heard shouting, police said.
On Monday, New Zealand police confirmed that four of the victims remain in hospital, with three of those in ICU.
"The four victims currently in Auckland Hospital following the terrorist attack at Auckland's LynnMall on Friday are now all in a stable condition. Three remain in ICU, however one of them is expected to be moved to a ward today," Police Assistant Commissioner Investigations Lauano Sue Schwalger said in a statement.
"This is really positive news and we are continuing to work closely with the victims and their families to ensure they are well supported at this extremely difficult time," Schwalger added.
New Zealand's prime minister said late on Saturday that her government had been trying for years to deport Samsudeen over security threats and also sought to keep him out of the community while legal deportation options were considered.
"Shortly after arriving [in new Zealand] he made a claim for refugee status. Immigration New Zealand declined this claim in 2012, but he appealed to the Immigration and Protection Tribunal and was successful. He was granted refugee status in December 2013," Prime Minister Arden said in a statement.
"In 2016, the terrorist came to the attention of the police and the NZSIS. In the course of these investigations, Immigration New Zealand were made aware of information that led them to believe the individual's refugee status was fraudulently obtained. The process was started to cancel his refugee status, and with it, his right to stay in New Zealand," she continued.
"In February of 2019, Immigration New Zealand cancelled his refugee status. He was served with deportation liability notices. In April, he appealed against his deportation to the Immigration and Protection Tribunal. He was still in prison at this time, and facing criminal charges. For a number of reasons, the deportation appeal could not proceed until after the conclusion of the criminal trial in May 2021."
Arden noted that officials had determined they were unable to detain Samsudeen while he waited for his appeal and he was subsequently released but was under around-the-clock police surveillance.
His case was still pending when he carried out Friday's attack.
From The Epoch Times