Police in Texas are searching for a mother who allegedly gave birth in the restroom of an Applebee's restaurant and left her newborn in a trashcan.
The baby was found dead at the Irving, Texas restaurant on Friday, July 26, when an employee came in to clean the restroom about 30 minutes after the woman left, said the Irving Police Department in a news release.
"The child was birthed in the restroom and then place in the trash can," Irving PD said.
"This kind of incident is very tragic," Irving police Officer Robert Reeves said, according to Fox4. "It strikes everybody in their family. Everybody's heart goes out when you hear an infant is deceased. We definitely do not like to see this happen. There's fire stations, there's ambulances that you can call, there's the hospital that's just two more exits down the freeway."
The authorities have asked for anyone with information about the incident to call the police.
People commented on the Irving PD news release, with one person saying, "So many places would have opened their doors and even more would have opened their arms to that baby. I'm truly stunned at how heartless this mother must be to have been able to do what she did. I make this judgement because she had at least a handful of months to get prepared and I'm unable to justify a single excuse that she may have had."
"There's so much judgment here," someone else contended. "Was this a horrible ending, yes. But, not one of us knows the situation this person was in."
"Hold your judgment until you have all the facts," the commenter said.
"What would there need to be known?" another commenter responded. "She had a baby and out it in the trash and walked off. There is nothing to justify it and everything right about condemning such action."
Baby Moses Law
Parents unable to care for a child that is 60 days or younger can legally drop them off at fire stations, hospitals, and emergency centers in Texas under what's called the Baby Moses law.
"If you have a newborn that you're unable to care for, you can bring your baby to a designated safe place with no questions asked," the Texas Department of State Health Services states.
Also knows as the Safe Haven law, the Baby Moses law "gives parents who are unable to care for their child a safe and legal choice to leave their infant with an employee at a designated safe place—a hospital, freestanding emergency medical care facility, fire station, or emergency medical services (EMS) station."
The Department notes that the parent's identity will not be divulged and medical care will be provided to the baby.
Parents who leave their children with employees of designated safe places will not be prosecuted for abandonment or neglect.
Baby Left in Middle of Road
The incident follows the case of a woman who allegedly left a newborn baby with its umbilical cord still attached lying in the middle of a California road in cold weather.
The Madera County Sheriff's Office was cited by ABC news as saying that a newspaper delivery person found the newborn baby girl in the early morning hours of Monday, Feb. 11, lying "on the center line of a roadway."
"The newborn was discovered dressed only in a soiled onesie in weather just below 30 degrees," said the California Highway Patrol in a statement.
The newspaper carrier reportedly took the baby into his vehicle to keep her warm and called 911.
The California Highway Patrol said that personnel from Central Division's SAFE and Madera Area responded to the scene and "provided the newborn girl with a blanket for warmth."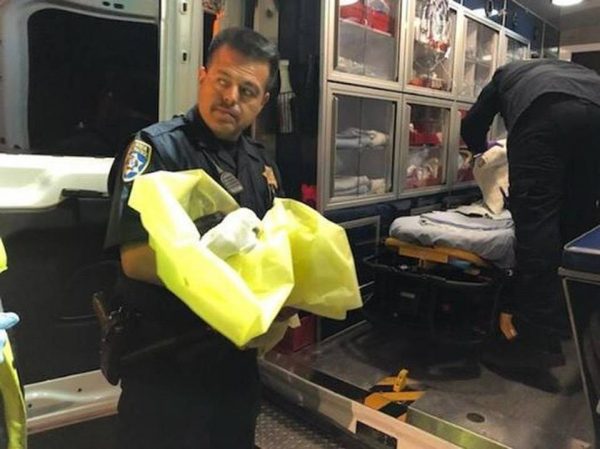 The baby was taken to Valley Children's Hospital for treatment and is doing well, according to the CHP statement.
'Awful, Chilling Moment'
Aurelio Fuentes Jr. said it was an "awful, chilling, moment" when he came upon the infant lying in the middle of a dark roadway, as he was delivering copies of The Fresno Bee in the Madera Ranchos area, the Fresno Bee reported.
Fuentes said that luckily, the traffic was light.
"If there was another vehicle, that baby would have been badly hurt [or killed]," he said, according to the Fresno Bee.
Fuentes told KFSN that in addition to the danger from passing vehicles, there was the risk of wild animals happening upon the child.
"It could've been worse because out its pitch black," he said, adding, "there could've been coyotes, there's cars going by fast down that road."
Madera County Undersheriff Tyson Pogue said at a press conference, "It's very fortunate that the child was discovered by the newspaper delivery person before she was seriously injured or even possibly killed."
"The baby was cold, but luckily she was discovered early enough that she'll make a full recovery," said Pogue.
The California Highway Patrol noted in its statement that California has a law similar to the Baby Moses law in Texas.
"The California Highway Patrol would like to take the opportunity to remind everyone of California's Safely Surrendered Baby Law," CHP said in the statement. "Parents or persons with lawful custody can safely surrender an infant within 72 hours of birth, with no questions asked, at designated safe drop-off sites."
Safe surrender sites are hospitals or other locations, typically fire stations, according to the law.