The state of California has sued five major oil companies along with America's biggest oil and gas lobby, accusing them of causing climate change-related harm by lying to the public in order to downplay the "grave dangers" posed by fossil fuels.
The lawsuit (pdf), filed at the Superior Court of the State of California, County of San Francisco, on Sept. 15, claims that the energy giants' actions—described in the complaint as "vile, base, and contemptible"—have caused tens of billions of dollars in damages.
California is accusing the defendants—BP, Chevron, ConocoPhillips, ExxonMobil, Shell, and fossil fuel trade association the American Petroleum Institute (API)—of creating or contributing to various statewide climate-change-related harms, including allegedly destroying natural resources.
The API and one of the oil companies named in the lawsuit told The Epoch Times via email that the industry has been working to reduce its environmental impact and that the courtroom is not the appropriate venue to decide on matters of climate policy.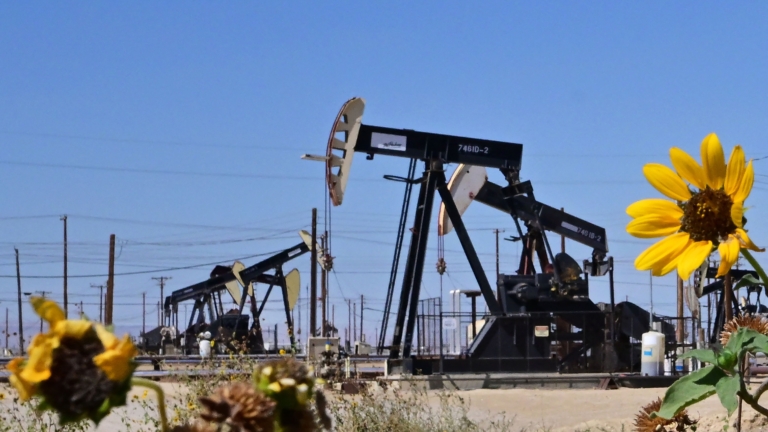 'Catastrophic' Impacts
The oil companies are accused of having misled the public about the risks of climate change, with claims that the defendants' own scientists have known for decades that "these climate impacts would be catastrophic."
But rather than warning the public and governments, the defendants allegedly mounted a disinformation campaign going as far back as the 1970s to discredit the "burgeoning scientific consensus" on climate change and sow doubt in the minds of the public about the impact of burning fossil fuels, and delay the transition to a lower-carbon future to protect profits.
"California is suing Big Oil for lying about climate change," California Gov. Gavin Newsom said in a statement.
The lawsuit is being brought on behalf of California by Mr. Newsom, along with the state's attorney general, Rob Bonta.
"We're taking five major oil companies to court for wreaking havoc on our planet and lying to people about the dangers of fossil fuels. It's time they pay their fair share," Mr. Newsom added.
In their 135-page complaint, Messrs. Bonta and Newsom lay out a case for why they believe the oil companies and the fossil fuel industry group are guilty of greenwashing, while claiming that their actions have contributed to the growing damage that climate change is supposedly inflicting on California, such as record heat, wildfires, and flooding.
The two plaintiffs are seeking relief that includes forcing oil companies to halt whatever actions are allegedly polluting or destroying the environment, unspecified damages deemed appropriate by the court, as well as the creation of a special fund they would pay into in order to "abate the ongoing public nuisance their conduct has created in California."
There is precedent in California for a so-called abatement fund, when several California cities sued makers of lead paint, leading to a $305 million settlement and the establishment of an abatement fund.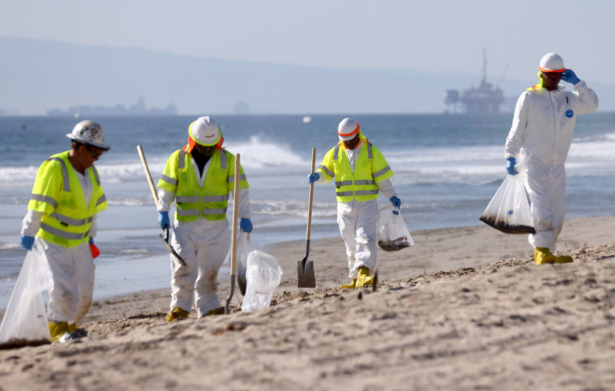 'Meritless, Politicized Lawsuits'
In an emailed response to a request for comment from The Epoch Times, a spokesperson for the American Petroleum Institute called the lawsuit political and without merit, while defending the industry for providing cheap energy to consumers while working to reduce its impact on the environment.
"The record of the past two decades demonstrates that the industry has achieved its goal of providing affordable, reliable American energy to U.S. consumers while substantially reducing emissions and our environmental footprint," API Senior Vice President and General Counsel Ryan Meyers said.
"This ongoing, coordinated campaign to wage meritless, politicized lawsuits against a foundational American industry and its workers is nothing more than a distraction from important national conversations and an enormous waste of California taxpayer resources," he continued.
"Climate policy is for Congress to debate and decide, not the court system."
A spokesperson for Shell told The Epoch Times in an emailed statement that it believes a court is not the right place for determining matters of climate change policy.
"We agree that action is needed now on climate change, and we fully support the need for society to transition to a lower-carbon future. As we supply vital energy the world needs today, we continue to reduce our emissions and help customers reduce theirs," the spokesperson said.
"Addressing climate change requires a collaborative, society-wide approach. We do not believe the courtroom is the right venue to address climate change, but that smart policy from government and action from all sectors is the appropriate way to reach solutions and drive progress," the spokesperson added.
BP declined to comment while the remaining oil companies named in the lawsuit did not immediately respond to a request for comment from The Epoch Times.
'No Climate Emergency'
This legal action is part of a series of lawsuits brought against the fossil fuel industry by various states and municipalities in the United States. These lawsuits generally claim that the industry is responsible for climate-related damages, including extreme weather events.
But there's pushback to the trend of trying to pin the blame of climate change on the oil industry.
Recently, over 1,600 scientists and informed professionals signed a pledge declaring that there is "no climate emergency," arguing that flawed modeling and alarmist rhetoric have drowned out scientific reality for the sake of money and power.
"Climate science should be less political, while climate policies should be more scientific," the declaration reads. "Scientists should openly address uncertainties and exaggerations in their predictions of global warming, while politicians should dispassionately count the real costs as well as the imagined benefits of their policy measures."
The signatories include Nobel laureates, theoretical physicists, meteorologists, professors, and environmental scientists from across the world.
Addressing modeling problems in trying to map out the effects of climate change, Nobel Prize laureate John Clauser, one of the signatories, said he had read various authoritative reports on climate change and found that their models left out a key piece—clouds.
"I believe I have the missing piece of the puzzle that has been left out in virtually all of these computer programs," Mr. Clauser said in a recent interview on EpochTV's "American Thought Leaders" program. "And that is the effect of clouds."
Clouds are integral to weather dynamics, he explained, yet current climate models, whose authors "admit up front that their models cannot predict weather," have been used to predict drastic climatic shifts, including "climate crisis apocalypse."
Mr. Clauser contends that the models are somewhat arbitrary and subject to political spin.
"This worry about CO2, the worry about methane, the worry about global warming, is all a total fabrication by shock journalists and/or dishonest politicians."
He criticized U.S. government efforts to reduce CO2 and methane as a colossal misuse of resources better allocated for humanitarian endeavors. Such initiatives "should be stopped immediately," he said.
"[It's] a total waste of money and time and effort. It is strangling industry," Mr. Clauser said.
Jan Jekielek and Mimi Nguyen Ly contributed to this report.
From The Epoch Times