A top Biden administration official who leads the U.S. Agency for International Development (USAID) said there's no evidence Ukraine misuses the tens of billions of U.S. taxpayer dollars provided in direct financial assistance.
"Up until this point, we don't have any evidence that U.S. assistance is being misused or misspent but, again, the key is not resting on anybody's goodwill or virtue," USAID Administrator Samantha Power said during a CNN live town hall on Thursday.
Power's comments came the night before the Biden administration announced $2 billion in new military aid to Ukraine on the first anniversary of Russia's invasion on Friday.
The latest tranche brings the total amount of U.S. taxpayer funded military aid provided to Kyiv in the past 12 months to $32 billion, roughly five times Ukraine's annual military budget.
In total military and humanitarian aid, the United States has given over $100 billion to Ukraine in the last 12 months.
Some Republicans have raised doubts about the continued U.S. support for Ukraine, which has been plagued with corruption in the past, and questioned how the money sent there is being used.
Power said that Ukraine had improved its efforts to eliminate corruption, and officials are constantly monitoring the appropriate use of U.S. taxpayer dollars.
Addressing a question about Ukraine's history of corruption, Power said, "It's checks and balances, the rule of law, the integrity of officials." She said this was critical to her confidence in the administration of Ukrainian President Volodymyr Zelenskyy.
Acknowledging the country's history of corruption, Power said that the U.S. Government Accountability Office launched a new initiative to help Ukraine expand its auditing institution, which she said will be needed to reconstruct Ukraine. She also said the United States only reimburses Ukraine for its spending when officials see a receipt for an expenditure.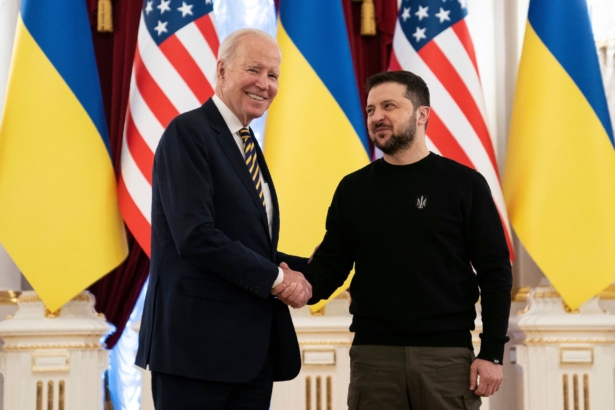 Oversight and Corruption
This week, Republicans from the House Committee on Oversight and Accountability called for transparency regarding the $113 billion taxpayer-funded assistance to Ukraine.
On Wednesday, the committee sent a letter to the Department of Defense, Department of State, and USAID asking for documents and information to ensure the funds are not wasted or abused.
The committee members specifically cited concerns stemming from the timing of remarks by U.S. National Security Council Coordinator for Strategic Communications John Kirby, who said the United States had not "seen any signs that our budgetary assistance has fallen prey to any kind of corruption in Ukraine."
Kirby's remarks on Jan. 25 came one day after Zelenskyy dismissed more than a dozen high-ranking officials over allegations of corruption, including five regional governors, four deputy ministers, and a senior presidential office official close to Zelenskyy.
Kirby also noted that all direct budgetary assistance "goes through the World Bank."
This raised concerns for Republican lawmakers on the Oversight Committee, who wrote that they "learned from efforts in Afghanistan that the World Bank does not always have effective monitoring and accounting of funds, and often lacks transparency."
"As the United States continues to filter assistance through multilateral organizations with pressure to spend funds quickly, we must ensure proper protections are in place to prevent the misuse of funds," the lawmakers wrote.
At the town hall on Thursday, Power said Ukraine's institutions had become stronger in their efforts to combat corruption since 2014, when former President Viktor Yanukovych was ousted from office over widespread protests against his close association with Russia.
Additionally, she said that the United States only provides resources to Ukraine, such as payment for health care workers or disability support, if officials receive proof of an expenditure. The United States then reimburses Ukraine based on their spending.
U.S. Secretary of Defense Lloyd Austin said Friday that the conflict in Ukraine is currently the most "urgent danger" to the security of Europe since the Second World War. He called Russia's actions in Ukraine "a cruel war of choice" that has killed thousands, displaced millions, and injured many more.
He said it was a "direct attack" on the system of rules, institutions, and laws built after the Second World War and restated the Pentagon's commitment to continue supporting Ukraine for "as long as it takes."
Meanwhile, Rep. Matt Gaetz (R-Fla.) and a group of 10 other Republicans co-sponsored a "Ukraine Fatigue Resolution" earlier this month. They called for a suspension of all foreign aid to Ukraine and for peace.
Tom Ozimek and Jackson Richman contributed to this report.
From The Epoch Times