The National Oceanic and Atmospheric Administration (NOAA) has declared the arrival of El Nino, an on-and-off-again weather phenomenon that brings warmer sea temperatures near the equator.
The agency noted that El Nino occurs every two to seven years, on average, and it can bring heavier rain to some parts of the world or drought in others. On its website, NOAA said that the weather phenomenon was expected to come, saying that it will be "moderate-to-strong" by the fall and winter months.
"El Nino's influence on the U.S. is weak during the summer and more pronounced starting in the late fall through spring," said NOAA. By the winter, there is a forecast 84 percent chance of "greater than a moderate strength El Nino" and a 56 percent chance of a "strong" El Nino, it said.
"Typically, moderate to strong El Nino conditions during the fall and winter result in wetter-than-average conditions from southern California to along the Gulf Coast and drier-than-average conditions in the Pacific Northwest and Ohio Valley," according to the agency. "El Nino winters also bring better chances for warmer-than-average temperatures across the northern tier of the country."
At the same time, El Nino-caused weather conditions generally help suppress hurricane activity in the Atlantic basin, although it will likely trigger strong cyclonic activity in the central and eastern Pacific basins, the agency said.
​"Depending on its strength, El Nino can cause a range of impacts, such as increasing the risk of heavy rainfall and droughts in certain locations around the world," said Michelle L'Heureux, a researcher at the agency's Climate Prediction Center.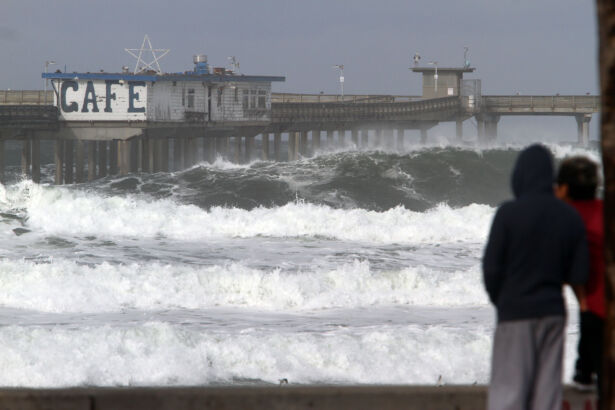 El Nino, which means "Little Boy" in Spanish, is the warm phase of the El Nino–Southern Oscillation. The opposite, La Nina, means "Little Girl," and it means that surface temperatures in the eastern and central Pacific Ocean near the equator are lower than the average.
According to NOAA's website (pdf), an El Nino event generally lasts between nine and 12 months. La Nina events, in contrast, can last for years at a time.
"During El Nino, unusually warm sea surface temperatures in the central/eastern tropical Pacific lead to increased evaporation and cooling of the ocean. At the same time, the increased cloudiness blocks more sunlight from entering the ocean. When water vapor condenses and forms clouds, heat is released into the atmosphere," NOAA wrote in a 2022 ENSO blog.
El Nino strongly tilts Australia toward drier and warmer conditions with northern South America—Brazil, Colombia, and Venezuela—likely to be drier and Southeast Argentina and parts of Chile likely to be wetter, she said. India and Indonesia also tend to be dry through August in El Ninos.
El Nino hits hardest in December through February, shifting the winter storm track farther south to the equator. The entire southern third to half of the United States, including California, is likely to be wetter in El Nino. For years, California was looking for El Nino rain relief from a decades-long megadrought, but this winter's seemingly endless atmospheric rivers made it no longer needed, officials have said.
Some economic studies have shown that La Nina causes more damage in the United States and globally than El Nino. One 2017 study in an economic journal found El Nino has a "growth-enhancing effect" on the economies of the United States and Europe, while it was costly for Australia, Chile, Indonesia, India, Japan, New Zealand, and South Africa.
"If you've been suffering three years of a profound drought like in South America, then a tilt toward wet might be a welcome development," L'Heureux told The Associated Press in a recent interview. "You don't want flooding, but certainly there are portions of the world that may benefit from the onset of El Niño."
But a recent study says El Nino is far more expensive globally than previously thought, putting damage estimates in the trillions of dollars. The World Bank estimated that the 1997–1998 El Nino cost governments $45 billion.
The United States also faces hazards from El Nino despite some benefits. Ehsan noted that the increased rainfall in California, Oregon, and Washington heightens the risk of landslides and flash flooding in these areas. "While El Nino brings benefits in terms of water resource recharge, it poses certain hazards that need to be considered and managed," he added.
Recently, La Nina dissipated in March. But since then, U.S. forecasters have issued a watch for El Nino.
In addition to El Nino and La Nina, ocean temperatures are sometimes considered "neutral," meaning they are not excessively cold or warm.
The Associated Press contributed to this report.
From The Epoch Times