North Korea fired what appeared to be an intercontinental ballistic missile (ICBM) on Friday, according to South Korean and Japanese officials, just a day after it had fired a short-range missile and warned of "fiercer" military actions toward the United States.
South Korea's Joint Chiefs of Staff said in a statement Friday that it had detected a ballistic missile launch off the eastern coast of North Korea on Friday morning and that it was likely an ICBM.
The Japanese Defense Ministry said in a statement Friday that North Korea had fired an ICBM-class ballistic missile around 10:14 a.m. from its western coastal area that flew toward its eastern waters across the country. Meanwhile, Japan's Coast Guard said the missile was likely to have landed in the sea roughly 210 kilometers (130 miles) west of Hokkaido.
Capable of Carrying Nuclear Warhead
ICBMs are North Korea's longest-range weapon and are designed to be capable of carrying a nuclear warhead as far as any location in the continental United States.  They have a minimum range of about 5,500 kilometers (3,400 miles), with some being able to travel 10,000 kilometers (6,200 miles) or more.
The launch comes a day after Pyongyang fired a short-range ballistic missile off its east coast—the first missile firing in just over a week. It also came just hours after North Korea threatened to launch "fiercer" military actions toward the United States if Washington opts to continue with its security commitment to help defend its allies in the region.
The official threat came after U.S. President Joe Biden, Japanese Prime Minister Fumio Kishida, and South Korean leader Yoon Suk-yeol met on Nov. 13 in Cambodia, where they strongly condemned North Korea's recent missile tests and agreed to work together to strengthen deterrence.
Biden, during a separate meeting with Kishida on the same day, "reaffirmed the U.S. extended deterrence commitment to [South Korea] using the full range of U.S. defense capabilities, including nuclear, conventional, and missile defense capabilities and emphasized the U.S. commitment to identify additional steps to further reinforce deterrence in the face of [North Korea's] nuclear threats," according to a statement from the White House.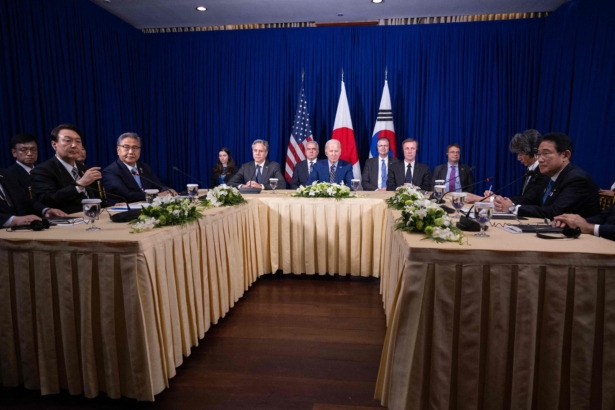 North Korea contends that a U.S. military presence in the region is proof of the United States' hostility toward the country. Pyongyang has also said its recent series of weapons launches were a response to what it called provocative military drills between the United States and South Korea.
North Korea has conducted a record number of ballistic missile tests this year, including short-range missiles and ICBMs. It test-fired ICBMs at full range in March, marking the first ICBM test since 2017.
The United States and its allies have expressed fear that North Korea could be preparing to resume testing nuclear bombs for the first time since 2017.
Yoon recently noted that North Korea had completed all the technical preparations needed for an underground blast at its Punggye-ri test site, which was officially shuttered since 2018. North Korea held six nuclear tests there from 2006 to 2017.
North Korea has a nuclear testing site in Punggye-ri, a town in the northeast. The Kim regime demolished the site in May 2018 to signal its commitment to end nuclear testing. But South Korean and U.S. intelligence earlier this year reported spotting construction work at the site.
Talks led by the United States seeking to get North Korea to advance denuclearization, including surrendering its nuclear weapons and ballistic missile arsenal, have been stalled since February 2019. At the time, North Korean leader Kim Jong-un and then-President Donald Trump were unable to come to an agreement over disputes about U.S.-led international sanctions on Pyongyang.
Reuters and The Associated Press contributed to this report.
From The Epoch Times