North Korea's communist leadership has shipped arms to Russia for use in Ukraine, according to the White House.
From Sept. 7 to Oct. 1, Pyongyang sent more than 1,000 containers of arms and munitions to Russia via ship and rail. The containers were ultimately delivered to a Russian munitions depot about 180 miles from the border with Ukraine.
"We now have information that North Korea has delivered arms to Russia for use in Ukraine," White House National Security Council spokesperson John Kirby told reporters.
"Our information indicates that in recent weeks North Korea has provided Russia with more than 1,000 containers of military equipment and munitions."
Russia May be Sending Fighter Jets, Missiles to North Korea
Pyongyang provided Moscow with rockets and missiles early on in the war, but the scope of the current arms deliveries is unprecedented.
Mr. Kirby said that Pyongyang is seeking advanced military technology from Russia in exchange for the deliveries. That tech includes advanced fighter jets.
"In return for [this] support, we assess that Pyongyang is seeking military assistance from Russia including fighter aircraft, surface-to-air missiles, armored vehicles, ballistic missile production equipment, and other materials and other advanced technologies," Mr. Kirby said.
The deal is similar to that struck between Russia and Iran earlier in the year. At that time, Moscow delivered fighter jets and other advanced equipment to Tehran in exchange for suicide drones and other munitions.
Mr. Kirby said that the United States had observed Russian ships unloading containers in North Korea that "may indicate" those transfers are already underway.
Since receiving the munitions, Russia has initiated a new offensive in Ukraine, seeking to conquer more territory for itself.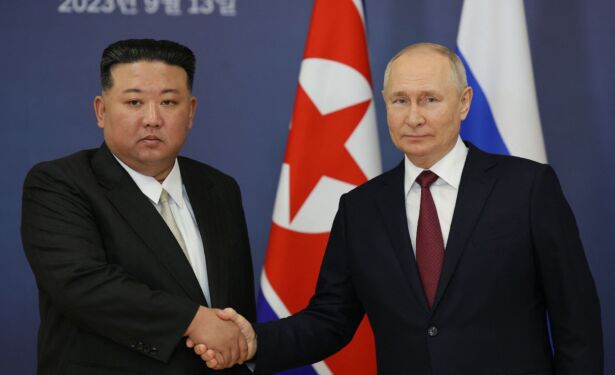 North Korea Seeks Nuclear Missile and Satellite Technology
Russian President Vladimir Putin met with North Korean Supreme Leader Kim Jong Un met in Moscow last month for a historic summit. The two leaders discussed military issues, North Korea's budding satellite program, and Ukraine.
Victor Cha, Korea chair at the Center for Strategic and International Studies think tank, said that Pyongyang also sought assistance for its nuclear missile and satellite programs.
"Kim is looking for help with his nuclear weapons program, with his military satellite program, a nuclear-powered submarine, and his ICBM program," Mr. Cha said during an Oct. 4 Senate Foreign Relations subcommittee hearing.
It's widely believed that the summit served as a key negotiating round between the two nations, with North Korea seeking research and technological assistance for its weapons programs and Russia seeking munitions to shore up its dwindling stockpiles in Ukraine.
The White House acknowledged that U.S. intelligence intercepted letters between Mr. Putin and Mr. Kim ahead of the summit, which suggested that Russia was seeking "significant quantities and multiple types of munitions" for use in Ukraine.
From The Epoch Times