New York Attorney General Letitia James is appealing a lawsuit that struck down Gov. Kathy Hochul's "Isolation and Quarantine Procedures" regulation, according to state Sen. George Borrello.
In a March 13 press release, Borrello said that James, a Democrat, formally submitted an appeal of the State Supreme Court ruling on Monday.
A New York judge in July overturned the rule allowing the Department of Health to place citizens exposed to or infected with highly contagious diseases such as COVID-19 in quarantine "locations" for an indefinite time without review.
"It's disappointing, but not a surprise, that state officials have chosen to pursue an appeal of Judge [Ronald] Ploetz's ruling declaring Rule 2.13 unconstitutional and 'null and void'," said Borrello.
"Their actions are an egregious waste of taxpayer dollars and an attempt to defend an indefensible policy. The constitutional separation of powers and the right of due process are multiple principles that cannot be compromised."
Hochul and the Department of Health ordered the rule's protocols during the COVID-19 pandemic and it was subsequently renewed every 90 days.
Specifically, rule 2.13 stated that "whenever appropriate to control the spread of a highly contagious communicable disease, the State Commissioner of Health may issue and/or may direct the local health authority to issue isolation and/or quarantine orders, consistent with due process of law, to all such persons as the State Commissioner of Health shall determine appropriate."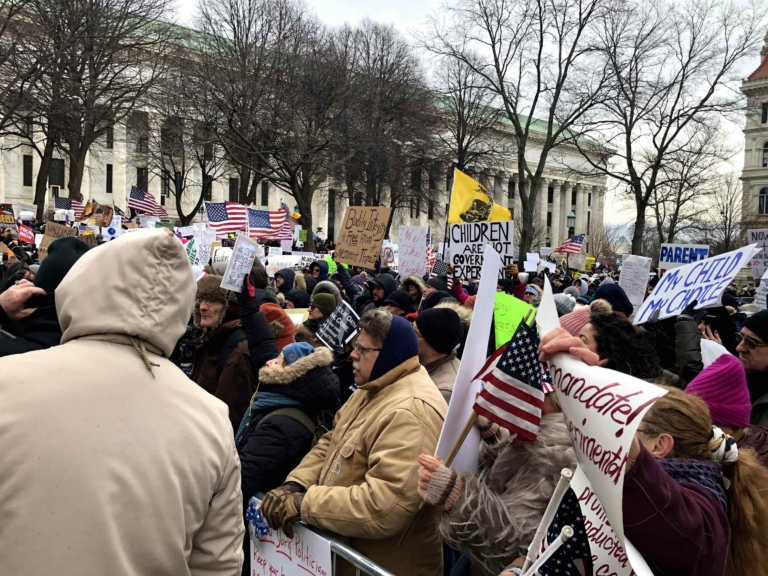 Isolation in 'Temporary Housing Locations'
It also noted that the orders may require isolation in various locations, such as at a home or at "other residential or temporary housing locations" that the Department of Health "determines appropriate," or "where symptoms or conditions indicate that medical care in a general hospital is not expected to be required."
In those cases, "the isolation location shall be a general hospital," the rule states.
The rule did not provide any restrictions with regard to age, or the time needed in quarantine but stated that attending physicians were required to immediately report suspected cases of highly contagious diseases to the Department of Health and the local health authority upon discovery.
Individuals who failed to comply with the rule, including the infected individuals as well as physicians, would be subject to civil and criminal penalties, according to the rule.
The constitutionality of the rule was subsequently challenged in an April 2022 lawsuit by attorney Bobbie Anne Cox on behalf of Borrello, as well as Assembly members Chris Tague and Michael Lawler of Rockland County.
They argued that the enactment of rule 2.13 violated constitutional rights as well as the separation of powers, claiming that the State Department, as an agent of the executive branch, did not have the authority to enact the isolation and quarantine procedures.
On July 8, state Supreme Court Justice Ronald Ploetz of Cattaraugus County ruled (pdf) that Hochul's regulation was unconstitutional and declared rule 2.13 "null and void" and therefore unenforceable.
"Involuntary detention is a severe deprivation of individual liberty, far more egregious than other health safety measures, such as requiring mask wearing at certain venues. Involuntary quarantine may have far-reaching consequences such as loss of income (or employment) and isolation from family," the judge wrote in his ruling.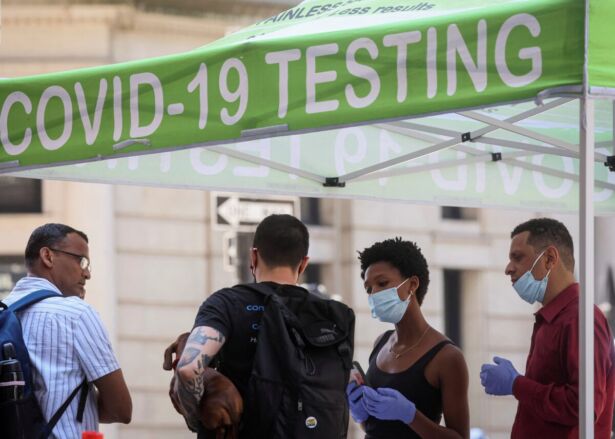 Rule Gives 'Lip Service' to Constitutional Due Process
"While Rule 2.13 provides that isolation and quarantine must be done 'consistent with due process of law' and the detainee has the right to seek a judicial review and the right to counsel, these protections are after-the-fact, and would force the detainee to exercise these rights at a time when he or she is already detained, possibly isolated from home and family, and in a situation where it might be difficult to obtain legal counsel in a timely manner," the judge added.
"Rule 2.13 merely gives 'lip service' to Constitutional due process," Ploetz also noted.
In an article published by the Brownstone Institute on Tuesday, attorney noted that James's office filed a notice of appeal against Ploetz's ruling immediately after he handed it down. That notice of appeal, according to Cox, gave them six months to file appeal papers.
"We had statewide elections in November, and both Governor Hochul and Letitia James were running for election," Cox wrote. "Interestingly, they did not file their appeal to try to overturn this horrific regulation before that crucial election."
"Then, just days before their six months were going to expire in January 2023, they made a request for an additional two months to file their appeal," Cox wrote.
According to the attorney, the court granted the extension, giving James and Hochul until March 14, 2023, to file the appeal, which they did "mere hours before the deadline."
In Monday's press release, Borrello said he and others who challenged the rule are committed to helping Cox, who he said "has selflessly led this fight" to ensure the case is concluded.
The Epoch Times has contacted James's office for comment.
From The Epoch Times