New York has become the sixth U.S. state to legalize the composting of human bodies, also known as terramation or natural organic reduction, that proponents say can help fight climate change.
Governor Kathy Hochul, a Democrat, signed legislation on Dec. 31 legalizing the composting of human remains, The Associated Press reports.
The legislation was initially introduced by New York State Assembly Member Amy Paulin (D-Westchester) and state Sen. Leroy Comrie (D-Queens), in an effort to meet the policy goal of eliminating carbon emissions by 2050.
In December, Paulin wrote on Twitter that the end-of-life option was needed as more environmentally conscious New Yorkers seek an "alternative to cremation which uses fossil fuels and contributes to greenhouse gas emissions, or traditional burials which use up open land and contribute to soil and groundwater pollution."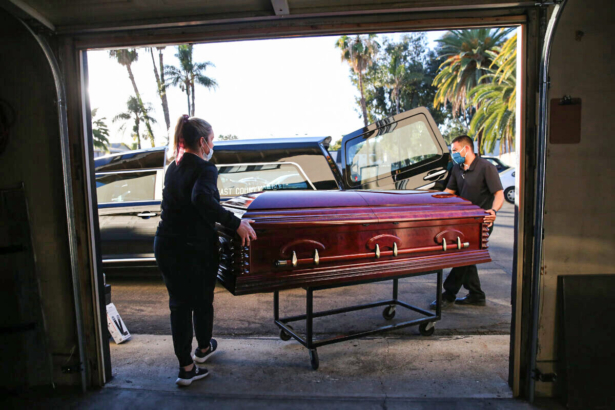 The legislation passed both the state Assembly and Senate earlier in 2022.
Human composting involves placing a dead body inside a sealed reusable vessel padded with biodegradable materials such as wood chips, alfalfa, and straw, according to one Washington state-based company that offers such after-death services.
Advocates Say Human Composting Beneficial for Environment
The body remains in the vessel, which is above ground in a special facility, for 30 days, during which time the naturally occurring microbes in the gut can break down the body.
This results bones and compost, which are then removed from the vessel, ground, and allowed to cure for two to six weeks to produce around one cubic yard of nutrient-dense soil. The soil can then be used as fertilizer for land, forest, and gardens.
Advocates have argued that such end-of-life options are needed in places like New York, where land is limited for conventional burials.
Additionally, advocates argue that human composting benefits the environment, with Washington-based Recompose stating that one metric ton of carbon dioxide is prevented from entering the atmosphere.
Katrina Spade, the founder of Recompose, told The Associated Press: "Cremation uses fossil fuels and burial uses a lot of land and has a carbon footprint. For a lot of folks being turned into soil that can be turned to grow into a garden or tree is pretty impactful."
Advocates also argue that human composting is more economical. According to Recompose's official website, the end-of-life option costs $7,000, excluding the ceremony.
'Human Bodies Are Not Household Waste'
According to a 2021 report by the National Funeral Directors Association (NFDA), the national average cost of a traditional funeral with viewing is $7,848, which includes the ceremony, or $5,365 for cremation.
Not everyone has welcomed human composting though, in particular the New York State Catholic Conference, a group that represents bishops in the state, who represent the belief that the burial method is "inappropriate."
"A process that is perfectly appropriate for returning vegetable trimmings to the earth is not necessarily appropriate for human bodies," Dennis Poust, executive director of the organization, said in a statement to The Associated Press. "Human bodies are not household waste, and we do not believe that the process meets the standard of reverent treatment of our earthly remains."
In a letter (pdf) to Hochul late last year, Proust also noted that "throughout history and in every culture, the disposition of human remains has been treated with care and following particular rituals, always involving interment or cremation."
"Given this fact, it is inappropriate to suddenly introduce a completely different method, with no input from the public, religious communities, or anyone else outside of the state Capitol," he wrote.
Washington became the first U.S. state to legalize human composting in 2019, followed by Colorado, Oregon, Vermont, and California, which will allow the alternative end-of-life option beginning in 2027.
From The Epoch Times