New York City took more than 30 upstate counties and Long Island to court on June 7, accusing them of violating state and federal law by refusing to take in illegal immigrants relocating from the city.
Local officials at these localities issued executive orders and barred hotels in their jurisdictions from accommodating illegal immigrants. The lawsuit, filed in Manhattan State Supreme Court, asked the court to strike down all these orders.
"These counties have implemented misguided and unlawful executive orders premised on false claims that the prospect of a few hundred asylum seekers sheltered at the city's expense across multiple counties constitute an emergency and imperil public safety," Sylvia Hinds-Radix, a lawyer for the city, said at Wednesday's press conference.
New York City Mayor Eric Adams said the lawsuit is aimed at bringing an end to "xenophobic bigotry."
Counties named in the lawsuit include Rockland, Suffolk, Orange, Dutchess, Onondaga, and Broome. In response, officials from Rockland and Dutchess defended their decisions.
In a statement to The Epoch Times, Dutchess County Executive William O'Neil said, "While Dutchess County does not comment on pending litigation, I will reiterate that the County's actions to this point are legitimate and have been made with the best interest of all involved."
Rockland's county executive office also issued a statement on Wednesday, stating the lawsuit shows "NYC has no interest in meaningful communication or collaboration with municipalities outside of the city."
"When the City of New York declared itself a sanctuary city, it invited these challenges," said Ed Day, the Republican executive of Rockland County, one of the first counties to receive illegal immigrants from New York City. "Now Mayor Adams is pouring gasoline on the fire he started while continuing to try to impose his will upon the rest of the state by breaking local building and zoning laws and violating New York State Social Services rules and regulations."
"Rockland County services have already been strained to the breaking point through the natural and organic migration of individuals to our county. This new lawsuit does nothing to address the legitimate concerns of my administration and residents of our county," Day added.
Officials in Orange country didn't immediately respond to a request for comment.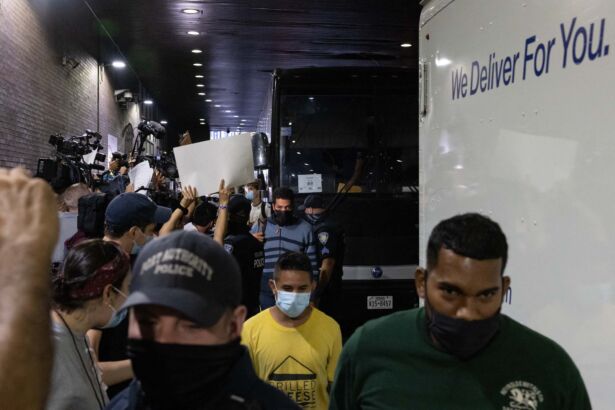 The announcement came a day after a federal judge temporarily blocked Rockland and Orange counties from executing their emergency orders that aimed at blocking New York City from sending migrants to hotels in their jurisdictions.
New York City has struggled to accommodate an influx of illegal immigrants. Since last spring, more than 74,000 illegal immigrants have arrived in the city, Deputy Mayor Anne Williams Isom said at the briefing.
Currently, more than 47,200 people remain in the city's care, and with more immigrants arriving every day, the number is expected to increase, according to Williams-Isom.
"Since this crisis began, New York City has—virtually on its own—stepped up to provide shelter, food, clothing, and other services to asylum seekers arriving in our city. We are doing our part and will continue to do our part, but we need every locality across the state to do their part as well," Adams said in a statement.
On May 5, Adam declared a state of emergency and announced a plan to ship illegal immigrants from the city to neighboring communities ahead of the end of Title 42. He said the "new, voluntary program" would "provide up to four months of temporary sheltering in nearby New York counties, outside of New York City, to single-adult men seeking asylum who are already in the city's care."
However, multiple counties across the state pushed against housing immigrants. Some county officials raised fears of crime, while others said they were already struggling with limited resources.
Rockland quickly issued an emergency declaration on May 5, prohibiting hotels and motels from housing immigrants without a license. The order also barred other municipalities from bringing and housing people in the County.
Orange County Executive Steve Neuhaus followed the move by announcing his own emergency declaration on May 8.
In Tuesday's decision (pdf), District Judge Nelson Roman issued a preliminary injunction barring the two counties from enforcing these emergency orders, saying the hotel bans are unconstitutional and discriminatory.
The injunction comes in a suit brought by the New York Civil Liberties Union and does not apply to the efforts to ban immigrants across the state. It also does not impact an existing order by a state judge that temporarily prevents the city from housing illegal immigrants at specific hotels in Orange and Rockland County.
New York City officials said the lawsuit filed Wednesday is seeking to invalidate all executive orders issued by the suburban and rural towns.
"We believe the city has acted lawfully and that these localities cannot illegally wall off their borders during this statewide crisis," said Hinds-Radix.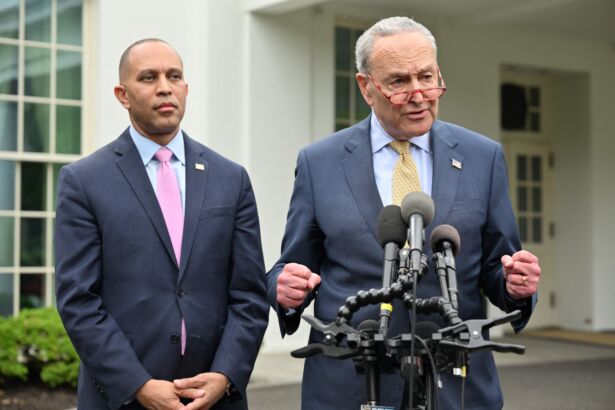 The lawsuit was announced on the same day that Senate Majority Leader Chuck Schumer (D-N.Y.) and House Minority Leader Hakeem Jeffries (D-N.Y.) said the Federal Emergency Management Agency is providing $104.6 million in funding for the city's migrant crisis.
At Wednesday's press conference, Williams Isom applauded the funds but added, "With us already spending $1.2 billion, we're going to continue to need support."
The Associated Press contributed to this report.
From The Epoch Times