Police officers in New York City will not tolerate violence, top officials warned on April 3 as former President Donald Trump departed for the metropolis.
"Violence and destruction are not part of legitimate lawful expression. And it will never be tolerated in our city," Keechant Sewell, commissioner of the New York Police Department (NYPD), told a press conference at City Hall ahead of Trump's arrival.
Sewell said that officers want to make sure people can protest and exercise their First Amendment rights.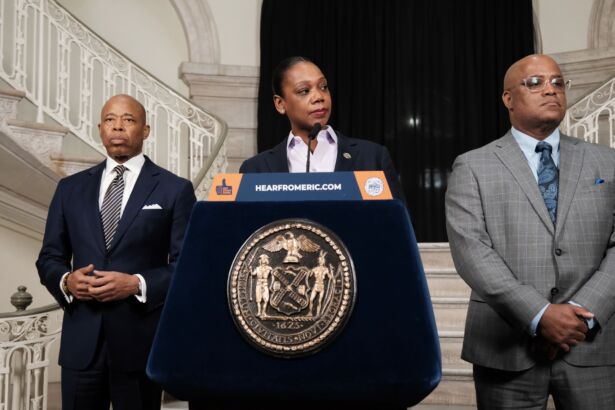 New York City Mayor Eric Adams, a Democrat appearing with Sewell, urged people planning to travel to the city on Tuesday to control themselves.
"While there may be some rabble-rousers thinking about coming to our city tomorrow, our message is clear and simple: control yourselves. New York City is our home, not a playground for your misplaced anger. We are the safest large city in America because we respect the rule of law in New York City," Adams said.
It's not clear by what measure New York City is the safest major city in the United States and Adams's office did not immediately respond to a request for comment.
Officials said there are no credible specific threats at the moment but noted that some notable Trump supporters are planning to travel to the city to protest in support of Trump.
"While you're in town, be on your best behavior," Adams said, adding that "we will not allow violence or vandalism of any kind."
"And if one is caught participating in any act of violence, they will be arrested and held accountable—no matter who you are," he added.
At least one apparent Trump supporter has been arrested. A woman holding a sign that said, "I support Trump, do you?" was taken into custody on March 28 after allegedly wielding a knife. That case is still being investigated, Sewell said.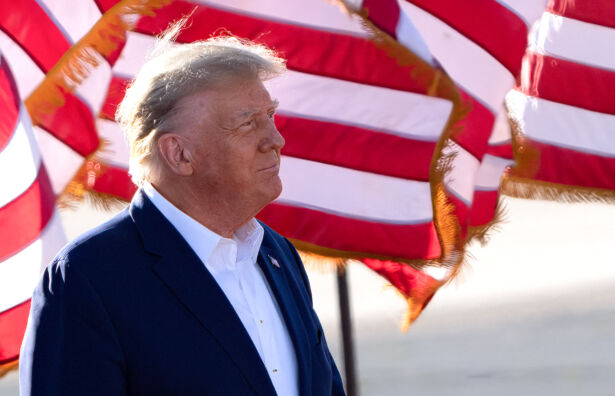 The briefing was held as Trump was departing Florida, his primary state of residence, to fly to New York for his April 4 arraignment.
"HEADING TO NEW YORK. MAKE AMERICA GREAT AGAIN!!!" Trump wrote on Truth Social, his social media platform, referring to his "MAGA" campaign slogan.
Trump has been indicted by a New York grand jury, though the reasons for the charges remain under seal.
Trump was being accompanied by at least one family member. Eric Trump, one of Trump's sons, posted a picture on social media from inside the former president's plane.
Rep. Marjorie Taylor Greene (R-Ga.), one of Trump's strongest supporters in Congress, said Sunday she would be traveling to New York to take part in a rally held by the New York Young Republican Club.
"Protesting is a constitutional right and I am going to NY on Tuesday to protest this unprecedented abuse of our justice system and election interference," Greene said on Twitter.
"I also reject any attempt and anyone who dresses in MAGA but incites violence or commits violence while pretending to be one of us. You are not one of us, you are one of them. We will not live in fear and we will lawfully stand against tyranny and corruption while we show our support for President Trump," she added.
The event page lists it as being slated for 10:30 a.m. at Collect Pond Park.
"Join us in peaceful protest of Alvin Bragg's heinous attack on President Donald J. Trump!" the club said on the page.
Trump is scheduled to be arraigned on Tuesday at a courthouse in the borough of Manhattan, where District Attorney Alvin Bragg, a Democrat, has been investigating the Republican over a payment made to adult actress Stormy Daniels ahead of the 2016 election.
Joe Tacopina, one of Trump's lawyers, said during an appearance on ABC that he hoped Trump would be "in and out" of the courthouse "as quickly as possible" and that it would unfold like a typical arraignment, which consists primarily of a defendant being read his rights, entering a plea, and the setting of future hearings.
The first appearance will be open to members of the press and the public but there's limited space inside the courtroom.
Trump is planning to address the nation after the arraignment.
From The Epoch Times