Residents of East Palestine, Ohio, impacted by the Feb. 3 Norfolk Southern Railway freight train derailment that caused lingering fires and spilled toxic chemicals will not receive assistance from the Federal Emergency Management Association (FEMA)—at least for now—according to Gov. Mike DeWine.
Almost two weeks after a Norfolk Southern Railway train derailed in this village located just west of the Pennsylvania state line, the Ohio governor requested federal assistance for residents dealing with the aftermath.
Since the crash, many residents have said they are experiencing headaches, skin rashes, sore throat, vomiting, and other ailments.
FEMA declined to help because East Palestine is not eligible for disaster assistance, DeWine spokesperson Dan Tierney said on Feb. 16. FEMA said the derailment and subsequent chemical spill and controlled burn that sent toxic chemicals into the air do not qualify as a traditional disaster, like a tornado or hurricane, he added.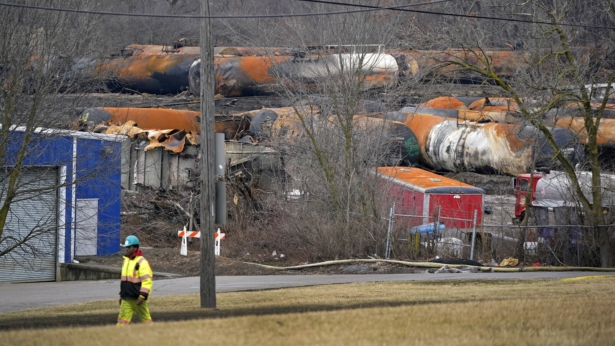 "The DeWine Administration has been in daily contact with FEMA to discuss the need for federal support, however, FEMA continues to tell Governor DeWine that Ohio is not eligible for assistance at this time," a Feb. 16 statement from DeWine's office explained. "Governor DeWine will continue working with FEMA to determine what assistance can be provided."
FEMA is "in constant contact with the emergency operations center in East Palestine and with the Ohio Emergency Management Agency," said FEMA spokesperson Jeremy Edwards.
"We are closely coordinating with EPA, HHS, and the CDC [Centers for Disease Control and Prevention], who are helping to test water and air quality, and to conduct public health assessments," Edwards added.
President Joe Biden spoke with DeWine on Feb. 16 and pledged support on clean-up and monitoring, according to the governor's office.
"As a result of this conversation, the governor has requested assistance from the U.S. Department of Health and Human Services, Health and Emergency Response Team, and the CDC to provide on-the-ground assistance in East Palestine," a statement from DeWine's office explained.
The U.S. Department of Health and Human Services will assist with health care costs of  East Palestine residents, Tierney noted. On-the-ground support will be offered by the CDC.
Earlier on Feb. 16, Sen. Sherrod Brown (D-Ohio) encouraged DeWine to declare the Feb. 3 crash a disaster, a decision that would allow the state to receive additional federal resources.
"Additional federal resources can and should play a critical role in helping our fellow Ohioans get back on their feet and ensure that their community is a safe place to live, work, and raise a family," Brown said.
On Feb. 3, a 150-car Norfolk Southern Railway freight train was passing through East Palestine when 50 of the cars derailed, including 11 containing hazardous chemicals.
The crash has been attributed to a mechanical issue with a rail car axle.
Security camera footage emerged showing that the train may have been on fire for at least 20 miles before it finally derailed in East Palestine.
The footage was filmed by a security camera at an equipment plant in Salem, Ohio, approximately 20 miles from East Palestine. The video illustrates what appear to be flames and sparks underneath the cars as the train passes the plant.
The National Transportation Safety Board (NTSB) is investigating the derailment. In a Feb. 4 briefing, the agency appeared to reference the video at a news conference.
"We're also looking at a lot of different footage that has been provided to the investigators out there to determine if there's some data on footage that we have from videos and cameras that might tell us something more than what might have happened to cause this accident," NTSB spokesperson Michael Graham said.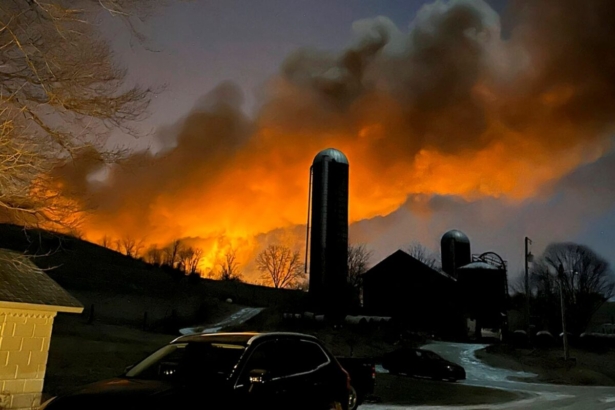 Norfolk Southern is offering "inconvenience checks" of $1,000 to residents within a designated proximity of the derailment.
Michael O'Shea, who is the principal and owner of Lipson O'Shea Legal Group and representing families impacted by the derailment, cautioned people about accepting the compensation.
"We want to get out the word to folks. Do not, if you can afford it—again, emphasizing if you can afford it—do not take this upfront money," O'Shea said. "But if you do, be aware that these folks might argue later that this is payment in full."
While Norfolk Southern continues to face scrutiny, pressure is mounting on the Biden administration and Congress regarding the response to the disaster.
Earlier this week, DeWine requested that Congress investigate the classification of trains that transport hazardous materials. Federal guidelines require that railroads operating high-hazard flammable trains give states information that includes details of routes and materials on board.
During a news conference this week, DeWine said he was told that the train was not considered a "high hazardous material train." For that reason, the state was not notified that the Norfolk Southern train was passing through East Palestine.
"Frankly, if this is true, this is absurd and we need to look at this,"  DeWine said. "Congress needs to take a look at how these things are handled. We should know when we have trains carrying hazardous materials that are going through the state of Ohio."
According to federal guidelines, a high-hazard flammable train is one that transports 20 or more cars of a Class 3 flammable liquid in a continuous block, or 35 or more cars in the train.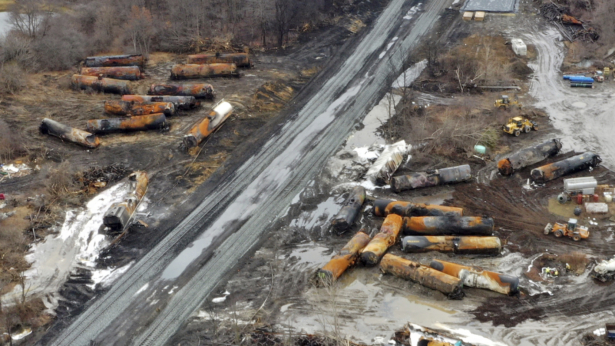 U.S. Department of Transportation Secretary Pete Buttigieg is also under fire about his response to the East Palestine crash.
Buttigieg did not address the disaster until 10 days after the derailment. He wrote on Twitter on Feb. 14, "We're constrained by law on some areas of rail regulation (like the braking rule withdrawn by the Trump administration in 2018 because of a law passed by Congress in 2015), but we are using the powers we do have to keep people safe."
Freshman Sen. JD Vance (R-Ohio), who took office in January, visited East Palestine on Feb. 16 for the first time since the crash. He urged the Biden administration to take action and help residents impacted by the aftermath.
"I haven't spoken to President Biden. My message to him is pretty simple. One, the Department of Transportation, your Department of Transportation, has things they can do," Vance said. "Stop blaming Donald Trump, a guy who hasn't been president for three years, and use the powers of the federal government to do the things necessary to help the people in this community."
"The biggest concern for the people of East Palestine is that they're going to be forgotten in a week,"  Vance said. "When the cameras disappear and the politicians are no longer around, are there still going to be people who are focused on them?
"I think the president could do a lot. Just standing in the White House press room for 30 seconds and saying, 'People of East Palestine, I see you. We're not going to forget about you,'" Vance continued. "I think that's an important signal for the president to send."
On Feb. 16, East Palestine residents gathered for a town hall at the high school. Norfolk Southern was invited, but they declined to send representatives, citing fears for their safety. Officials from the U.S. Environment Protection Agency and the Ohio Environmental Protection Agency were among the participants.
The EPA has said it continues to monitor the air in and around East Palestine, and that it has yet to find any "levels of concern" of hazardous chemicals since the crash.
On Feb. 16, U.S. EPA Administrator Michael Regan met with elected officials, leaders, and residents about the agency's air monitoring.
At a press conference, Regan was asked, "What would you like to say to the people of East Palestine?"
"You know I'd like to say to the people of East Palestine that we see you, we hear you, and we understand why there is anxiety," Regan responded.
Local government officials and residents were hoping that someone from the Biden administration would attend, but neither the White House nor Cabinet were represented.
'Where's Pete Buttigieg? Where's he at?' one man in the audience asked.
East Palestine Mayor Trent Conaway, who moderated the town hall, responded by saying, "I don't know. Your guess is as good as mine."
From The Epoch Times