An Ohio man who regularly travels to Mexico to visit his fiancée has been reported missing after the couple went to a restaurant with two family members on Christmas Day, according to multiple reports.
José Gutiérrez, 36, his soon-to-be wife, Daniela Márquez, 31, her sister, Viviana Márquez, 26, and the women's cousin, Irma Vargas, 27, all went missing on Dec. 25 in Zacatecas state, central Mexico, TV Azteca reported.
Rosa Pichardo, Márquez's mother, told the station that she had last spoken to her daughter around 10 p.m. on Dec. 25.
Almost two hours later, she received a notification on her phone that seemed to show her daughter's location, revealing she was in Vivoras, a neighborhood in Zacatecas. Since then, she hasn't heard from her daughter.
Pichardo also said her daughter and soon-to-be husband had planned a visit at her home prior to disappearing.
The concerned mother told TV Azteca that witnesses saw what appeared to be a kidnapping and heard "a lot of panic [and] screams." They then witnessed the group being forced into an SUV, reportedly the vehicle her daughter was traveling with.
"They took the girls, my daughter's fiancé, Daniela. They took off, they went to Vivoras," Pichardo said.
A spokesperson for the U.S. Department of State told Fox News that U.S. officials are aware of reports that an Ohio citizen went missing in Mexico, noting that the agency is cooperating with local authorities and relatives of the missing person to help with search efforts.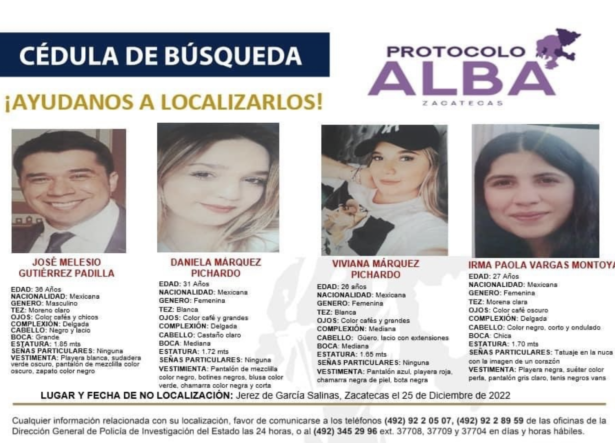 Gutiérrez's sister, Brandie Gutiérrez, told FOX19 that it wasn't unusual for her brother to travel to Mexico ahead of his wedding planned in 2023.
"He goes about three times per year," she told the network on Wednesday.
Brandie told the station that she had last heard from her brother and his fiancée the same day they reportedly went missing and had planned an eatery with Márquez's sister and their cousin.
The family of Gutiérrez, a Miami graduate and Cincinnati architect, fear that he might have been abducted and contacted the FBI and government officials for help.
Recent Travel Warning Alert
Earlier this year, the U.S. Department of State issued a kidnapping advisory to citizens in Mexico following cartel attacks on businesses.
"U.S. citizens are advised to adhere to restrictions on U.S. government employee travel. State-specific restrictions are included in the individual state advisories below," the August notice said.
"U.S. government employees may not travel between cities after dark, may not hail taxis on the street, and must rely on dispatched vehicles, including app-based services like Uber, and regulated taxi stands."
Due to "crime and kidnapping," the agency included Zacatecas state in its latest "Do Not Travel" advisory, noting that "violent crime, extortion, and gang activity," is widespread in the region and U.S. tourists, as well as legal permanent residents, have been victims of abduction in the area.