Oklahoma carried out the first execution in the state in six years on Thursday to a death row inmate.
John Marion Grant, 60, was executed via lethal injection with a three-drug cocktail. He convulsed and vomited before he was declared unconscious about 15 minutes after the first of three drugs—the sedative midazolam—was administered. He was declared dead about six minutes after that, at 4:21 p.m.
Grant was convicted of murder in 1998 for the slaying of a prison cafeteria worker, Gay Carter. At the time, Grant was also serving a 130-year prison sentence for several armed robberies. Witnesses say Grant dragged Carter into a mop closet and stabbed her 16 times with a homemade shank. Grant was sentenced to die in 1999.
Carter's daughter, Pamela Gay Carter, said in a statement, "At least now we are starting to get justice for our loved ones. The death penalty is about protecting any potential future victims. Even after Grant was removed from society, he committed an act of violence that took an innocent life. I pray that justice prevails for all the other victims' loved ones."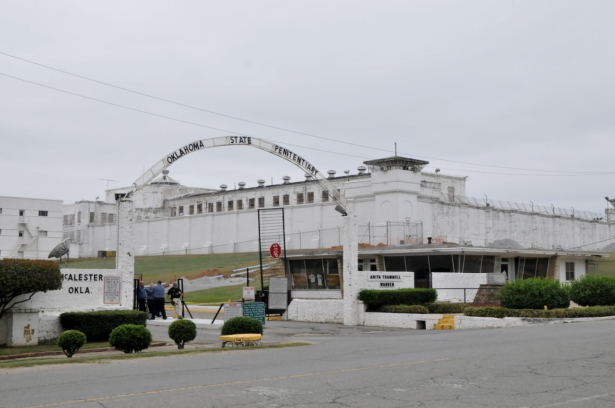 Grant's execution was the first in six years after flawed lethal injections led to a de facto moratorium. It came after a last-minute intervention from the U.S. Supreme Court. In a 5–3 decision, the court overturned stays of execution for Grant and another death row inmate, 41-year-old Julius Jones, who is set to be executed by lethal injection on Nov. 18. Jones has a clemency hearing set for Tuesday.
Grant had been a plaintiff in a federal lawsuit set to go to trial in 2022 involving more than two dozen Oklahoma death row inmates. Plaintiffs argue the state's three-drug lethal injection protocol is inhumane and risks causing unconstitutional pain and suffering. But Oklahoma refused to postpone Grant's execution to accommodate the case.
The stays had been put in place on Wednesday by the Denver-based 10th U.S. Circuit Court of Appeals. The three-judge panel said a lower court had unfairly denied the two men delays granted to numerous other defendants challenging the three-drug lethal injection protocol.
Grant and five other death row inmates were dismissed from the suit after a federal judge said that none of them had selected an alternative method of execution, which the judge said was necessary. But the 10th U.S. Circuit Court of Appeals determined the inmates did choose alternative methods of execution, even if they didn't specifically check a box designating which technique they would use.
Oklahoma announced in 2020 that it planned to resume executions using the same three-drug lethal injection protocol that was used during the flawed executions. The three drugs are: midazolam, a sedative; vecuronium bromide, a paralytic; and potassium chloride, which stops the heart.
State prison officials recently announced that they had confirmed a source to supply all the drugs needed for Grant's execution, as well as six more scheduled through March.
"Extensive validations and redundancies have been implemented since the last execution in order to ensure that the process works as intended," the Department of Corrections said in a statement.
The Associated Press and Reuters contributed to this report.
From The Epoch Times