Nevada's largest county still has more than 50,000 ballots to count, its top election official said on Nov. 11.
Workers in Clark County were able to count approximately 12,300 ballots on Thursday night, Registrar of Voters Joe Gloria told reporters during a press conference. But they have a little over 50,000 left to process.
The number is for mail-in ballots.
About 30 percent of the mail-in ballots are expected to be tabulated on Friday. The rest are being inspected by the county's counting board, which verifies signatures and does other work. After that chunk is processed, it will be tabulated.
Mail-in ballots, provided they're postmarked on or before Election Day, which was Nov. 8, must be counted as long as they're received by 5 p.m. on Saturday, per state law.
Clark County received 104 mail-in ballots overnight.
Voters also have until Nov. 15 to "cure" their ballot, or fix an issue with their ballot.
Clark County must transmit the election results to the Nevada Secretary of State's Office on or before Nov. 17.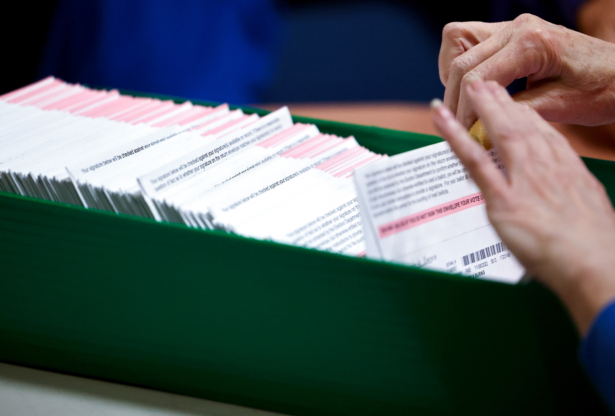 Gloria expressed hope that the majority of the ballots will be counted by the end of Saturday. Workers can tabulate about 8,000 ballots an hour, he said.
"We're doing everything in our power to move ballots forward just as quickly as we can. But the statutory deadlines that we have in place, I can't do finish all the mail until it all comes in. That's a very small number. But still, I can't finish until Saturday, even if I wanted to. Monday, we have the cure deadline, I've got to wait for those voters to give them an opportunity to get their ballot cured," he said. "We're doing everything we possibly can to move this process forward. We'll see if we can make improvements in the future."
In addition to the mail-in ballots, there are 9,659 ballots that could be cured. About 5,000 have been cured so far. There are also 5,555 provisional ballots, a type of in-person vote, that have not been processed.
Clark County is, by far, the largest county in Nevada. It has about 2.3 million residents. Many eligible residents voted, with 622,280 ballots received so far, according to the county's website.
Washoe County is among the other counties in the state still counting mail-in ballots that have already been received.
Several races in Nevada aren't yet called, including the race for U.S. Senate and the race for governor, in part because of the delay in vote counting.
From The Epoch Times