PONTIAC, Mich.—A teenager who killed four students at his Michigan high school in 2021 was like a "feral child," deeply neglected by his parents during crucial years and mentally ill, a psychologist testified Tuesday at a hearing to determine if the mass shooter will get a life prison sentence.
Ethan Crumbley's lawyers also played disturbing videos from jail showing the 17-year-old wailing in distress earlier this year as deputies restrained him. In one image, his head is completely covered with a hood.
"Why didn't you stop it? I'm sorry. … Stop it, God, why?" he said.
A psychologist, Colin King, said the shooter was experiencing psychosis, a break from reality. He later predicted that the boy "absolutely" can be rehabilitated.
"A number of my clients have had issues with the law," said Mr. King, who has testified in many homicide cases. "Through psychotherapy and support, they've been able to make progress. … Ethan's brain is still maturing."
Crumbley pleaded guilty to murder, terrorism, and other charges in a shooting that killed four students and wounded seven others at Oxford High School, about 40 miles (64 kilometers) north of Detroit.
Because of his age—15 at the time—the shooter can't automatically be a given life sentence. Oakland County Judge Kwame Rowe first must consider the shooter's maturity, mental health, unstable family life, and other factors set by the U.S. Supreme Court.
He still can order a life sentence, but it would be a rare outcome for a teen. Crumbley otherwise would face a minimum prison sentence between 25 years and 40 years, followed by eligibility for parole. His maximum term would be 60 years.
Mr. King said he spent more than 20 hours with the shooter during several meetings, interviewing him and running him through a series of psychological tests. He also reviewed the teen's dark journal entries and text messages.
Mr. King disclosed that the boy believed that a gun was going to be found in his backpack on the day of the shooting when he was sent to the office for drawing violent images in class.
"Ethan said for the first time in his life he felt relieved," Mr. King testified. "He said he just knew the sheriffs were going to burst into the office and arrest him because there was no way—after all that they saw—they weren't going to search that backpack."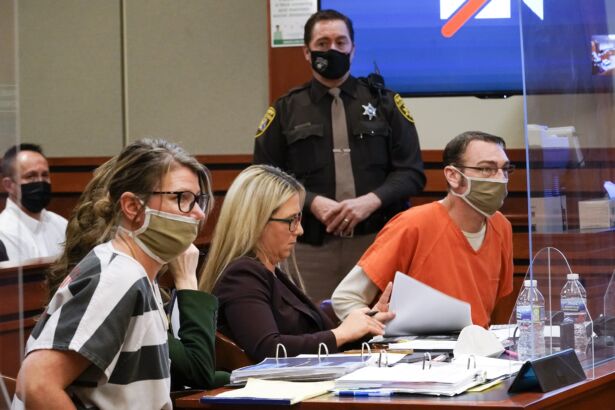 But the backpack was never checked, and the boy was allowed to remain in school. He later emerged from a bathroom and started shooting.
Mr. King said the shooter was raised in a turbulent home by parents who left him alone for hours, argued in front of him, and weren't discreet when discussing infidelity, divorce, and suicide. The boy was even forced to figure out what to do with his beloved dead dog.
"He can be considered a feral child," Mr. King said.
"It is essentially a child who has been abandoned. … Someone who is abandoned has what is called arrested development," he said. "They lack social cues. They become misfits in society."
The shooter, Mr. King concluded, has major depression, anxiety, and obsessive-compulsive disorder.
"A number of innocent people died," Mr. King said. "I'm not here to make excuses for Ethan Crumbley. He planned the attack. My heart goes out to the victims and their families. He was mentally ill."
His parents, James and Jennifer Crumbley, are separately charged with involuntary manslaughter. They're accused of buying a gun for their son and ignoring his mental health needs.
Prosecutors want a life prison sentence with no chance for parole. During cross examination of Mr. King, they suggested the psychologist was giving the shooter a break.
People with depression "all don't become mass shooters, do they?" assistant prosecutor David Williams said.
Mr. Williams repeated evidence that was entered last week: journal writings and a video made the night before the shooting in which the teen declared his plan to attack the school.
He noted that victim Justin Shilling was executed in a bathroom. "You think that's the product of a juvenile brain?" Mr. Williams asked.
"I do," Mr. King replied.
Mr. King said adults repeatedly missed opportunities to help the shooter. But Mr. Williams noted that help was just a few days away if the boy really wanted it. His parents had assured school staff that he would get counseling within 48 hours after they saw his violent drawings.
Prosecutors last week called four people who witnessed the shooting, including a staff member who was wounded and a student who saved a wounded girl. It was the first time their accounts were aired in court.
The hearing will resume Aug. 18.
By Ed White