ISLAMABAD/DUBAI—Pakistan's former President Pervez Musharraf, a key U.S. ally in the campaign against al-Qaeda following the terrorist group's Sept. 11, 2001, attacks, died in Dubai on Sunday after a prolonged illness. He was 79.
Musharraf, a former four-star general who seized power after a 1999 military coup, died in hospital in Dubai, where he was living in self-imposed exile since 2016. His body will be flown to Pakistan for burial on Monday, Geo News reported.
"I offer my condolences to the family of General Pervez Musharraf," Prime Minister Shehbaz Sharif wrote on Twitter. "May the departed soul rest in peace."
Musharraf was suffering from a rare organ disease called amyloidosis, and was admitted to hospital last year after he became critically ill, his family said.
He was credited with attracting foreign investment to Pakistan, which saw the strongest economic growth in nearly 30 years during his rule, and he enjoyed the support of the military and Pakistanis who backed his crackdown against militant groups.
But his decade-long rule was also marred by a heavy-handed approach to dissent, which included arresting rivals such as current prime minister Sharif and the imposing of an almost six-week long state of emergency in which he suspended the constitution and censored the media.
A graduate from a Christian high school, Musharraf was keen for Pakistan to embrace liberal Islam, an approach that increased his appeal in the West following the 9/11 attacks on the United States.
Musharraf joined what Washington called its "war on terror," giving U.S. forces ground and air access into landlocked Afghanistan to chase down al-Qaeda terrorists.
This decision contradicted Pakistan's long-standing support for the Taliban terrorist group, which at that point controlled Afghanistan, and made Musharraf a target for domestic militant groups. He survived at least four assassination attempts.
In a 2006 memoir, Musharraf said he "saved" Pakistan by joining the campaign against al-Qaeda. He also successfully lobbied the administration of former U.S. President George W. Bush to pour money into the nuclear-armed nation's military, which remains one of the most powerful in South Asia.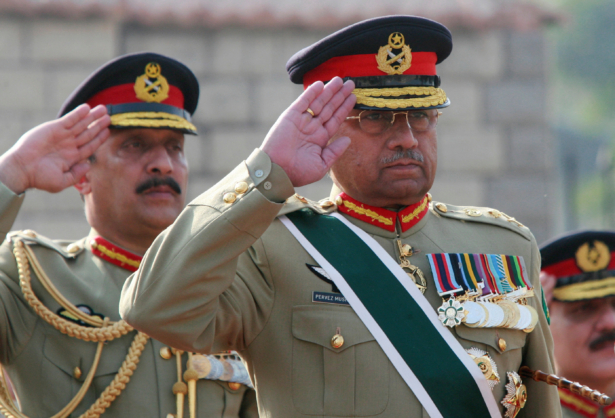 Domestically, Musharraf's iron-fist rule created turmoil. The state of emergency in 2007 aimed to quell protests triggered by a clampdown on the judiciary and the media. That same year, his government was criticized for not providing enough security ahead of the assassination by the Pakistani Taliban of former Prime Minister Benazir Bhutto, a political rival killed while on campaign for national elections.
The Musharraf-backed party lost the vote, held months later in 2008. Facing impeachment by parliament, he resigned and fled to London.
Musharraf returned to Pakistan in 2013 to run for parliament but was immediately disqualified. He left for Dubai in 2016, and was sentenced to death in absentia three years later for the state of emergency. The verdict was later overturned.
One of Musharraf's former political aides told Geo News that he would either be buried in Karachi, his family's hometown, or Rawalpindi, home to the army's headquarters.