David and Louise Turpin, the California parents accused of holding 12 of their children captive, have pleaded guilty to charges of child endangerment, torture, dependent adult abuse, and false imprisonment.
The two face a maximum sentence of life in prison with the possibility of parole, according to news reports.
Sentencing for the two is slated for April 19.
The two entered pleas on 14 charges at the Riverside County Superior Court on Feb. 22, CBS News reported.
The Turpins are accused of keeping their kids shackled to beds in their home in Perris. They also gave them little food and didn't allow them to shower often—only once a year.
They are accused of abusing 12 of their 13 children in the so-called "house of horrors" case. Only their 2-year-old was spared, according to officials.
Their 17-year-old daughter escaped their home and called 911 in January 2018, leading to their arrests.
When officials arrived on the scene, they discovered severely underweight children and adults living in the home. The house was also filthy and reeked of human waste.
Officials also discovered the children were starved, beaten, and put in cages. Some showed signs of stunted growth and atrophying muscles.
"This is among the worst, most aggravated child abuse cases I have ever seen," District Attorney Mike Hestrin told CNN.
Hestrin said that if the case went to trial, some of the victims would testify.
An attorney for David Turpin declined to comment. And a lawyer for Louise Turpin also wouldn't issue a statement, according to CNN.
Hestrin told NBC San Diego that their guilty pleas were instrumental in protecting the children from having to relive their experiences in captivity and testify in court.
"Those pleas will result in life sentences. They're going to serve an indeterminate sentence of 25 years to life … unless the parole board, at some point, affirmatively decides they should be released, they will serve the rest of their lives in prison," he told USA Today.
Hestrin said that defendants who are older than 60 automatically get parole hearings after serving 25 years behind bars.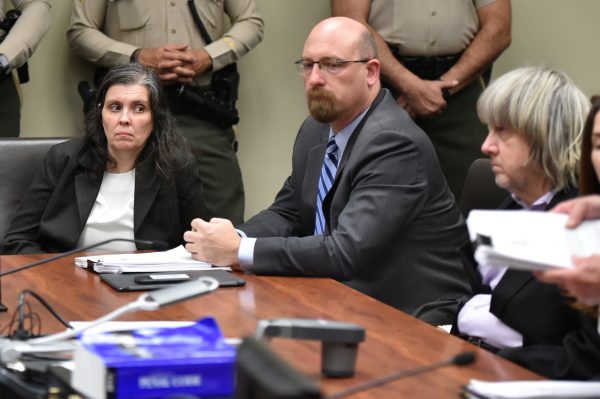 Hestrin said the children are "uniformly pleased that they would not have to testify."
"The attention that they would have had to go through, the scrutiny they would have had to go through I think made this case much different than other child abuse cases," he added.
More Details
In a recording of the 911 call played in court last year, the girl who escaped said two younger sisters and a brother were chained to their beds and she couldn't take it any longer, according to The Associated Press.
"They will wake up at night and they will start crying and they wanted me to call somebody," she said in a high-pitched voice. "I wanted to call y'all so y'all can help my sisters."
The intervention by authorities marked a new start for the 13 Turpin offspring who lived in such isolation that the teen who called for help didn't know her address and some of her siblings didn't even understand the role of the police when they arrived at the house.
Two girls, 11 and 14, had been hastily released from their chains when police showed up, but a 22-year-old son remained shackled.
The young man said he and his siblings had been suspected of stealing food and being disrespectful, a detective testified. The man said he had been tied up with ropes at first and then, after learning to wriggle free, restrained with increasingly larger chains on and off over six years.
The kids were rarely allowed outside, though they went out on Halloween and traveled as a family to Disneyland and Las Vegas, investigators said. The children spent most of their time locked in their rooms except for limited meals or using the bathroom.
The Associated Press contributed to this report.
From The Epoch Times