A passenger on a UK-Pakistan flight at Manchester Airport caused severe delays after opening the emergency exit door in an attempt to reach the bathroom while the plane was still on the ground.
Pakistan International Airlines (PIA) flight 702 was due to fly from Manchester, U.K., to Islamabad, Pakistan, on Friday, June 7, but suffered a delay of seven hours, according to the airline.
Forty passengers were offloaded following the incident, during which "the exit slide deployed automatically," PIA said in a statement.
A spokesman for the airline told CNN the passenger had opened the door thinking it was the bathroom, but all passengers were safe.
Manchester Airport declined to comment on Friday night's incident.
In May, an elderly passenger was arrested and detained in the eastern Chinese province of Shandong for endangering the safety of an aircraft, after he tried to open an emergency exit as the plane sat on the ground.
In an apparent attempt to beat the queue to disembark, the passenger, identified by his surname, Song, opened an emergency door near his seat after his flight landed.
Elderly man in China opens airplane emergency exit door because he didn't want to queue to disembark https://t.co/HnkVWLsgmb pic.twitter.com/7UIUtmLOLy

— Mothership.sg (@MothershipSG) May 6, 2019
"Song was arrested by local police and subsequently detained for 10 days," according to the Mothership.
"He apparently told the authorities that it was his first time flying on a plane, and was not aware that he was not supposed to open the emergency exit door," the outlet reported.
And in February 2018 one of the emergency exit doors fell off a Dana Airlines plane as it landed in Nigeria's capital, Abuja.
Ola Orekunrin, a doctor from Lagos, tweeted that the "exit door fell off" the Nigerian airliner as they touched down on their 6.48 a.m. flight from Lagos.
Flew Dana. Exit door was unstable throughout the flight. As we touched down it fell off. Scary stuff. pic.twitter.com/eDtTlNi2TZ

— Dr Ola Brown (Orekunrin) (@NaijaFlyingDr) February 7, 2018
Passenger Tried to Open Door Mid-Flight
A panicked passenger scared holidaymakers on a flight from London when he tried to open a plane door mid-flight before passengers and crew brought him under control.
Easy Jet confirmed that a passenger had attempted to open the door during the flight from London Gatwick to Pisa, Italy, on April 24.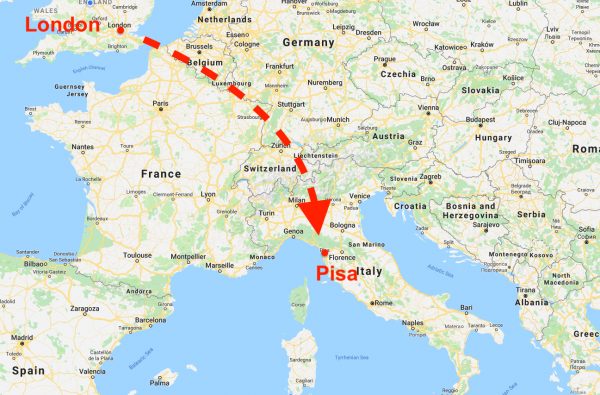 According to La Sicilia, the 30-year-old man had started shouting as he tried the door, drawing the attention of passengers who intervened and then helped immobilize him.
Passenger Richard Conyard, 42, said he saw a man with a heavy coat go into the toilet, looking nervous, reported the Sun newspaper.
"When he came out he went toward the emergency exit and grabbed the handle and tried to open the door," Conyard said.
According to the Sun, Conyard said that passengers started shouting and crying, and he helped to "bundle" the man into a seat where he was boxed in by some "burly" men.
However, writing on Twitter, Conyard questioned the Sun's reporting: "No one was screaming or crying and I didn't join in. It was all dealt with calmly by the cabin manager with the mild help of a few passengers."
The captain notified police, who met the man on landing but decided to take no further action on learning of his psychiatric status, according to La Republicca. The airline has put the man on a blacklist.
Epoch Times reporter Simon Veazey contributed to this article.