House Speaker Nancy Pelosi's (D-Calif.) home in San Francisco did not receive a security review for years before the October attack that left her husband, Paul, with a head injury, a police official revealed this week.
U.S. Capitol Police Chief Thomas Manger told CNN that Pelosi's home did not receive a review since 2018, or about four years prior to the incident—which occurred days before the Nov. 8 midterms. Prosecutors say that David DePape, 42, allegedly broke into the Pelosi home before approaching Paul Pelosi while he was sleeping, asking where his wife was, and then later, hit him in the head with a hammer, sending him to the hospital for several days.
"Anytime there's a change in leadership position, we will do an updated assessment," Manger told the outlet before adding that members of Congress can also request the security assessments.
The Epoch Times has contacted Pelosi's office for comment. A communications official told the network that her office would not speak about security matters.
According to a letter issued by Rep. Zoe Lofgren (D-Calif.), Pelosi was the alleged subject of about 632 threat cases that were opened by the U.S. Capitol Police. About 24 of those threats were sent to the Department of Justice for possible prosecution.
"We had more folks focused on her safety than any other member of Congress because of the number of threats that she had," Manger told CNN. "The level of violence in our country directed toward political officials, government officials, it's really at a point where I think that it's as dangerous as it's ever been to be an elected official," he added, saying that the Capitol Police needs to update its "security posture" in the wake of the October incident.
Manger added that the threats are relatively high compared with recent years.
"It's just the sheer volume of what we're dealing with now versus what we dealt with years ago," Manger said. "I'm not so sure that the Capitol Police can do a lot to tamp that down. So our responsibility is we've just got to deal with the growing number."
More Details
San Francisco Superior Court Judge Stephen Murphy earlier this month ruled that prosecutors had shown enough evidence during a preliminary hearing to move forward with a trial on the state charges, including attempted murder.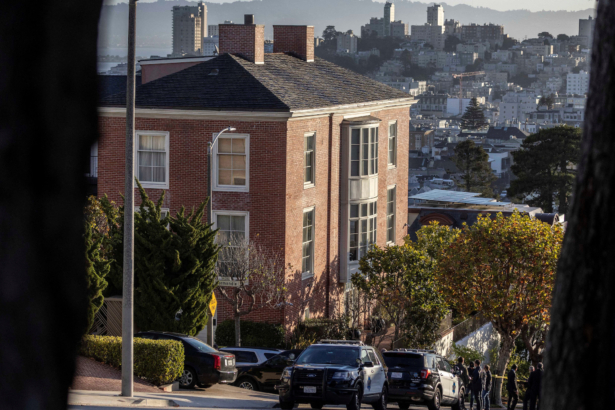 Lt. Carla Hurley, who interviewed DePape for an hour the day of the attack, testified Wednesday that the defendant told her of other people he wanted to target, including California Gov. Gavin Newsom, actor Tom Hanks, and President Joe Biden's son Hunter Biden. Hurley did not say whether police had any evidence of a plot against them, and San Francisco District Attorney Brooke Jenkins said after the hearing she couldn't comment further.
DePape, who appeared in court wearing orange jail clothes, has pleaded not guilty to federal and state charges, including attempted murder, burglary, and elder abuse. He remains held without bail.
"There is evil in Washington, what they did went so far beyond the campaign," DePape told Hurley, according to a recording of their interview that was played in court.
Family Has Different Story
Two members of DePape's family have said that the 42-year-old Canada native did not appear to show any right-wing viewpoints and disputed officials' claims that he had a political motivation in attacking Pelosi.
"'I'm surprised about the whole thing. There is still a lot of info that hasn't been given to the public. I have no clue what happened or how it happened. There are more questions than answers right now. Do we even know what really happened?" Sky Gonzalez, DePape's son, told the Daily Mail in a recent interview. "He isn't a danger to society, I don't even know if he even attacked Mr. Pelosi," he added.
Gonzalez, who conceded that he hasn't seen his father in years, said DePape possessed "progressive views" and believed "in human rights, equality, and justice … he was against the war, he was a peace activist, hardly a right-wing conservative, as he has been branded."
And DePape's former girlfriend, Oxane "Gypsy" Taub, said DePape showed he had progressive views on a number of issues but was "mentally ill." In one instance, she alleged DePape disappeared for about a year before coming back home and believing he was Jesus Christ.
DePape is due back in state court on Dec. 28, officials say.
The Associated Press contributed to this report.
From The Epoch Times