John Fetterman, the Democratic nominee for the U.S. Senate in the battleground state of Pennsylvania, is having trouble processing audio after a recent stroke, an aide said.
The Fetterman campaign has suggested that the stroke is responsible for Fetterman's unwillingness to commit to debates with Dr. Mehmet Oz, the GOP nominee in one of the nation's most-watched races.
"We are working to figure out what a fair debate would look like with the lingering impacts of the auditory processing in mind," Fetterman campaign strategist Rebecca Katz said in a statement to The Washington Post. "To be absolutely clear, the occasional issues he is having with auditory processing have no bearing on his ability to do the job as senator. John is healthy and fully capable of showing up and doing the work."
Reportedly, Fetterman has no trouble holding one-on-one conversations, but struggles with more chaotic auditory environments. Trouble with such auditory processing is a common effect experienced by stroke survivors.
Despite assurances from campaign aides that Fetterman has every intention to debate Oz, following his Aug. 12 return to the campaign trail after his stroke, Fetterman has yet to commit to any one of the five debates requested by the Oz campaign.
On Aug. 30, as Fetterman remained uncommitted to attend a planned debate on Sept. 6, the Oz campaign released a statement ridiculing Fetterman and promising him various concessions for the debates.
In one such point, the Oz campaign said, "Doctor Oz promises not to intentionally hurt John's feelings at any point."
In another, the campaign promised, "We will allow John to have all of his notes in front of him along with an earpiece so he can have the answers given to him by his staff, in real time."
In another, "We will pay for any additional medical personnel he might need to have on standby."
'Funny to Mock a Stroke Survivor'
Following the statement, Fetterman finally announced that he would not take part in the Sept. 6 debate, saying that Oz's statement showed that the campaign "think[s] it is funny to mock a stroke survivor."
After Fetterman refused to debate, Oz appeared on Fox News to clear up the remarks.
"I've said all along, as a physician I have tremendous empathy and compassion for how challenging it is to bounce back from a stroke," Oz said.
"I offered John Fetterman numerous opportunities to explain to me how I can make it easier for him to debate," Oz continued, opining that Fetterman refused not because of stroke issues but because he wanted to "hide his radical views."
The National Republican Senatorial Committee (NRSC), the top Senate GOP fundraising and strategizing firm, has also expressed some concerns over Fetterman's disappearance from public life since his stroke.
In a press release titled "Coward John Fetterman Still Hiding from Questions," the NRSC wrote, "John Fetterman is rarely showing up on the campaign trail and is not being held accountable for why he's not answering questions (from press and participating in debates)."
"It's been 128 days since Fetterman's last sit-down interview," the statement continued.
"It took 18 days for Fetterman to ultimately refuse to debate Oz in the first debate invitation set for next week. Fetterman claims he's not debating because he is 'recovering from this stroke and improving his auditory processing and speech.' BUT, two months ago he said he was 90% better and campaigning. So, was he lying then or is he lying now???"
The statement concluded: "John Fetterman needs to stop lying and come clean to Pennsylvanians about his ability to serve in the Senate. If you're too unhealthy to debate, you are too unhealthy to serve in the U.S. Senate where it can be 10X more intense."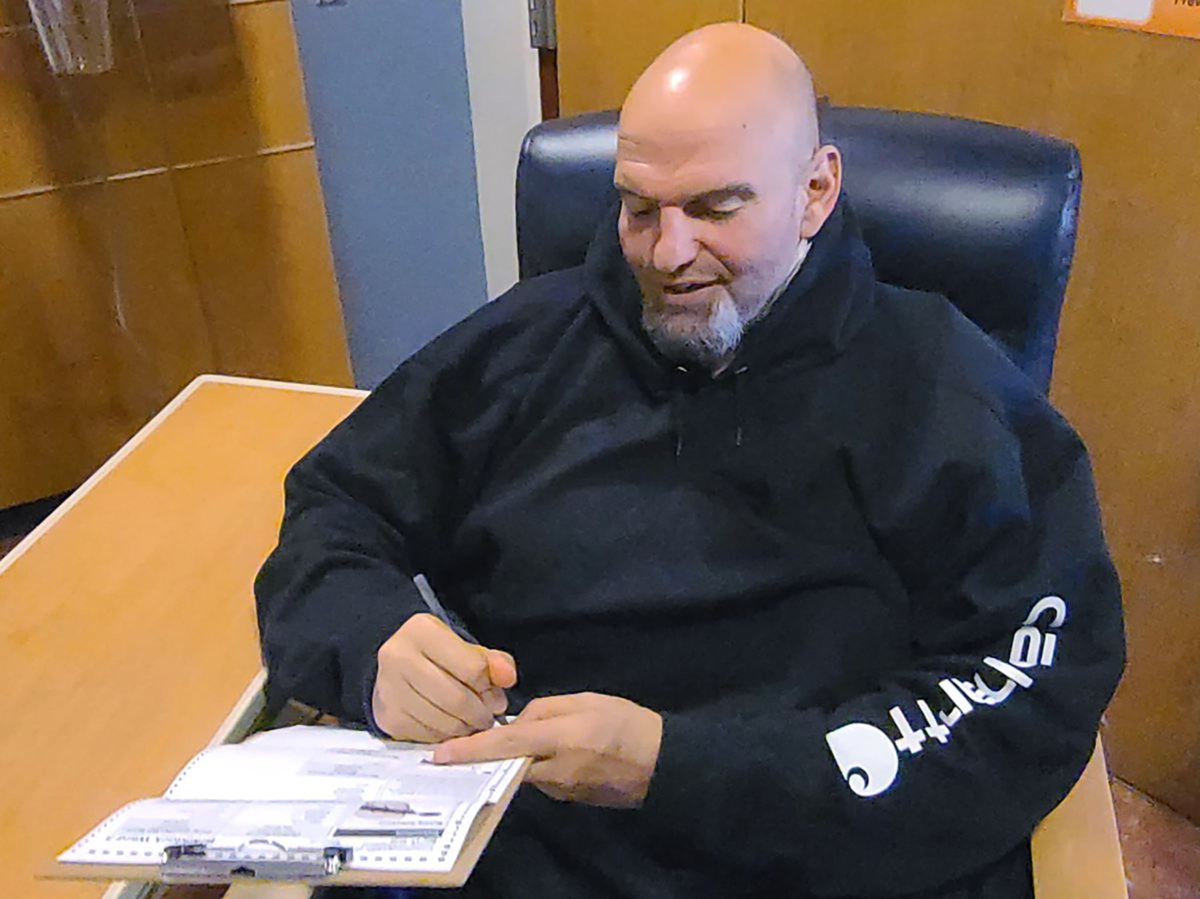 Avoiding Public Forums
While Republicans have emphasized serious concerns over the ability of Fetterman to serve in the Senate, Fetterman and his campaign have tried to paint the opposite picture.
"I'll miss a word, or I might push two words together sometime in a conversation. But that's really the only issue and it's getting better and better," Fetterman told KDKA in Pittsburgh in an effort to downplay GOP concerns.
However, GOP critiques that Fetterman has largely avoided public forums are generally well-founded.
Since his Aug. 12 return to public life, Fetterman has hosted only a few speeches averaging around 10 minutes, and these speeches have sometimes taken a clear effort for Fetterman, who has occasionally struggled to finish sentences. Fetterman has almost entirely avoided speaking to reporters or voters, aside from two one-on-one Zoom interviews with local Pennsylvania-based outlets.
On the other hand, Fetterman appeared on Aug. 31 in the first national interview since his stroke, when he sat down for around 10 minutes with MSNBC.
As controversy continues over Fetterman's condition, it remains unclear whether Fetterman will ultimately attend any debates with Oz before the rapidly-approaching midterm election.
From The Epoch Times