A Pennsylvania woman was sentenced to 57 months in prison on Oct. 17 for her role in the Jan. 6, 2021 breach of the U.S. Capitol, the Department of Justice (DOJ) announced.
Rachel Marie Powell, a 43-year-old mother of eight and grandmother of four from Sandy Lake, was also sentenced to 36 months of supervised release after being found guilty in July of nine felony and misdemeanor charges.
U.S. District Judge Royce Lamberth also ordered Ms. Powell to pay more than $8,000 in restitution and fees.
Prosecutors had recommended 96 months in prison, The New York Times reports.
Ms. Powell has been dubbed the "bullhorn lady" by some media outlets after using a bullhorn to break a Capitol window during the events of Jan. 6.
She was found guilty in July on nine federal counts including obstruction of an official proceeding and aiding and abetting; entering and remaining in a restricted building or grounds with a deadly or dangerous weapon; disorderly and disruptive conduct in a restricted building or grounds with a deadly or dangerous weapon; engaging in physical violence in a restricted building or grounds with a deadly or dangerous weapon; destruction of government property; disorderly conduct in a Capitol building; act of physical violence in the Capitol grounds or buildings; and parading, demonstrating, or picketing in a Capitol building.
"Her actions and the actions of others disrupted a joint session of the U.S. Congress convened to ascertain and count the electoral votes related to the 2020 presidential election," the DOJ said.
Powell 'Ignored Police Orders'
According to prosecutors, Ms. Powell was one of the first people to "break through onto Capitol grounds" near the Peace Circle on Jan. 6 and ignored numerous police orders to leave the grounds.
"At the West Plaza, Powell pushed against barricades and encouraged other rioters to attack the police line. After the West Plaza was breached, Powell climbed up to the Lower West Terrace (LWT), and eventually entered the Capitol itself through a broken window," the DOJ said. "Powell later used an ice axe and a battering ram to break through a different window and breach the Capitol at a different location, encouraging other rioters to enter the Capitol. After the riot, instead of remorse, Powell continued to call for political violence," they added.
Video footage and photographs show Ms. Powell wearing a pink hat, and black jacket, and carrying a bullhorn, which she used to "further instruct others on how to gain control of the Capitol," prosecutors said.
Ms. Powell is "clearly seen speaking through the bullhorn and giving very detailed instructions about the layout of the building to others" inside a room of the Capitol, officials said.
"Powell can be heard stating that she had just been inside an adjacent room and that they should 'coordinate together if you are going to take this building.' Powell also notes that they 'have another window to break,'" prosecutors said in court filings.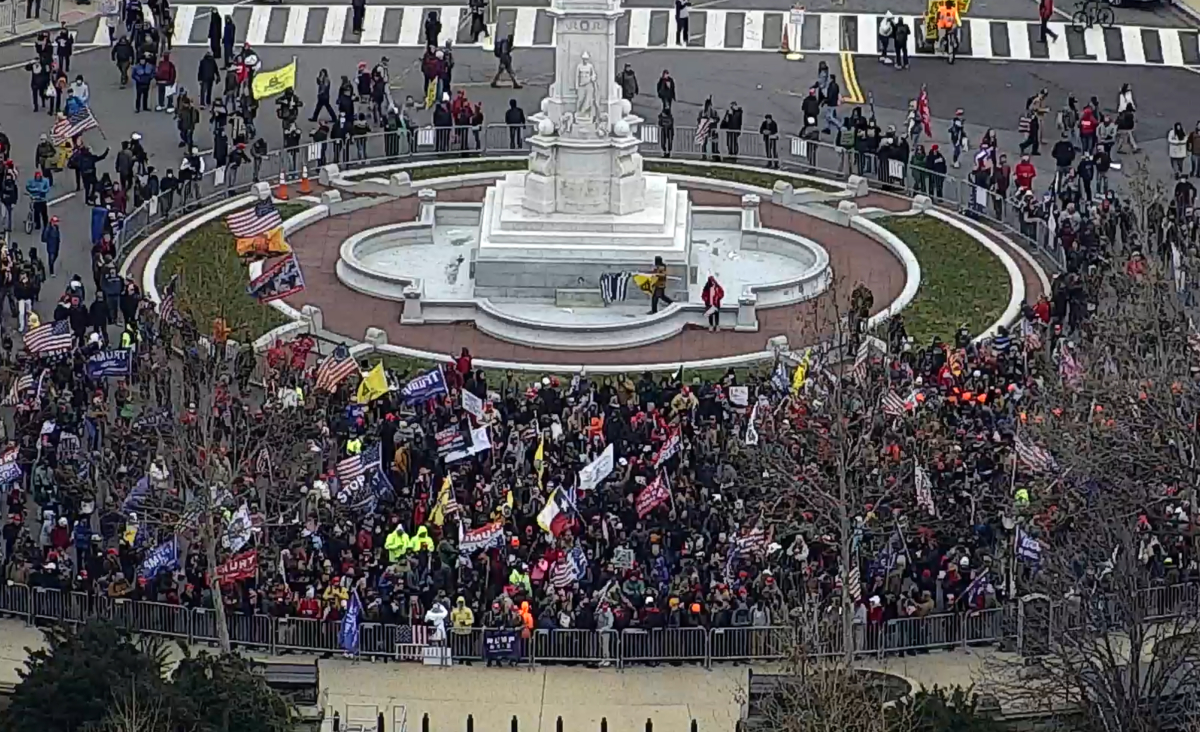 Sentence Is 'Long and Heartbreaking'
On Jan. 7, one day after the breach of the Capitol building, Ms. Powell posted on social media: "We have given you all a chance to help us settle this peacefully. We have been patient. The time is up," prosecutors said.
"In the following days, Powell repeatedly bragged about the aggressive behavior of rioters, their violence towards law enforcement, and the eventual retreat of officers," prosecutors wrote. "For example, on January 7, Powell wrote: 'IT WAS [expletive' WAR TO GET IN. IF YOU WERE NOT HERE THEN STFU.' In another post, she wrote: 'There were lots of security. They had to retreat into the building and fight back because patriots were relentless.' In another, Powell replied, 'They didn't open the gates. The people trampled them. It was war.'"
Ms. Powell was arrested by the FBI on Feb. 4, 2021, in Pennsylvania and was later placed on home detention for violating her pre-trial conditions of release, NBC reports.
Speaking to The New York Times on Tuesday, Ms. Powell said she had expressed remorse and regret over her actions on the day of Jan. 6 during her sentencing, telling the publication she was "deeply ashamed" of her conduct.
She said politics had taken "a very dark turn" and that she had given it to that climate and that "it led to disaster."
"I have failed everyone around me," she said, adding that her sentence is "long and heartbreaking" and will leave her children "motherless" for years.
More than 1,100 individuals have been charged in nearly all 50 states for crimes related to the breach of the U.S. Capitol since Jan. 6, 2021.
The investigation remains ongoing.
From The Epoch Times