Pentagon chief Lloyd Austin said that a Chinese spy balloon that traveled over the United States went past a B-2 stealth bomber base but claimed the Department of Defense took steps to protect its assets from Chinese surveillance.
"All of our strategic assets—we were, made sure that we were buttoned down and movement was limited and communications were limited so that we didn't expose any capability unnecessarily," Austin told CBS News on Wednesday evening in his first interview since the balloon was shot down over the Atlantic Ocean last Saturday.
When pressed further, Austin confirmed that those assets were U.S. nuclear weapons systems.
The B-2 stealth bomber, made by American defense contractor Northrop Grumman, is considered among the most sophisticated aircraft in the world. The bomber is capable of dropping both conventional and nuclear weapons.
Before it was taken down by an F-22 fighter plane, the Chinese balloon flew over four military sites in Montana, Wyoming, Nebraska, and Missouri, Austin said. There were calls to shoot down the balloon when it was first discovered near Billings, Montana, but the U.S. military resisted them, according to a top general, who said that downing the balloon posed a safety hazard to people on the ground.
After the balloon was shot down, Austin said he attempted to call his Chinese regime counterpart. "I put in a request for a call, and they did not accept that request," he said, adding that there are still attempts to recover the debris of the balloon.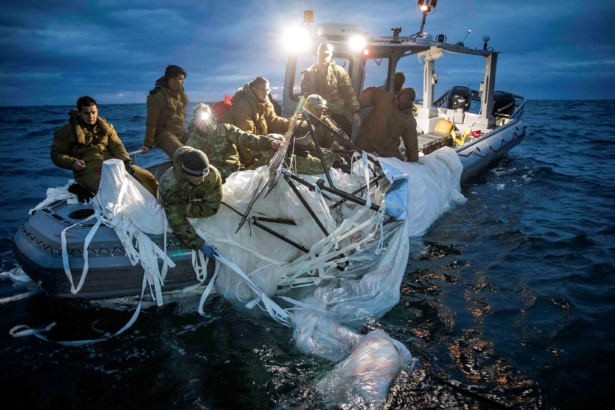 A day before, a top House lawmaker said the surveillance aircraft transited over U.S. nuclear sites, although few details were provided. Notably, Malmstrom Air Force Base—the only military base in Montana—is located some 200 miles to the northwest of Billings, and houses some Minutemen III intercontinental ballistic missiles, or ICBMs, capable of delivering nuclear warheads.
"If you take the path that this balloon did, and you put up an X every place where you have a missile defense site, actual nuclear weapons infrastructure, you're going to follow this path," House Intelligence Chairman Mike Turner (R-Ohio) said in a news conference with reporters on Tuesday, USA Today reported. "So I think the natural conclusion is, it is intelligence gathering with respect to try to affect in some way the command and control of our missile defense and nuclear weapons."
During the briefing, Turner did not divulge other details about an investigation into the high-altitude balloon, which caused Secretary of State Antony Blinken to postpone a scheduled trip to Beijing this month.
"The satellite had completed its mission. This should never have been allowed to enter the United States, and it never should have been allowed to complete its mission," Turner told NBC News on Sunday. The Epoch Times contacted Turner's office for comment.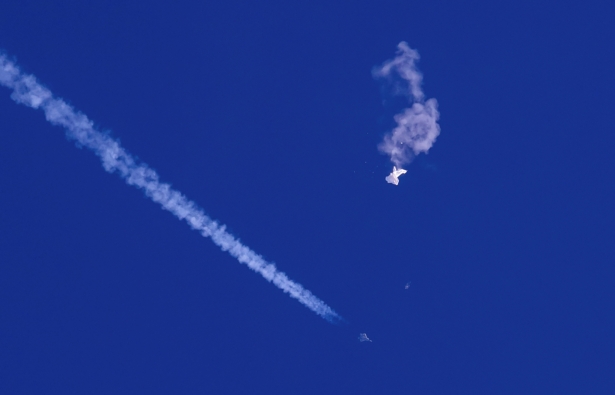 'Intelligence Collection'
U.S. officials, meanwhile, confirmed Thursday that the balloon had the capacity to monitor communications signals.
"High resolution imagery from U-2 flybys revealed that the high-altitude balloon was capable of conducting signals intelligence collection operations," an official with the State Department, speaking on condition of anonymity, told The Epoch Times.
"The high altitude balloon's equipment was clearly for intelligence surveillance and inconsistent with the equipment onboard weather balloons. It had multiple antennas to include an array likely capable of collecting and geo-locating communications. It was equipped with solar panels large enough to produce the requisite power to operate multiple active intelligence collection sensors," the official added.
Officials said the balloon entered U.S. airspace over Alaska on Jan. 28. It flew over Canada before re-entering the United States on Jan. 31. President Joe Biden ordered the balloon taken down and it was shot from the sky on Feb. 4. The North American Aerospace Defense Command was tracking the balloon the entire time.
"The United States sent a clear message to the PRC that its violation of our sovereignty was unacceptable by shooting down the balloon, protecting our own sensitive intelligence, and maximizing our ability to track the balloon and recover the payload to get more information on the PRC's program," the State Department official said, adding that the United States would explore taking action against Chinese entities that supported the incursion of U.S. airspace. PRC stands for the People's Republic of China.
Zachary Stieber contributed to this report.
From The Epoch Times