While it's estimated that over $280 billion in COVID-19 relief funding was stolen by fraudsters, a new report shows that many Americans used their stimulus checks to pay off their credit card debt.
Many people likely used their pandemic stimulus payments to pay down their credit card balances, a new report from the U.S. Government Accountability Office (GAO) reveals, with the share of cardholders who paid off their credit card debt during the pandemic reaching the highest in recent years.
When the pandemic hit the United States and business shutdowns became prevalent, fears that the economy would fall into an unprecedented deep freeze drove politicians to adopt various forms of relief.
From enhanced unemployment insurance, to advance child tax credit payments and rounds of stimulus checks, it's estimated that the U.S. government disbursed roughly $4.2 trillion in COVID relief aid.
Experts say the scattershot approach to disbursing the funds was by design as the goal was to get money in people's hands quickly and in as snag-free a way as possible.
The firehose of COVID aid led to what some have described as the greatest grift in American history, with an Associated Press analysis finding that fraudsters stole over $280 billion in COVID-19 relief funding, while another $123 billion was wasted or misspent.
"Here was this sort of endless pot of money that anyone could access," Dan Fruchter, chief of the fraud and white-collar crime unit at the U.S. Attorney's office in the Eastern District of Washington, told The Associated Press. "Folks kind of fooled themselves into thinking that it was a socially acceptable thing to do, even though it wasn't legal."
Legitimately obtained or not, a significant portion of COVID relief funds were used to pay down credit card debt, suggesting that instead of being used to buy everyday necessities like food and shelter, part of that money was used to bolster the financial situation of people who perhaps would have been just fine without it.
How COVID Relief Paid Down Personal Debt
The GAO report found that many Americans likely used their pandemic stimulus payments to pay down their credit card debt.
"We estimated that cardholders increased their credit card payments by $20 and $61 on average when the second and third stimulus checks were disbursed," researchers at GAO said in an Oct. 31 blog post. "The payment amount also increased by $37 in each month on average when the advance child tax credit payments were disbursed."
During the pandemic, the percentage of U.S. credit card holders reached its highest point in recent history. The share of all active credit card accounts that carried a balance fell from 50 percent to 45 percent from April 2020 to December 2021.
"We also found that late payment and default rates fell to historic lows, most notably for consumers with credit scores below 620," the researchers said. "We observed better credit scores and fewer delinquencies among cardholders during the pandemic."
Now, as Americans have put the pandemic behind them, credit card balances have been on the rise—along with credit card debt defaults.
Debt Levels Rising
Americans are borrowing like never before, according to a recent report from the Federal Reserve that revealed U.S. household debt swelled to a record $17.06 trillion in the second quarter of 2023, with credit card debt hitting a record high.
After a sharp contraction in the first year of the pandemic, credit card balances have shown year-over-year increases for seven straight quarters.
In the second quarter of this year, credit card balances rose by $45 billion to a series high of $1.03 trillion, according to the Fed report.
Credit card delinquency rates have also returned to pre-pandemic levels. Specifically, the Fed report showed that credit card debt delinquency transitions went from 3.35 percent to 5.08 percent—an 11-year high.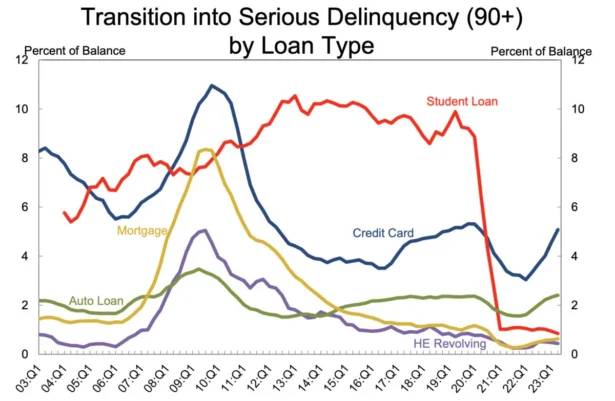 "This picture is consistent with a return to pre-COVID trends after a stretch of unusually low delinquency rates during the pandemic when forbearance, policy-boosts to income, and limited consumption opportunities meant borrowers were better positioned to repay their debts," New York Fed analysts wrote in a blog post in August.
The rise in credit card debt to historic highs has put pressure on consumers as a series of sharp interest rate hikes by the Federal Reserve has sent credit card rates to their highest levels on record.
For instance, the retail credit card rate has increased to an average of 28.93 percent, according to an Oct. 23 report from Bankrate, which notes that this is a record high. In 2022, that rate was 26.72 percent, while in 2021, it stood at 24.35 percent.
The Fed's rapid rate hikes last year were the reason that American consumers paid a record-setting amount in 2022 in credit card interest and fees.
"Americans paid $130 billion in interest and fees on their credit cards," Consumer Financial Protection Bureau (CFPB) Director Rohit Chopra said in an Oct. 25 statement that accompanied the release of a report on key developments and consumer risks in the credit card market.
The CFPB report found that, as the U.S. central bank hiked rates sharply in 2022, variable-rate loan costs went up and credit card companies charged consumers more than $105 billion in interest and more than $25 billion in fees. This is an all-time high.
Some lawmakers and federal regulators have called for credit card companies to put caps on rates and to lower fees as high interest rates push debt levels higher.
Sen. Josh Hawley (R-Mo.) introduced a bill in September to place a cap on credit card rates because of "higher financial burdens" that are being carried by working Americans.
"Americans are being crushed under the weight of record credit card debt—and the biggest banks are just getting richer," the Republican lawmaker said in a statement.
"The government was quick to bail out the banks just this spring but has ignored working people struggling to get ahead. Capping the maximum credit card interest rate is fair, common-sense, and gives the working class a chance," he said.
Auto loan default rates in the United States have also surged, hitting their highest levels on record, suggesting that American consumers may be heading for a rough patch in terms of their ability to pay off their debt.
From The Epoch Times