An Air Canada Boeing 777 departing from Vancouver on July 11 ran into dangerous turbulence about two hours out on the way to Australia. The flight was forced to head back and make an emergency landing at Honolulu airport, Hawaii. The dangerous event left 37 people injured, nine seriously. It happened on the morning of July 11.
As the plane was flying over the Pacific Ocean, it experienced "un-forecasted and sudden turbulence," reported CTV News. The flight was carrying 268 passengers plus crew.
Passengers said most people were sleeping when the plane jerked downward without warning.
"The plane just dropped," passenger Stephanie Beam told The Associated Press. "When we hit turbulence, I woke up and looked over to make sure my kids were buckled. The next thing I knew there's just literally bodies on the ceiling of the plane."
Many passengers were sent flying out of their seats.
"The lady in front of us, I don't think she had her seatbelt on, and she hit the ceiling," said Sharon Thornton. "A couple of stewardesses were injured, and a lot of people had cuts to their head."
Another passenger, Laurie Tyler, told CTV News that only a few people were looking at screens when the turbulence struck. Everyone was shocked awake, and one could hear babies screaming as well as see oxygen masks hanging.
"I didn't want to get up," Tyler said. "Some people at the back fell out of their chairs and into the aisle, so it was wild."
Two passengers, a 35-year-old woman and a 42-year-old man, were taken to the hospital right after the plane landed.
According to Fox, A spokesperson for Air Canada told CTV News, "Preliminary information indicates there are about 25 people who have sustained minor injuries. Our first priority is always the safety of our flights, passengers, and crew, and as a precaution, medical personnel are on standby to examine passengers. We are currently making arrangements for the passengers including hotel accommodations and meals in Honolulu, as well as options for resumption of the flight."
SUDDEN TURBULENCE
Air Canada #AC33 Toronto to Sydney via Vancouver "encountered un-forecasted and sudden turbulence," and diverted to Honolulu. Air Canada says "preliminary information indicates there are approximately 25 people who have sustained minor injuries." pic.twitter.com/9hIeQH6yW8

— Tom Podolec Aviation (@TomPodolec) July 11, 2019
A statement by FAA referring to the event read: "Air Canada Flight 33, a Boeing 777 flying from Vancouver to Sydney, Australia, encountered turbulence at 36,000 feet approximately 600 miles southwest of Honolulu. The flight diverted to Honolulu and the crew requested medical personnel meet the aircraft at the gate. Please contact the airline for additional information."
An Air Canada spokesman says 35 passengers sustained minor injuries aboard Flight 33 from Vancouver to Sydney that diverted to Honolulu because of turbulence #aircanada #turbulence pic.twitter.com/uWzPOBWKJ8

— Neil Vigdor (@gettinviggy) July 11, 2019
Plane Makes Emergency Landing in Boston After Fire on Board
BOSTON—A fire aboard a Virgin Atlantic flight headed to London forced the plane to make an emergency landing in Boston on Thursday, July 4.
Passengers smelled smoke coming from the first-class cabin "not even 30 minutes" after the plane departed John F. Kennedy International Airport around 7:30 p.m., said Cory Tanner, 28, who was aboard the flight.
The crew announced the aircraft would make an emergency landing in Boston's Logan International Airport.
Massachusetts State Police said in a news release that the crew extinguished the fire, which a preliminary investigation says probably started with a phone charger that ignited in a passenger seat.
"Our cabin crew are trained to a high standard and acted quickly to deal with this situation," the airline said.
Before the passengers deplaned, firefighters inspected the fire. "It was oddly calm," Tanner said. "There was no big commotion."
For people asking. Was told there was a fire and we would have an emergency landing shortly. Everyone could smell the smoke but was not told what the problem was until we landed. Once we landed all we were told was, there is a fire in first class. pic.twitter.com/R1dJBrcX6s

— Cory Tanner (@Ctannerweb) July 5, 2019
After Landing all 217 passengers on Flight 138 from New York as well as the crew have been safely evacuated. One passenger refused treatment for a smoke-related complaint.
— Cory Tanner (@Ctannerweb) July 5, 2019
A Virgin Atlantic statement says the flight was bound for London's Heathrow Airport.
A technical issue has forced a Virgin flight bound for Alice Springs to turn back to Adelaide and make an emergency landing. https://t.co/8ftPfFYTVQ #7NEWS pic.twitter.com/Da7aVdX6wG

— 7NEWS Adelaide (@7NewsAdelaide) July 5, 2019
It was the second unusual landing at Boston's Logan International Airport on Thursday, July 4.
Earlier, an American Airlines jetliner from Chicago declared an emergency when a cockpit light indicated an unspecified potential mechanical problem as it approached the city, but the plane landed without incident.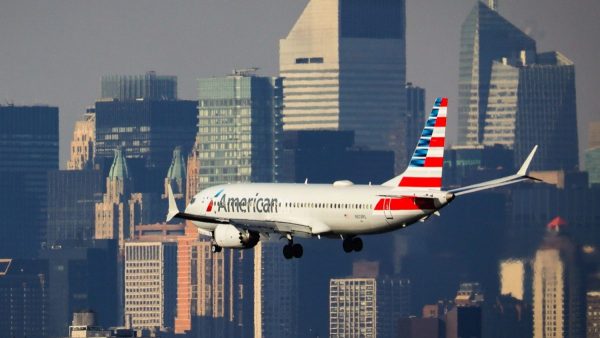 The Associated Press contributed to this report
The CNN Wire contributed to this article