A Pegasus Airlines flight skidded off the runway of a Turkish coastal airport and plunged down a steep slope on the edge of the Black Sea, ending up only meters from the water's edge.
Now, shocking new video footage shows what happened inside the plane as it skid off the runway.
None of the 168 people on board were hurt in the incident, but passengers spoke of panic as the aircraft tipped nose-first towards the sea.
 Just after the flight from Ankara landed at the Black Sea city of Trabzon there was a loud noise, passenger said.
"All 162 passengers, 2 pilots and 4 cabin crew have been disembarked safely from the aircraft. There has been no loss of life or injury to anyone on-board," the airline said, reported Fox.
"We tilted to the side, the front was down while the plane's rear was up. There was panic; people shouting, screaming," passenger Fatma Gordu said, according to Sky News.
When the plane came to a halt in thick mud, passengers smelt fuel.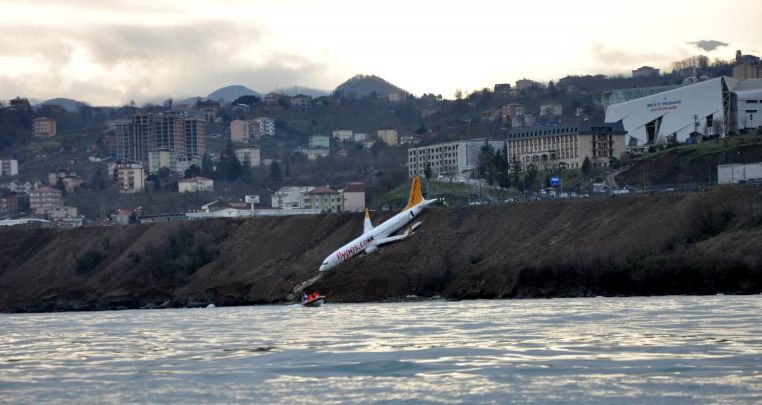 Passenger Yuksel Gordu said there was an intense worry.
"We thought there would be fire," Gordu said. "People panicked—there were pregnant women and children."
"It's a miracle we escaped. We could have burned, exploded, flown into the sea," Gordu said. "Thank God for this. I feel like I'm going crazy when I think about it."
Video on social media showed fire crews pumping water over the plane on Saturday night.
"We've taken all necessary measures," an official told Turkish media, Fox reported. "We will re-open the airport to airport traffic as soon as possible."
Terrifying video shows inside of plane after it skidded off runway onto cliff edge in Turkey https://t.co/QPnixnmeof

— The Independent (@Independent) January 14, 2018
Drone footage shows passenger plane on the side of a hill in Turkey, after overshooting it's landing, skidding off the runway – ABC News pic.twitter.com/IH5mqhHe59

— Breaking911 (@Breaking911) January 14, 2018
Trabzon governor Yucel Yavuz said all passengers were safely taken off the plane and some had gone to hospital as a precaution. "They were all OK," he told Anadolu.
Pegasus Airlines said in a statement that the Boeing 737-800 aircraft "had a runway excursion incident" as it landed but the 162 passengers, two pilots and four cabin crew were unhurt.
Reuters contributed to this report.
From The Epoch Times