Poland's government plans to spend more than $400 million on improving its border defense by building a solid barrier along the countries' border with Belarus as immigration levels have recently surged.
The country's latest announcement came as German police reported an upsurge in the number of migrants illegally entering Germany—the most popular final destination among asylum seekers—after first crossing the Belarus-Polish border and making their way westwards across Poland.
The draft law on the construction of a new wall to protect Poland's and the EU's external frontier was approved by Polish authorities on Tuesday.
In late August, shortly after the Taliban terrorist group took control over the Afghan capital, Poland started the construction of an 8.2-foot (2.5-meter) high fence along its 260-mile (418-kilometer) border to halt the flow of illegal immigrants.
Jarosław Kaczyński, leader of the Law and Justice party and the deputy prime minister of Poland, said last week that the new wall should replace the temporary fence and protective measures now in place.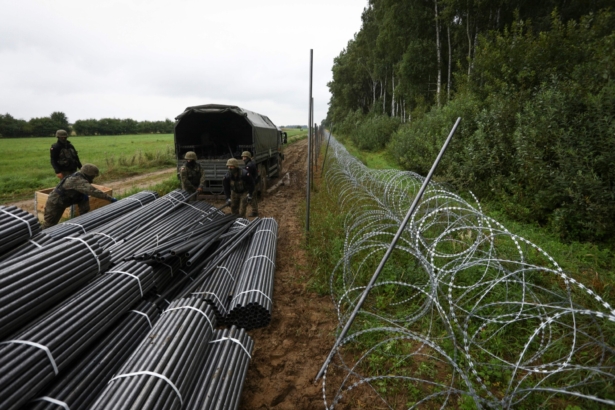 "The actions taken by the Alexander Lukashenko regime demanded a firm response from the Polish government," Polish Interior Minister Mariusz Kamiński told PAP, news agency AFP reported, adding that this kind of wall worked in other countries, and "will pass the test in Poland."
Kamiński noted that additional measures and the fence were necessary due to the number of attempts by illegal immigrants to cross the border have "not been going down despite the fact that there are more border guards, soldiers, and policemen on the border."
On Sept. 2, Poland declared a state of emergency as thousands of illegal immigrants, mostly from Iraq and Afghanistan, tried to unlawfully enter the country from neighboring Belarus. The Polish Border Guard also said in a statement in August that illegal border crossings have reached record heights.
From the start of January till the end of September, the Border Guard prevented 9,287 attempts to cross the frontier from Belarus into Poland, and of those around 8,000 took place in the last two months alone.
Reuters contributed to this report.