Possible debris from a suspected Chinese spy balloon that was shot down by U.S. officials on Feb. 4 appears to have been seen at a boat ramp in the North Myrtle Beach area in South Carolina.
Video footage shared on Twitter, taken from the Johnny Causey Landing—a boat ramp located at the beach—appears to show parts of the downed balloon, which resembled a giant white orb when in the sky, placed inside a boat that is docked and surrounded by military personnel.
The Epoch Times could not establish the authenticity of the footage and has contacted the Department of Defense for comment.
The North Myrtle Beach police department said on Saturday that pieces of the balloon—estimated to be the size of roughly three school buses—were being collected by the U.S. military but noted that some pieces may wash ashore.
Police advised locals in the area not to touch, move, or remove any possible debris as they are subject to a federal investigation, and tampering with them could interfere with that investigation.
"If a piece is located please contact your local law enforcement agency for collection," the North Myrtle Beach police said.
The suspected Chinese spy balloon was shot down by U.S. jets at around 2:39 p.m. EST on Saturday after it was seen making its way across the Carolinas and was approaching the Atlantic coast, according to defense officials.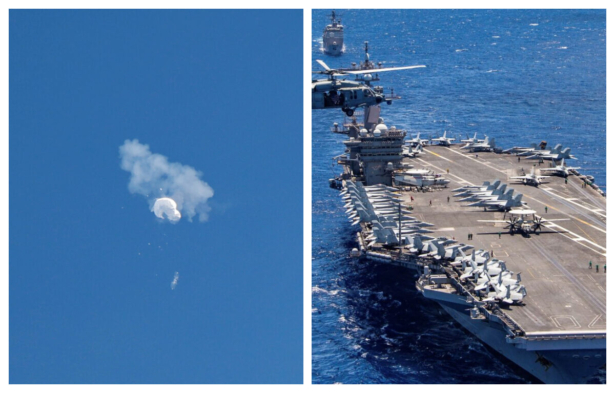 Balloon Shot Down
An F-22 fighter jet fired a missile at the balloon, puncturing it while it was about 6 nautical miles off the coast near Myrtle Beach. Video footage shared online showed it falling into the sea.
On Sunday, a senior military official said at an off-camera press briefing that multiple U.S. Navy vessels and Coast Guard vessels were in the region where the balloon was downed and were "establishing a security perimeter, conducting a search for any debris that may be on the water to ensure the safety of U.S. civilians, [and] any maritime activity that is ongoing out in the water."
"Debris is believed to be in 47 feet of water," the senior official said. "The recovery that [sic] will make it fairly easy, actually. We planned for much deeper water."
A senior defense official added that the Department of Defense has no indication that "any people, including U.S. military personnel, civilian aircraft, or maritime vessels were harmed in any way."
"While we work to execute this plan to bring down successfully over U.S. territorial waters, we also took immediate steps to protect against the balloon's collection of sensitive information, mitigating its intelligence value to the PRC," the senior defense official said.
The downing of the balloon comes amid growing tensions between Washington and Beijing, particularly in regard to U.S. ally, Taiwan, which communist Beijing views as its own.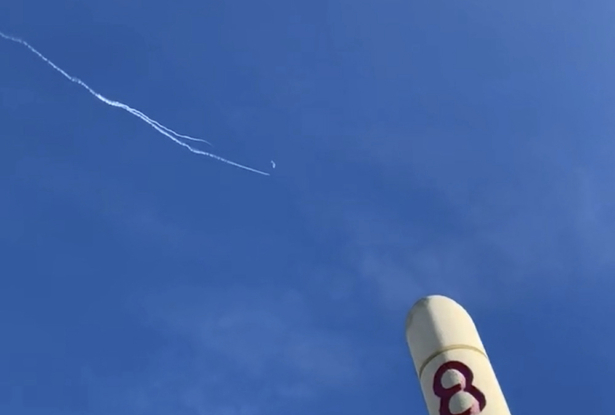 China Says Downing of Balloon 'Unacceptable'
Tensions were further exacerbated last year when then-House Speaker Nancy Pelosi (D-Calif.) visited Taiwan in August, prompting China to ramp up military activity near the self-ruling island nation, which launched live fire drills and 11 ballistic missiles into waters around the island.
In a separate statement a day earlier on Saturday, Secretary of Defense Lloyd Austin said that President Biden had on Wednesday given his authorization to take down the suspected surveillance balloon as soon as possible without putting American lives at risk.
Austin said the balloon was "being used by the PRC in an attempt to surveil strategic sites in the continental United States" and that the Department of Defense had been "closely monitoring its path and intelligence collection activities."
"Today's deliberate and lawful action demonstrates that President Biden and his national security team will always put the safety and security of the American people first while responding effectively to the PRC's unacceptable violation of our sovereignty," Austin said.
While Washington has said the balloon was likely conducting surveillance, China has claimed the balloon was a civilian research vessel blown off course, Reuters reported. 
China's Ministry of Defense on Sunday responded to the downing of the balloon, stating that Beijing "reserves the right to take necessary measures to deal with similar situations." Meanwhile, China's Ministry of Foreign Affairs accused the U.S. of "an obvious overreaction and a serious violation of international practice."
A second possible Chinese spy balloon has also been seen flying over Latin America.
The Associated Press contributed to this report.
From The Epoch Times